Archive for August, 2009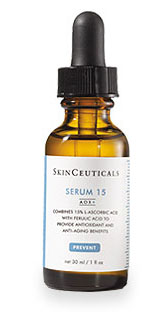 After having gone through 2 pregnancies, and with the demands of motherhood, my skin is at a constant state of war.  And it's a definitively uphill battle:  age, stress, and the lack of time, sleep, and proper nutrition all add up to some serious dermal drama.
I thought I was doomed to have (un)youthful, (un)glowing skin for eternity until I met Skinceuticals Serum 15 AOX+.  It was recommended to me by a facialist as a solution to dark spots and general dullness (apparently a common probem with ethnic skin).  The results?  Well, it's been 6 months since my last facial, and my skin isn't even craving one (sorry, Alicia).
It's a bit of an investment at $90.00+ a bottle, but it will last you close to a year (you're only supposed to use 4-5 drops each morning).  Worth its weight in confidence, I'll say.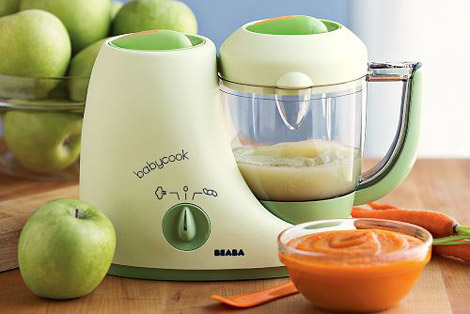 During a recent visit to my mother's, I tried (really tried) to use her stainless steamer pot and her blender to make my daughter fresh baby food.  But it just took too much time and resulted in too many dishes in the sink.  So I held up my nose and resorted to jarred food.  My heretofore-voracious eater started pushing food away.
I'm sure she lost weight that week.
She was probably dreaming about the fresh pear and oatmeal with a dash of cinnamon or the zucchini and dhal with cumin I make her with our Beaba Babycook.  The stuff is so tasty, even my toddler eats and un-pureed portion.
So as an ode to this ingenious, time-and-effort-saving invention which has become an indispensible member of our family (we use it at least twice daily), I will post our favourite recipes in our new series Beaba Be Mine.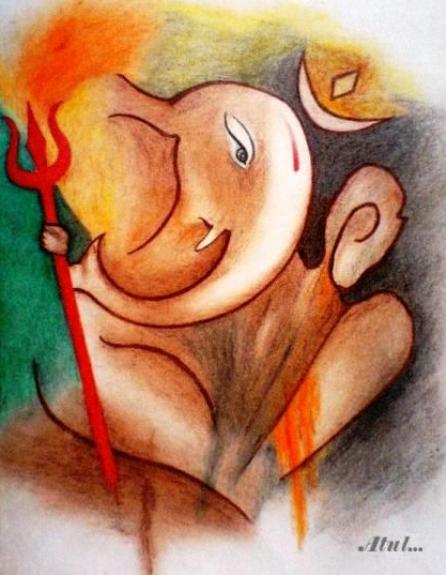 It is a day to celebrate the Lord of Beginnings, Remover of Obstacles, icon of wisdom.  Growing up, this day was always special in my family – perhaps because it always fell right before the start of the new school year.  We typically had a small prayer ceremony followed by lots of food.  It was a chance for us to clear our minds of summer frivolities and to look forward to the challenges ahead.
My parents have this tradition (which we continue with the grandchildren) where each person in the family selects 1 book to involve in the prayer ceremony.  We mark  the inside cover with a turmeric and kumkum "Sri" – a (semi) permanent stamp which serves as a reminder of this day each time the book is opened.  Throughout the year, when my son opens one of the chosen books, he loves to point out that "we did pooja for it."
Getting to select a book is perhaps the most exciting part of the day for the kids.  It's a way to directly involve them in the ceremony.  They also learn to associate Ganesha with books and learning.  Personally, I feel that understanding this connection (and hopefully effectuating a reverence for knowledge) is more important than learning about the story of Ganesha himself.  It really is a gruesome tale – Shiva, Ganesha's father, cuts his head off?  Thankfully, my son hasn't asked me why Ganesha has an elephant head…
So what were the lucky books this year?  Ahilan chose Clifford's Neighborhood and his sister chose The Hiccuping Hippo.  We even had a special guest at the pooja – Baby Leap Frog.  Ahilan annointed him with kumkum and insisted that we perform aarti to him as well.  Hey, whatever works for him…

There are many reasons why I miss living in Washington, DC.  When I stumbled upon Jabberu, I was extra-sorry that I moved.  What is it?  It's a company that owns and operates play-based language learning centers throughout the greater DC area.  They have programs in Spanish, French, Italian, Chinese and Arabic for kids 6 months to 10 years – where kids are immersed in the language (and, perhaps more importantly, get to interact with other bilingual kids – which is a rarity in this country).  What a terrific concept!  Especially since experts agree that language skills are best learned and internalized before the age of 2.  They also stock an online store, have free at-home learning tools, and stage parties (where kids go on an imaginary trip to Paris, Latin America, or China).  How cool is that?
Maybe they'll offer Indian languages soon.  Or expand beyond DC.  Until then, I'll just sit here and sigh (not that my kids need to learn a 4th language, but still)…
My poor daughter has been very neglected in the room-design department.  She inherited a yellow nursery from her brother, so I want her big-girl room to be extra-fabulous.  I'm liking these duvets:  Blissliving's Harajuku (toned-down girly-glam) and Sanford Burrows' Field Day (whimsical and intriguing).
I'm thinking I'll kid-ify the room with a luscious wall color, a few playful pillows, and some mirror-embroidered drapes.  A satisfying mix of clean lines with just a hint of Indian antiquity?  We shall see.
I gave up trying to find quality bilingual Telugu books for babies and toddlers a long time ago.  So I resorted to reading English books in Telugu.  But some of the magic always gets lost.   And really, how can you compete with Monsieur Suess anyway?
Then, per chance, we discovered Barbara Lehman's Museum Trip – a wordless picture book about a boy who goes on a class field trip to a museum and (literally) gets drawn into a display of old paper mazes.  My son was fascinated with the pictures and the mazes.  I was excited to be actually creating a Telugu story –  rather than merely translating.  The language was more pure, and I think my son caught on to that.  My efforts were validated by the fact that he wouldn't let his dad (who reads to him in English) read it to him. 
It was such a hit, we then got The Red Book – a very clever story about a book-within-a-book.  We also discovered our local library has a whole section of "Wordless Books."  Hooray!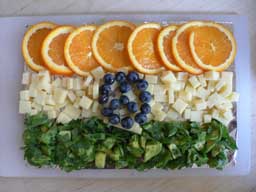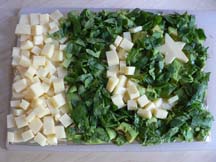 What better way to celebrate Independence Day than with food! We staged a pre-party yesterday afternoon with these tasty Food Flags (we called them jendaalu – one-up on the Telugu vocabulary).
I sliced some oranges and diced up some cheese, avocadoes and spinach, and we got crafty. Luckily, I had a star-shaped cookie cutter on hand (for the Pakistan flag) – which was a big hit with my 3-year-old Ahilan – he ate through many stars before he let me keep one for the picture. We referred to images of the flags I had on my laptop as we assembled the food on cutting boards.
Of course the best part was the de-construction. Even my 9-month-old daughter squealed as she dived into the avocado and spinach mix.
I don't think Ahilan really understood the significance of Independence Day – though now he can at least recognize the flags of India and Pakistan. But more importantly, we had a memorable afternoon of healthy food and fun!

It started as a midnight mommy musing:  how can I get my children to appreciate the richness of my Indian heritage?  My husband and I were both so busy – working late during the weekdays and running errands on the weekends.  In the meantime, our children, like super-sponges, were absorbing everything around them. 
Unfortunately, we didn't have many obje[c]ts d'culture around our house that they could relate to.  A flimsy Rama cartoon book? No, 3-year-olds just don't get the dharma-thing.  A Hanuman cartoon?  Way too violent for his age.  Maybe a visit to a temple?  Yeah, telling a toddler he can't keep ringing the temple ghanta (bell) gets really old after the 30th time.
Enter gnaana – a fresh new way of connecting kids with culture. 
Inspired by Montessori teachings, our products are designed to help busy families incorporate elements of South Asian languages, traditions and histories into their everyday lives.  And these are not your nani's "toys" –  our products are made of eco-friendly recyclable materials like wood and tin and meet international ASTM and European safety standards.
This blog will be an extension of our mission – a place to share and reflect upon the joys and challenges of raising multi-cultural children.  Whatever your background, we hope you will join the conversation and laugh with us.  And pipe up if you'd like to be a writer  –  we'd love to have you share your stories with the Gnaana community.  Just email us at blog@gnaana.com. Happy reading!
Sincerely,
Aruna Hatti