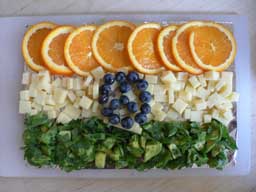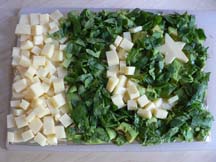 What better way to celebrate Independence Day than with food! We staged a pre-party yesterday afternoon with these tasty Food Flags (we called them jendaalu – one-up on the Telugu vocabulary).
I sliced some oranges and diced up some cheese, avocadoes and spinach, and we got crafty. Luckily, I had a star-shaped cookie cutter on hand (for the Pakistan flag) – which was a big hit with my 3-year-old Ahilan – he ate through many stars before he let me keep one for the picture. We referred to images of the flags I had on my laptop as we assembled the food on cutting boards.
Of course the best part was the de-construction. Even my 9-month-old daughter squealed as she dived into the avocado and spinach mix.
I don't think Ahilan really understood the significance of Independence Day – though now he can at least recognize the flags of India and Pakistan. But more importantly, we had a memorable afternoon of healthy food and fun!
Tags: Montessori, Telugu, vegetarian