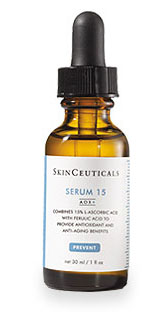 After having gone through 2 pregnancies, and with the demands of motherhood, my skin is at a constant state of war.  And it's a definitively uphill battle:  age, stress, and the lack of time, sleep, and proper nutrition all add up to some serious dermal drama.
I thought I was doomed to have (un)youthful, (un)glowing skin for eternity until I met Skinceuticals Serum 15 AOX+.  It was recommended to me by a facialist as a solution to dark spots and general dullness (apparently a common probem with ethnic skin).  The results?  Well, it's been 6 months since my last facial, and my skin isn't even craving one (sorry, Alicia).
It's a bit of an investment at $90.00+ a bottle, but it will last you close to a year (you're only supposed to use 4-5 drops each morning).  Worth its weight in confidence, I'll say.