Archive for September, 2009

New York City wasn't the only fashion hot-spot this month. India also just finished hosting a dazzling fashion week in Mumbai. Presented by Lakme cosmetics, India's largest cosmetics brand, the 5-day extravaganza showcased the Spring/Summer 2010 collections of over 50 designers – from Tarun Tahiliani's opulent couture to Mandira Wirk's casual creations. Featured above are a few of the runway looks (from left to right): Aneeth Arora, Vikram Phadnis and Troy Costa.  Makes me want to bypass the mall and book a flight straight to Mumbai instead!
You can read more about the designers and view their collections at www.lakmefashionweek.co.in.
When I attended my cousin's wedding in India about 10 years ago, I remember that the guests (all 1200 of us) dined on fresh banana leaves. Of course banana leaves were the norm back then at any function in India.  What a beautiful (and biodegradable) alternative to the plastic plates that fester in our landfills!
As I plan my daughter's first birthday bash, I thought my choice of plates was limited to plastic (sturdy, but "no" on the eco) or paper (better, but most are still bleached).  That is, until I stumbled upon Bambu:  offering a sturdy and stylish Veneerware collection of 100% organic bamboo plates, trays and utensils.  They are marginally more expensive than their PartyCity counterparts (about 40-50 cents on average when bought in packs of 100) but oh so much better for Maata Bhumi (Mother Nature): they reportedly biodegrade in 4-6 months when composted.  And of course, what can beat bamboo – a high-yield renewable natural resource.  Check out the collection at www.bambuhome.com.
Probably as close to banana leaves as I will ever get.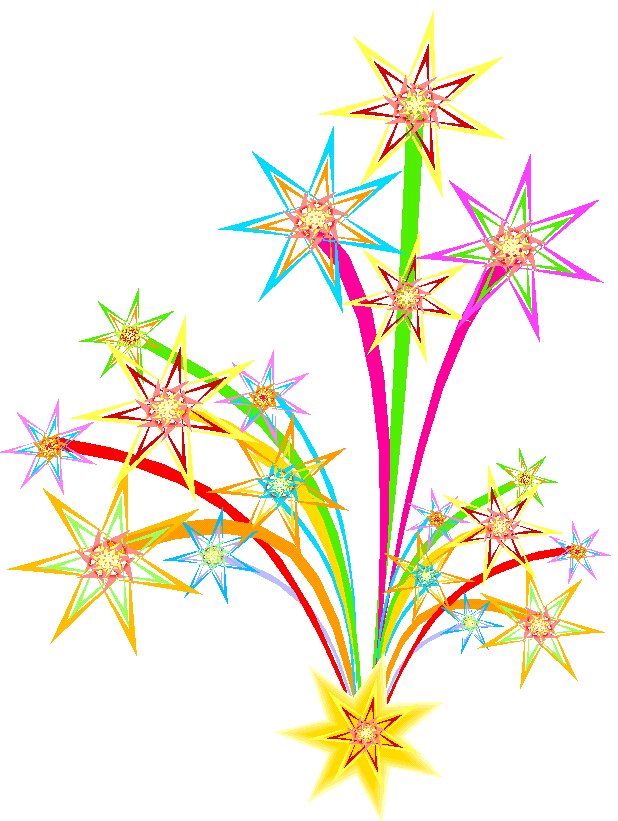 Ta daaaaa! Yes, folks – we have officially launched the full website.  Now you can read more about our history and our mission and view our products.  Some items ship now and others on October 7th – just in time for Diwali on October 17!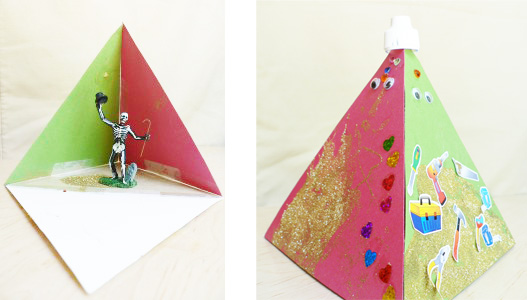 Navratri.  What is it?  Why is it observed?  The most popular legend goes like this: 
Once upon a time, Lord Brahma granted Mahishasura (the buffalo demon) a boon as a reward for his faithful devotion.  The boon protected Mahishasura from being defeated by any man in the universe.  Mahishasura became greedy with his new powers (he was a demon after all) and wreaked havoc.  The male gods were powerless, so they created Goddess Durga and endowed her with shakti (divine power).  Durga, along with with Goddess Lakshmi and Goddess Saraswati, defeated Mahishasura in a fierce battle, which lasted 9 nights (10 days).
As with other important Hindu holidays, Navratri is celebrated in different ways in different parts of India.  In East India, the festival is almost exclusively devoted to Goddess Durga and 9 forms of Durga are worshipped – 1 on each night of the festival.  In some parts of North India, stories from the Ramayana are invoked.  In West India, Durga's triumph is rejoiced with garba and dandiya raas.
In essence, this 9-night (10 day) festival is a celebration of womanhood – a jubilatory articulation of the unwavering powers of the divine feminine to defeat evil in the world.  The powers of each of the 3 main Hindu Goddesses are worshipped for 3 nights each:  Durga's (Parvati's) strength and energy for the first 3 nights, Lakshmi's power to bestow success and fortune on the second 3 nights, and finally Saraswati's powers of knowledge on the last 3 nights.  No single skill or tool is powerful enough to conquer evil; rather, the union of all feminine powers is necessary.  Now, how exactly do you explain this concept to your kids?
We devised a clever art (and math) project to illustrate this popular Navratri legend:  Storybook Pyramids.  This is a 4-sided pyramid –  a base and 3 triangles, where each triangle is a a Goddess (Durga (Parvati), Lakshmi and Saraswati).  Together, they join forces and encapsulate an evil demon.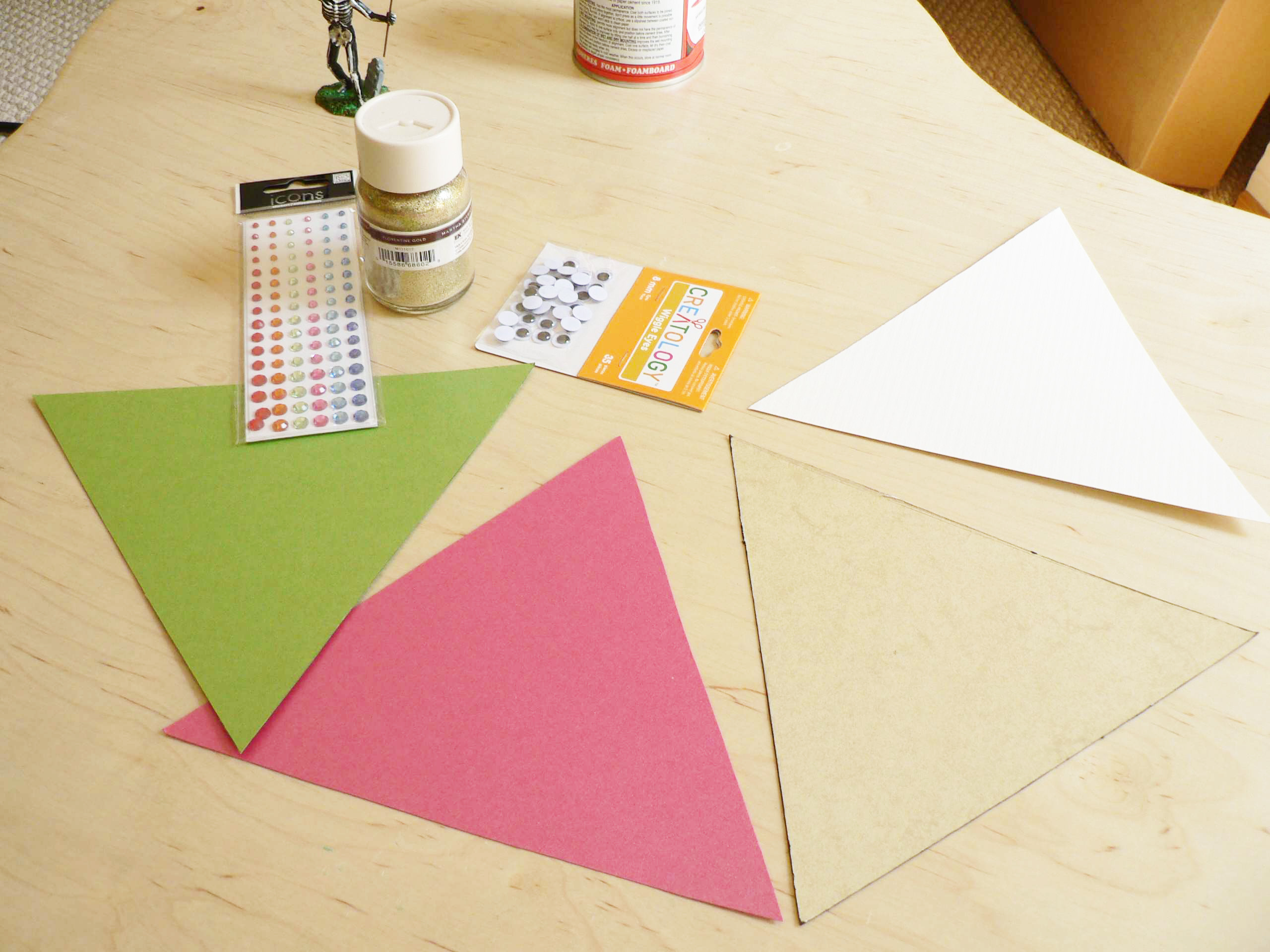 Here's what you'll need:
4 sheets of cardstock (different colors)
A "bad guy" a.k.a Mahishasura (we used a Halloween skeleton) – about 3 inches high
Embelishments (e.g. glitter, wiggle eyes, stickers, markers or paint)
Transparent tape
A small cap or ring (to secure the top of the pyramid)
Using our Triangle Template (available here), cut out 4 triangles.  Decorate 3 triangles as "goddesses," emphasizing the special qualities of each.  We used simple stickers – tool stickers for Durga, shiny heart stickers for Lakshmi and "back to school" stickers for Saraswati.  When finished, tape the triangles to the base (on the inside) and then place your "bad guy" on the base.  Fold-up the triangles to form a pyramid and secure the tip with a cap.
You can do this project in a single afternoon or space it out among the 10 days.  The idea is to narrate the Navratri legend as your child is creating.  Have fun and Happy Navratri!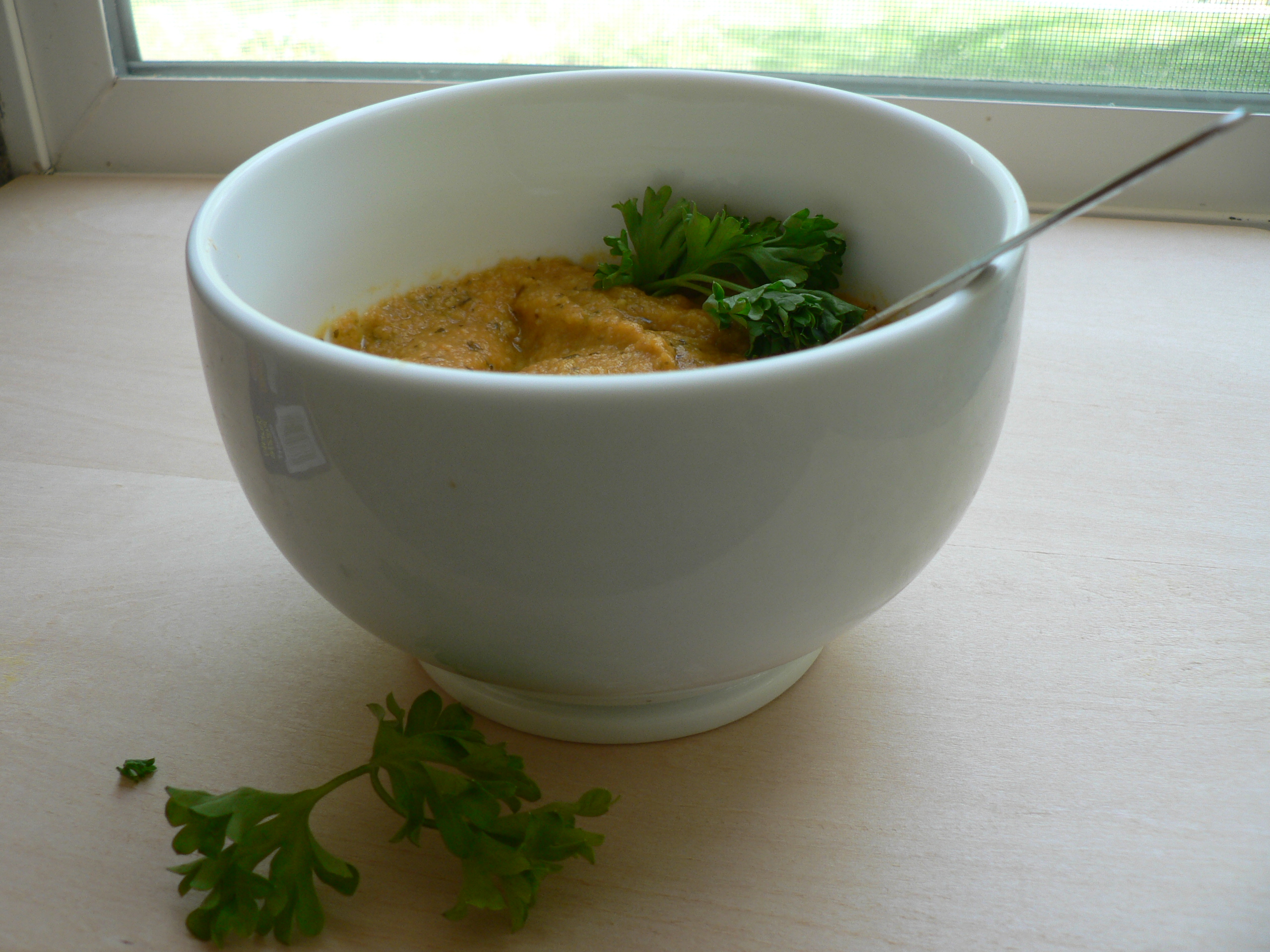 I used Morningstar Farms' soy-protein "chik'n nuggets" for this Italian-inspired meal, but you can use regular nuggets if you prefer.
6-8 baby carrots, diced (or 1 large carrot)
3 nuggets
1 Tbs pesto sauce
Steam the carrots in the Beaba – water level 3.  Meanwhile, prepare the nuggets as directed (I used the microwave) and cut into quarters.  When the carrtos are steamed, puree them with the nuggets (along with the reserve water) to desired consistency.  Transfer to a bowl, stir-in the pesto sauce and serve!

The holidays are a comin', and you're prepping your wardrobe.  You can't bear to put your daughter's darling silk lehnga (or that Burberry dress that you just had to buy for her) in the wash – so you are off to your local dry cleaners.  But wait – all dry cleaners are not the same.  Read on.
As an attorney who practiced in environmental law for 6 years, I know enough about dry cleaning to be wary.  Most dry cleaners (even some "organic" dry cleaners) use the solvent perchloroethylene – or "perc" for short – to clean garments.  Perc is regulated by EPA as a Toxic Air Contaminant and is also classified as a possible carcinogen.  If perc is not properly disposed of, it can contaminate soil and groundwater.  Many Superfund sites are contaminated with perc.  In short, it's bad stuff.
So why do most dry cleaners (85% according to recent data) still use it?  Because they can get away with it.  Some states (MA, NJ, NY, TX) are trying to ban perc, and California passed a ban in 2003 (which really won't take effect until 2020).
Now with all that's documented about perc, I wouldn't want it used on my clothes – let alone  on my kids' clothes.  But there are alternatives.  One of them is Green Earth Cleaning – a company which manufactures a liquid silicon solution, a (reportedly) safe substance.  There are about 1500 dry cleaners across the US that use Green Earth.  You can see if there's one in your area (and learn more about dry cleaning) by going to the company's website: www.greenearthcleaning.com.
I even trusted my prized white Cologne & Cotton duvet to my local Green Earth cleaner – with fantastic results.
Some moments in life are so filled with emotion that it's impossible to supress the tears – whether of joy or of sadness.  The birth of a child, a first haircut, a wedding – they are all pivotal events in a person's life.  In Hinduism, we celebrate these pivotal events –  samskaras – with big fanfare.  There are 16 of these samsakaras – the first of which starts with conception and the last of which is the death ritual.  Together, they mark the stages of a complete human life – a truly beautiful concept.
The 10th Samskara is the Vidyarambha – performed to mark the beginning of a child's formal education (vidya means "knowledge" and aarambham means "beginning").  The child traces akshara (letters) in either the sand or a tray of rice grains (or with gold – if you're wealthy!) – meant to invoke Saraswati Devi – the Goddess of Knowledge.
I know each family performs the Vidyarambha differently (some when the child is 2 or 3 years, others when the child is 5, and still others perfom some aspect of this ceremony annually on the Vijaydashami day of the Navratri celebrations), but I thought there was no better time to do this than my son's official First Day of School:  today he starts in his primary class at his wonderful montessori school.
My Vidyarambham "ceremony" was a bit more modern – I had my son trace the word "OM" with Do-a-Dot markers on a template I prepared.  (I got this idea from his Montessori toddler class – where they do this with the English alphabet – it encourages pre-writing skills since children who can't hold a pencil yet are really "writing" with the dots).
So this morning, amidst the tears and the pictures, I spent a quiet moment with my son – where he "wrote" and recited OM, and I blessed him with a kiss.  And so he embarks on the journey of knowledge…
(If you are so inclined, you can download our "OM" template here.)
I love French labels for kids like Jacadi and Marese for their exquisite tailoring and whimsical details.  Which is why it was love-at-first-sight when I came across Antik Batik.  Created by globetrotter Gabrielle Cortese, the line is a blissful marriage of handmade multi-cultural design techniques such as Batik printing and Bandhani art with decidedly French craftsmanship.  I love the Boxton Dress, made of cotton and silk and embellished with embroidery, beads and sequins.  Though big in Europe, the label is a well-kept secret here in the US, but sites like Milkshop and 25 Park offer a decent selection.  Antik Batik also has designs for women. Don't even get me started…
9g5ismpyq2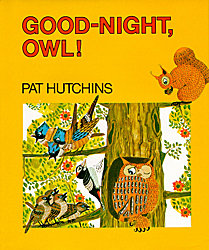 We picked up this great read at the library the other day:  Good-Night Owl by Pat Hutchins.  It's a really cute story about an owl who tries to go to sleep, but keeps getting woken up by buzzing bees, cooing doves, rat-a-tat woodpeckers, and chittering starlings.  I can't tell which my toddler likes better:  the funny sounds we make or the surprise ending (the owl gets his revenge at night be letting out a big screeeeech and waking everyone up!).
The book is also great for pointing out the many different types of birds.  Of course I always try to increase my son's Telugu vocabulary, but this book had me stumped.  I knew the basic birds ("gudla gooba" = owl and "kaaki" = crow), but how do you say "starling" or "woodpecker" in Telugu?  I turned to a terrific online resource – the University of Chicago's Digital Dictionaries of South Asia.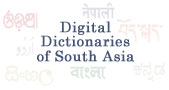 You can choose among Sanskrit, Marathi, Bengali (Assamese anyone?), etc., type-in the English word you are looking for, and there you are.  They are still in the process of uploading some of the major languages (e.g. Gujarati, Malayalam, and Kannada (there are other online resources for these languages)), but kudos to UofC for such a remarkable contribution towards the preservation of South Asian languages.
And for the Telugu folks, here's a vocabulary list:
owl – gudla gooba
bee – tummedha
crow – kaaki
squirrel – udutha
nightingale – chakoramu
starling – saari (myna)
woodpecker – chiratha pakshi
dove – paavuram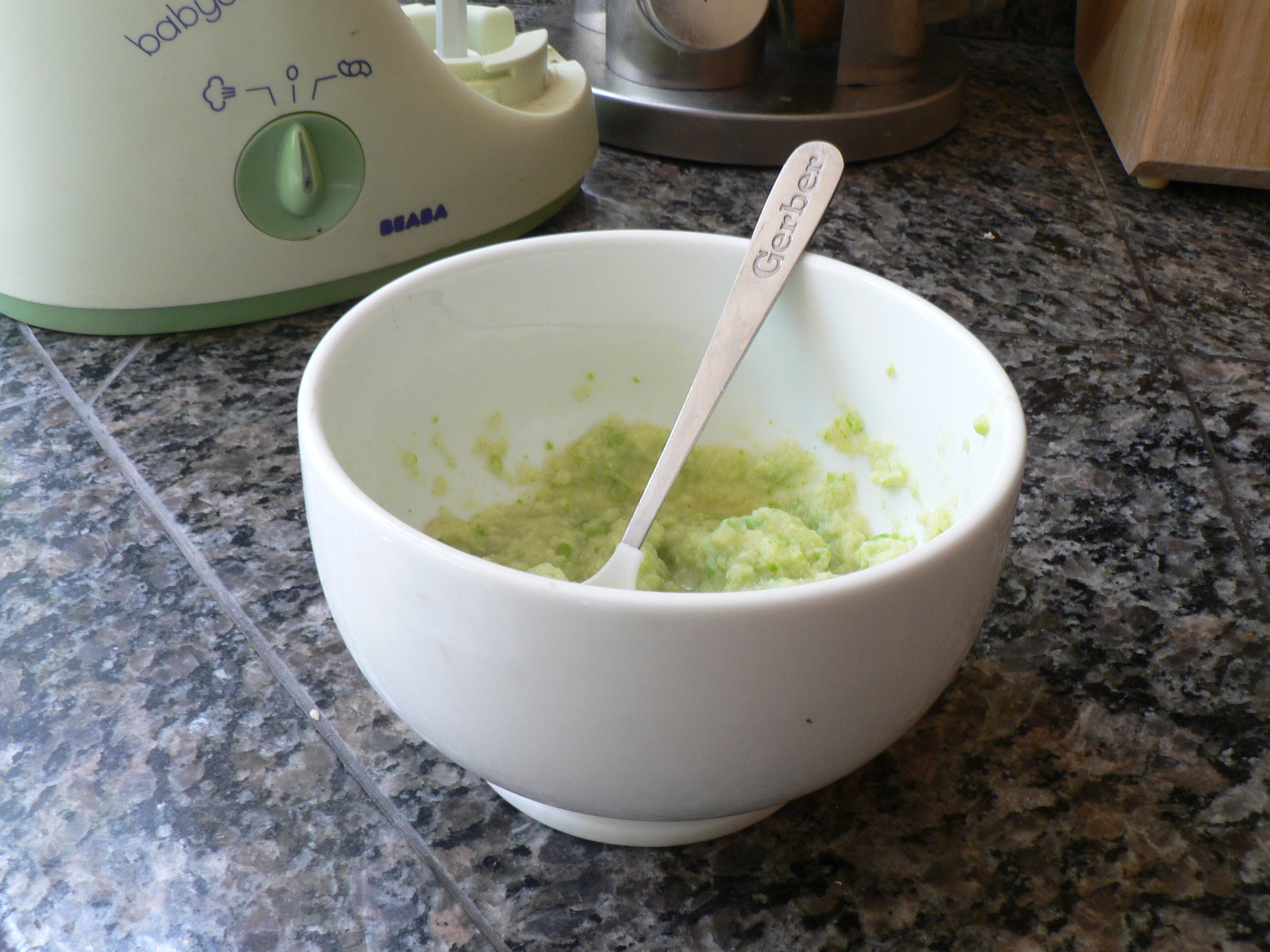 As vegetarians, our family tries to eat alot of tofu.  I couldn't find very many flavourful tofu recipes for babies – so I improvised one day with refrigerator remnants and ended up with a family favourite.  My 9-month-old eats this as her meal, and everyone else uses this as a pita bread or chip dip.  My secret ingredient here is MTR Rasam Powder (available at your local Indian grocer) – but you can substitute a mix of cumin and coriander powders.
1/2 large potato, peeled and diced
2 tbs olive oil
1/2 small onion, diced
2-3 garlic cloves, minced
2-3 ounces soft tofu
1/3 cup peas (frozen, cooked)
1/8 tsp salt
1/8 tsp rasam powder
dash of red chili powder (optional)
Steam the potatoes in the Beaba –  water level 3.  Meanwhile, heat the oil in a skillet.  Add the onion and then the garlic, and saute until the onion is translucent.  When the potatoes are steamed, puree them with the onion and garlic (and their oil) as well as the remaining ingredients in the Beaba – adding water as necessary.