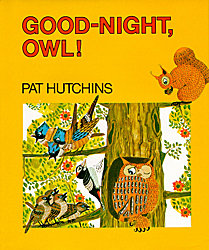 We picked up this great read at the library the other day:  Good-Night Owl by Pat Hutchins.  It's a really cute story about an owl who tries to go to sleep, but keeps getting woken up by buzzing bees, cooing doves, rat-a-tat woodpeckers, and chittering starlings.  I can't tell which my toddler likes better:  the funny sounds we make or the surprise ending (the owl gets his revenge at night be letting out a big screeeeech and waking everyone up!).
The book is also great for pointing out the many different types of birds.  Of course I always try to increase my son's Telugu vocabulary, but this book had me stumped.  I knew the basic birds ("gudla gooba" = owl and "kaaki" = crow), but how do you say "starling" or "woodpecker" in Telugu?  I turned to a terrific online resource – the University of Chicago's Digital Dictionaries of South Asia.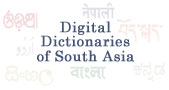 You can choose among Sanskrit, Marathi, Bengali (Assamese anyone?), etc., type-in the English word you are looking for, and there you are.  They are still in the process of uploading some of the major languages (e.g. Gujarati, Malayalam, and Kannada (there are other online resources for these languages)), but kudos to UofC for such a remarkable contribution towards the preservation of South Asian languages.
And for the Telugu folks, here's a vocabulary list:
owl – gudla gooba
bee – tummedha
crow – kaaki
squirrel – udutha
nightingale – chakoramu
starling – saari (myna)
woodpecker – chiratha pakshi
dove – paavuram
Tags: bilingual kids, nature, Telugu