Archive for October, 2009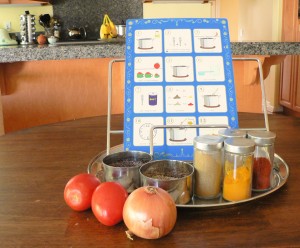 Just because The Chota Chef Recipe Cards are illustrated doesn't mean they're just for kids.  They're great for anyone (eh hem: spouses, significant others, friends…) who is "challenged" ( to be politically correct) in the cooking department.  Or in my case, to outsource dinner prep to our wonderful nanny, Meredith, who hails from Ohio and has never in her life made Indian food.
I had her make Recipe #18 – Gnaana's "Panj Spice Chana Masala" (the featured recipe for Punjab (in which kids learn to count to 5 in Punjabi!)).  I left the recipe card and assembled the ingredients on the kitchen counter in the morning – without any further notes or explanation – and left her to the test.  The result?  Fabulous – if she does say so herself!
Not to mention the serendipity of coming home to aromas of jeera and dhania…Need I say more?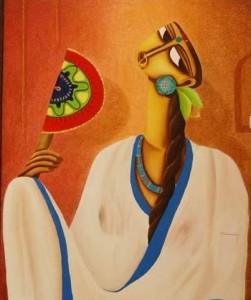 In Summer by Pintu Paul

Some people get hit with the Travel Bug.  I get hit with the Art Bug (in addition to the Travel Bug).  It usually happens when I'm staring at a wall in our house and decide I'm not happy with what's currently hanging there (usually a print or photograph).  My problem is that I'm in love with contemporary Indian art – a sublime fusion of modern and ancient.  So I just can't skip off to some L.A. art gallery.
India has some amazing artists. When my husband and I were living in Bangalore, we took full advantage.  One of the pieces we purchased was by up-and-coming Bengali artist Pintu Paul. (It's a stunning piece entitled "Krishna to Battle" in which Paul cleverly replicates (with paint) the old tradition of temple stone work with a modern, abstract twist.)
Fortunately for us, there are quite a few online galleries that sell contemporary Indian art – at price points much lower than what you'll find anywhere in North America or Europe.  Two of our favourites are Mon Art Gallerie (based in Kolkata) and Different Strokes (based in Udaipur). The galleries typically ship just the canvas – great for saving on shipping costs.
So many walls….so many wonderful (and affordable) choices.  Great art inspires our whole family!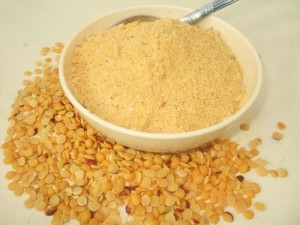 We eat a lot of dhal in our family. Dhal and rice. Dhal and spinach. Dhal and rasam.  And on lazy nights, just dhal and and my mom's Andhra mango pickle. Yum.
When my kids were just starting on solids around 5 months, we fed them dhal and rice almost daily.  We gave it to them plain with some ghee or mixed it in with a vegetable puree (jarred or made in the Beaba).   But for young babies, it's difficult to have fresh cooked rice on hand (or have the patience to wash the blender) each time you want to feed them the protein-rich dhal-and-rice.  So what do you do? 
You pre-make a large jar of dhal-and-rice powder.  When you're ready to feed, you mix 2 tablespoons of the powder with about 2/3 cup of water and heat it up on the stove (stirring constantly) until the water is absorbed. Cover and let stand for about 1 minute.  And there you have it – a fresh meal in 2 minutes flat.
So here's the recipe for the dhal powder:
1/2 cup dry dhal (moong dhal is best for starters – later, you can also use toor dhal or other types of dhal)
1 cup dry rice (start with white, graduate to brown)
1 tablespoon jeera (cumin seeds)  (you can substitute 1 teaspoon of cumin powder if you don't have the seeds)
Mix and grind in a coffee grinder until you get a very fine powder.
When you cook and serve, add some ghee  and a dash of salt.

The "Indian Christmas."  The "Festival of Lights."  The most important holiday celebrated in India, by members of the Indian diaspora and by other South Asians.  But what's the meaning behind Diwali?
Well, like most things Indian, the answer to that question is anything but simple. It means different things in different regions and communities – to those from North India and South India, and to Sikhs and Jains – and the length of the celebration varies from 1 to 5 days. One could write a (very long) book about this topic. We're here to de-mystify and simplify the spiel.
Deepavali (or Diwali for short) literally means "a row of lamps" (deepa means an "(oil) lamp" and vali means "row").  The date is decided by the lunar calendar as so varies yearly, but generally falls in October or November.
The colloquial meaning (as manifested by various Diwali legends) varies, but the spiritual meaning is the same:  it is essentially a celebration of the inner light of earthly beings – the Atman – the pure, infinite and eternal Atman – which outshines and transcends the physical realm.  To know and realize Atman is to triumph over darkness, obstacles and ignorance.
Diwali is typically celebrated over the course of several days:
Day 1: Dhanteras: Celebrated mainly in North India as a  day of wealth – an auspicious day for shopping of metal utensils and gold (date in 2009:  October 15).
Day 2: Narak Chaturdasi:  In South India, this day is recognized as the Main Diwali Day – commemorating Lord Krishna's defeat of the demon Narakasura (date in 2009:  October 16).
Day 3: Main Diwali Day:  This is day is celebrated as the actual Diwali Day around the world.  For North Indians, the is the day the people of Ayodhya welcomed back their beloved King Rama after his defeat of the demon king Ravana, as chronicled in the famous Ramayana epic.  Also, South Indians celebrate this day with a Lakshmi puja. (date in 2009:  October 17).
Day 4: Govardhan Puja: In may parts of North India, this day commemorates Lord Krishna's defeat of Indra and lifting of Mt. Govardhan to save villagers from Indra's wrathful flood.  In Karnataka and Tamil Nadu, it is celebrated as Bali-Pratipada – when Vamana (Vishnu's 5th incarnation) defeated demon king Bali. In Gujarat and Nepal, this day is recognized as their New Year Day. (date in 2009:  October 18).
Day 5: Bhai Duj:  Celebrated mainly in North India as a day to celebrate the love between brothers and sisters.  (date in 2009:  October 19).
Bengalis celebrate this day as Kali Puja.
Jains recognize  Diwali as the day Lord Mahavira attained Moksha (Nirvana).
Sikhs celebrate this as Bandi Chhorh Diwas – the day the Muslim Emperor Jahangir released Guru Har Gobind Ji (and 52 other princes) from prison – an important event in the Sikh freedom struggle.
So there you have it – a concise-as-we-can-be cheat sheet!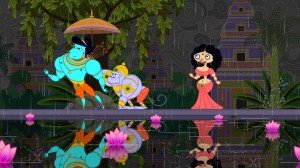 OK, this one is for the adults.  If you haven't seen Nina Paley's brilliant (and modern) rendition of the Ramayana – you definitely should!  This is a hilarious Disney-meets-The Simpsons full length animated film (82 minutes).  Yes, it's a cartoon, but parents will want to pre-screen the cartoon film to see if they are comfortable showing it to their kids.
Don't expect it to be the be-all-end-all authority on the storyline of the epic – just take it for what it is. 
Without further adieu:  www.sitasingstheblues.com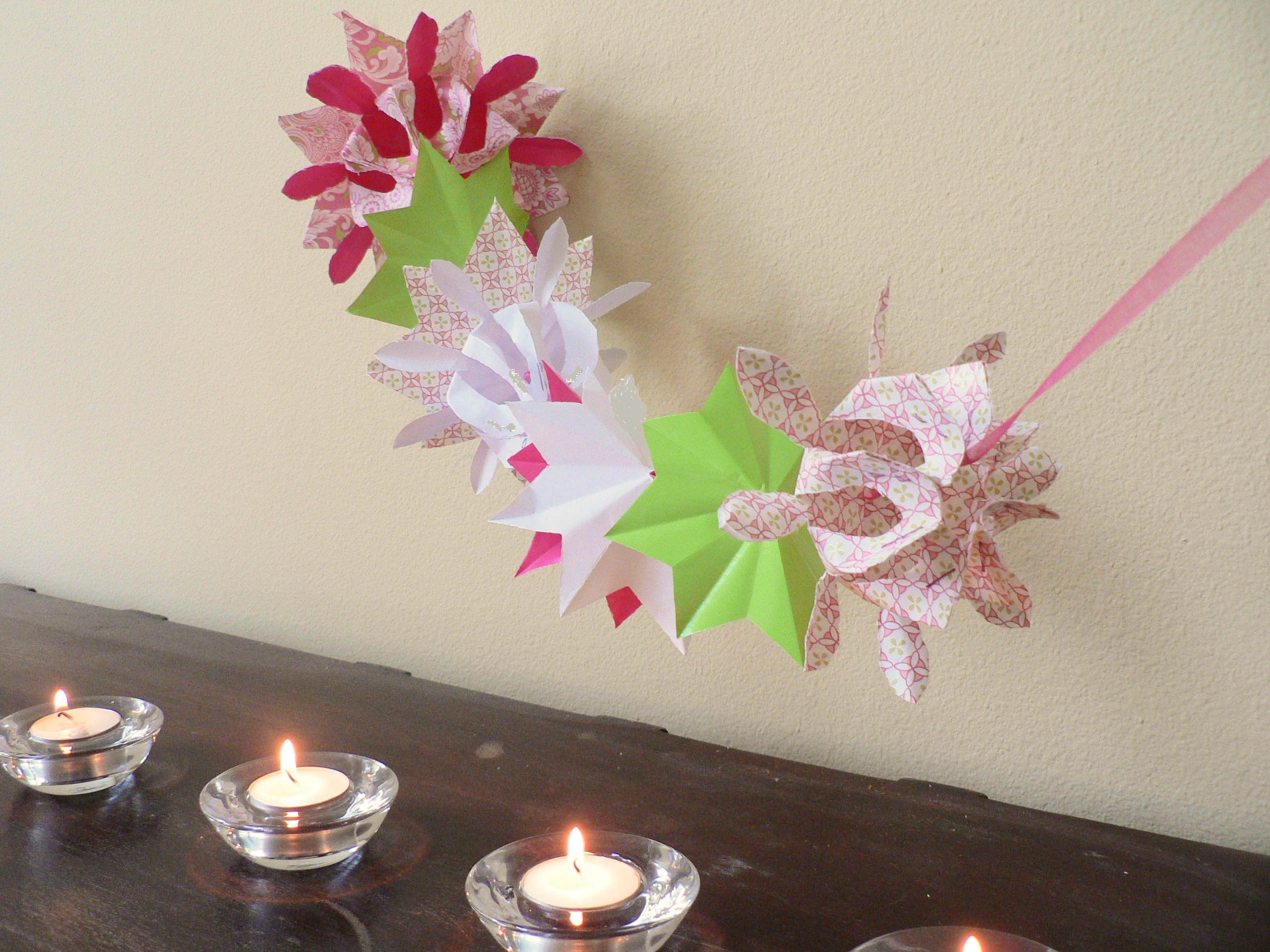 Yes, folks, it's that time of the year again…Deepavali (or Diwali for short)…celebrated by South Asians around the world.  And what's a holiday without decorations?  We're decking the doorways with beautiful origami garlands – a modern and stylized version of phul mala (flower garlands) that adorn Indian homes and shops during festival times.  Threading garlands is also a great activity for kids to develop motor skills – a variation of the Montessori Lacing Beads exercise. 
Here's what you'll need:
8.5″ x 11″ thin paper (text weight or gift wrap works great)
Scissors
Stapler (mini if you have it)
Plastic needle (large, with a round end – available at craft stores)
Yarn or string (we used thin ribbon)
We used a form of origami called kusudama – which uses cutting and gluing/stapling – because you can create beautiful shapes and flowers in 1-2 minutes.  We used portions from these video tutorials to make our stars and flowers (skip the inital ad): (1) paper stars and (2) paper flowers.
If you have young kids, you'll want to create the origami yourself (older kids can of course fold their own).  Also for younger kids, to better simulate the Lacing Beads exercise (and to make it easier on little hands), you'll want to pre-punch holes in the origami with the plastic needle.
That's it!  Let your child dig into a pile of shapes and flowers and start threading!
If you're short on time, or as a variation, you can also use fresh leaves or flowers.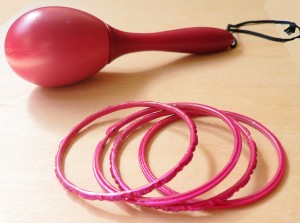 I finally got around to buying my little girl some playful baby bangles (the plastic/resin type – not the you-can-never-wear-these-because-you-will-lose-them-22k gold bangles).  She loves them!  They jingle oh-so-cutely when she shakes her arm.  I have no idea whether they are compliant with the new US safety regulations for childrens' products, (the CPSIA of 2008), but, hey, I'm pretty sure I wore these when I was a baby in India – and I turned out fine.  Makes me think:  the original baby wrist rattle toy!

Let's face it – teaching kids a language other than English in an English-speaking world is difficult.  It requires a lot of persistance on behalf of the parent(s) or caregiver(s).  And I'll have to admit, sometimes I question whether I'm doing the right thing.  I remember when my son first started in a preschool: he was 2 1/2 years old and he didn't speak very much. The majority of the words he did speak were Telugu words. I had to give his teachers a "cheat sheet" so they could understand him.  Also, at playdates, I sensed he was having trouble communicating with kids his age.  I wondered whether the bilingualism I was pushing for at home  was somehow stifling him.  Was he scared to talk because he didn't know which language to speak? It is so very hard to watch your child suffer in the speech department.
But it's hard to dispute the scientific evidence that learning multiple languages is a tremendous benefit to children.  Yes, children may have difficulty at first, but they (always) eventually catch up to their monolingual peers.  In fact, a recent study pubished in Science Magazine concludes that 12-month-old bilingual infants acquired two languages in the time in which monolingual infants acquired one.  More importantly, the bilingual infants were able to do this because they quickly became more flexible learners.
The study is a fascinating read as to how infants learn speech patterns.  Here is a link to the abstract:  www.sciencemag.org (we can't reproduce the full text article due to copyright, but you can follow the links to purchase the article).
As Charlemagne once said: To have another language is to possess a second soul.
And here's an update on my son: at 3 1/2, he speaks English to everyone and Telugu to me – he is able to switch between the 2 seemlessly. Now, of course, I'm worrying about my 11-month-old daughter…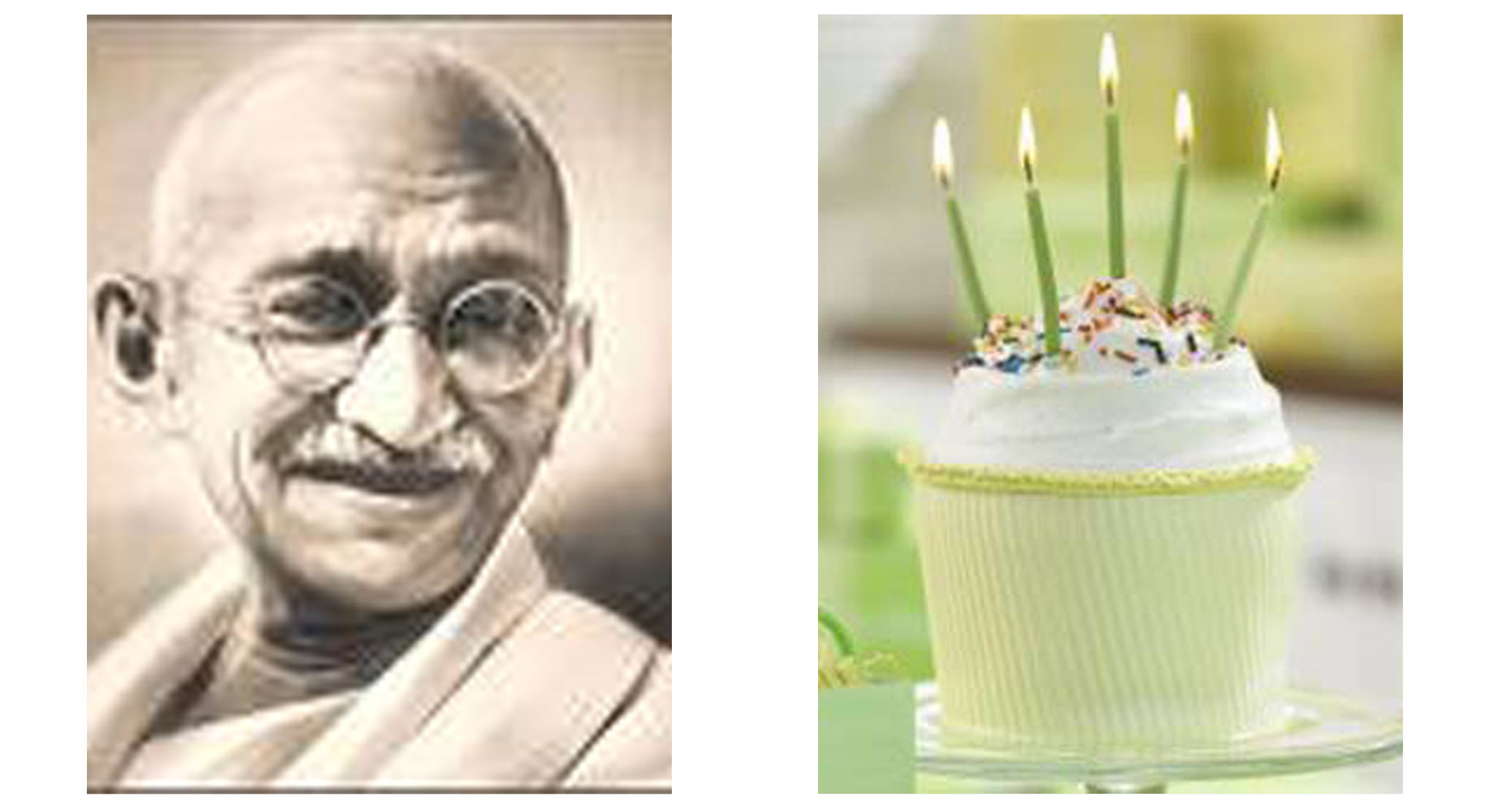 I remember when my son saw Gandhi-ji's picture for the first time several months ago – I had a large copy of the above picture (the portrait, not the cupcake) lying around at home for a future Gnaana product.  When I noticed he was staring at the picture, I told him that it was Gandhi, and that he was "a very good man."  I guess Gandhi's photograph was amusing to him because he smiled (his cute, shy smile) and repeated "Gandhi."  I guess if you think about it, Gandhi does look funny (especially when he's enlarged) – with the bald head, ears sticking out, bushy mustache and the round spectacles – like a jovial grandfather ready to get silly with the kids.
Images are so powerful.
This Gandhi Jayanti, I propped up that picture on our cookbook stand and announced that it was Gandhi's birthday.  Later this evening, we're celebrating with a quiet party at home – with cupcakes and candles (since, in the world according to toddlers, one simply cannot have a birthday without cake), and a simplified oral story (my son's latest craze) about the man who defeated an empire by being calm and patient.
And here is a great poem, written from a kid's perspective, from an unknown author:
A Poem On Gandhiji
by: anonymous
It was vacation, and I had nothing to do;
I was at home and mummy daddy too;
My glance caught a sketch, of an old person;
He appeared to be the gentlest under the sun;
Strikingly, different was the expression in his Eyes;
Suddenly I felt guilty of all my lies;
His lips parted in a smile, so pure
He left me spellbound that's for sure
"Who is he dad?" was my question
"Come on, don't you know?" was his reaction
He is the one who has set us free;
He is the one who has planted the tree;
He is the one, who was bold enough;
Firm and stubborn but never rough;
Truth and non-violence is what he taught
Same were the principles for which he fought
Preaching and practices for once were the same
His deed were worth name and fame
I have never seen a soul, so tall;
Oh dad; he appears to be the father of all
"You said it, child" said my dad
'Bapu' is the name he always had
I saw the sketch again and again,
His returning smile was my greatest gain,
October 2nd was the day my friends
That certainly changed my life's trends.