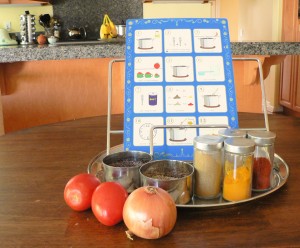 Just because The Chota Chef Recipe Cards are illustrated doesn't mean they're just for kids.  They're great for anyone (eh hem: spouses, significant others, friends…) who is "challenged" ( to be politically correct) in the cooking department.  Or in my case, to outsource dinner prep to our wonderful nanny, Meredith, who hails from Ohio and has never in her life made Indian food.
I had her make Recipe #18 – Gnaana's "Panj Spice Chana Masala" (the featured recipe for Punjab (in which kids learn to count to 5 in Punjabi!)).  I left the recipe card and assembled the ingredients on the kitchen counter in the morning – without any further notes or explanation – and left her to the test.  The result?  Fabulous – if she does say so herself!
Not to mention the serendipity of coming home to aromas of jeera and dhania…Need I say more?
Tags: dinner, vegetarian