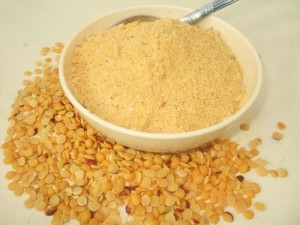 We eat a lot of dhal in our family. Dhal and rice. Dhal and spinach. Dhal and rasam.  And on lazy nights, just dhal and and my mom's Andhra mango pickle. Yum.
When my kids were just starting on solids around 5 months, we fed them dhal and rice almost daily.  We gave it to them plain with some ghee or mixed it in with a vegetable puree (jarred or made in the Beaba).   But for young babies, it's difficult to have fresh cooked rice on hand (or have the patience to wash the blender) each time you want to feed them the protein-rich dhal-and-rice.  So what do you do? 
You pre-make a large jar of dhal-and-rice powder.  When you're ready to feed, you mix 2 tablespoons of the powder with about 2/3 cup of water and heat it up on the stove (stirring constantly) until the water is absorbed. Cover and let stand for about 1 minute.  And there you have it – a fresh meal in 2 minutes flat.
So here's the recipe for the dhal powder:
1/2 cup dry dhal (moong dhal is best for starters – later, you can also use toor dhal or other types of dhal)
1 cup dry rice (start with white, graduate to brown)
1 tablespoon jeera (cumin seeds)  (you can substitute 1 teaspoon of cumin powder if you don't have the seeds)
Mix and grind in a coffee grinder until you get a very fine powder.
When you cook and serve, add some ghee  and a dash of salt.
Tags: baby recipes, dhal, vegetarian