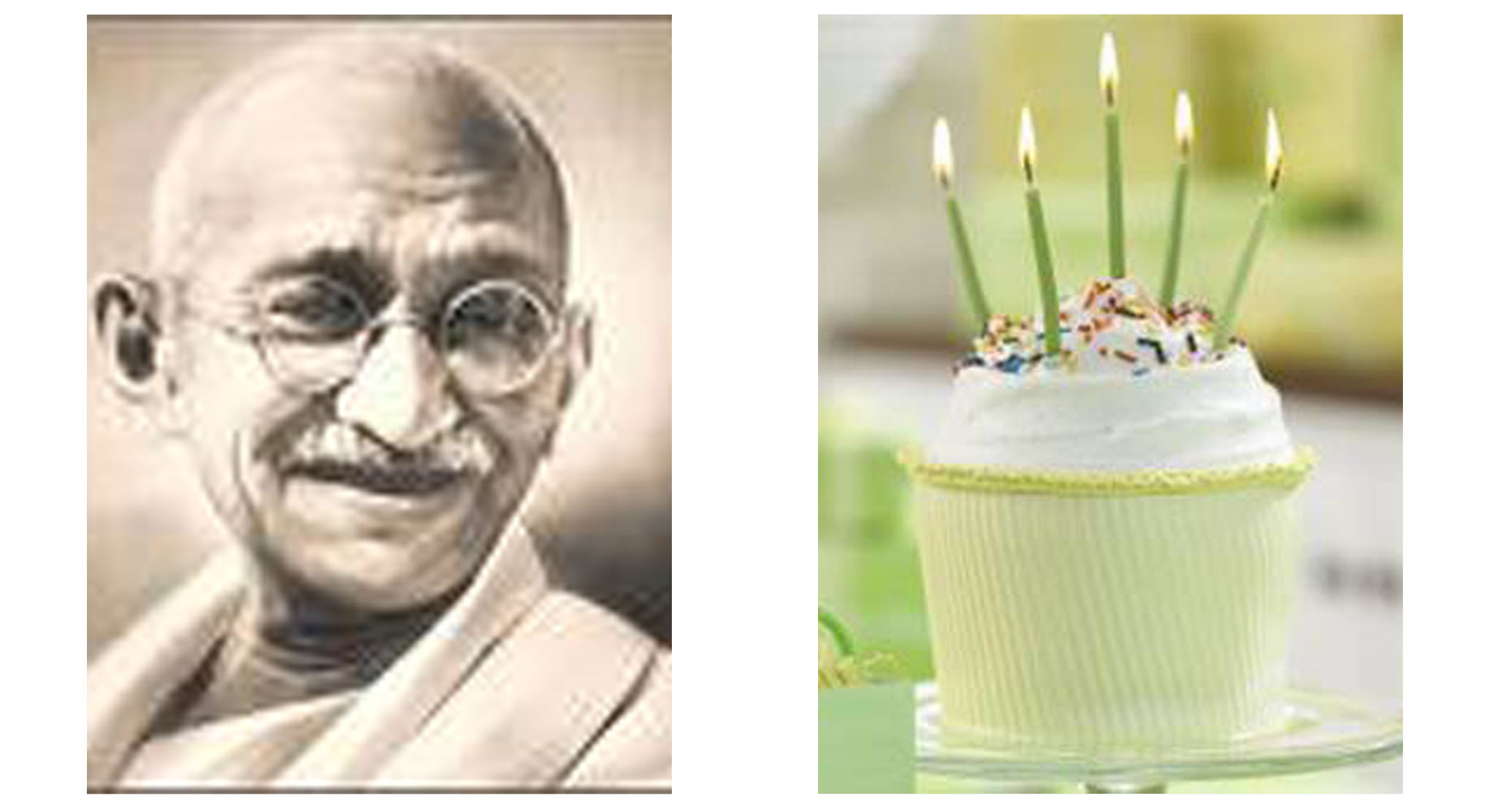 I remember when my son saw Gandhi-ji's picture for the first time several months ago – I had a large copy of the above picture (the portrait, not the cupcake) lying around at home for a future Gnaana product.  When I noticed he was staring at the picture, I told him that it was Gandhi, and that he was "a very good man."  I guess Gandhi's photograph was amusing to him because he smiled (his cute, shy smile) and repeated "Gandhi."  I guess if you think about it, Gandhi does look funny (especially when he's enlarged) – with the bald head, ears sticking out, bushy mustache and the round spectacles – like a jovial grandfather ready to get silly with the kids.
Images are so powerful.
This Gandhi Jayanti, I propped up that picture on our cookbook stand and announced that it was Gandhi's birthday.  Later this evening, we're celebrating with a quiet party at home – with cupcakes and candles (since, in the world according to toddlers, one simply cannot have a birthday without cake), and a simplified oral story (my son's latest craze) about the man who defeated an empire by being calm and patient.
And here is a great poem, written from a kid's perspective, from an unknown author:
A Poem On Gandhiji
by: anonymous
It was vacation, and I had nothing to do;
I was at home and mummy daddy too;
My glance caught a sketch, of an old person;
He appeared to be the gentlest under the sun;
Strikingly, different was the expression in his Eyes;
Suddenly I felt guilty of all my lies;
His lips parted in a smile, so pure
He left me spellbound that's for sure
"Who is he dad?" was my question
"Come on, don't you know?" was his reaction
He is the one who has set us free;
He is the one who has planted the tree;
He is the one, who was bold enough;
Firm and stubborn but never rough;
Truth and non-violence is what he taught
Same were the principles for which he fought
Preaching and practices for once were the same
His deed were worth name and fame
I have never seen a soul, so tall;
Oh dad; he appears to be the father of all
"You said it, child" said my dad
'Bapu' is the name he always had
I saw the sketch again and again,
His returning smile was my greatest gain,
October 2nd was the day my friends
That certainly changed my life's trends.