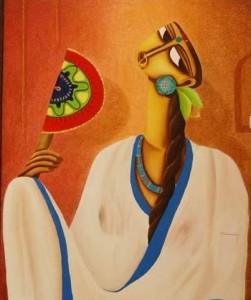 In Summer by Pintu Paul

Some people get hit with the Travel Bug.  I get hit with the Art Bug (in addition to the Travel Bug).  It usually happens when I'm staring at a wall in our house and decide I'm not happy with what's currently hanging there (usually a print or photograph).  My problem is that I'm in love with
contemporary Indian art
– a sublime fusion of modern and ancient.  So I just can't skip off to some L.A. art gallery.
India has some amazing artists. When my husband and I were living in Bangalore, we took full advantage.  One of the pieces we purchased was by up-and-coming Bengali artist Pintu Paul. (It's a stunning piece entitled "Krishna to Battle" in which Paul cleverly replicates (with paint) the old tradition of temple stone work with a modern, abstract twist.)
Fortunately for us, there are quite a few online galleries that sell contemporary Indian art – at price points much lower than what you'll find anywhere in North America or Europe.  Two of our favourites are Mon Art Gallerie (based in Kolkata) and Different Strokes (based in Udaipur). The galleries typically ship just the canvas – great for saving on shipping costs.
So many walls….so many wonderful (and affordable) choices.  Great art inspires our whole family!