Archive for November, 2009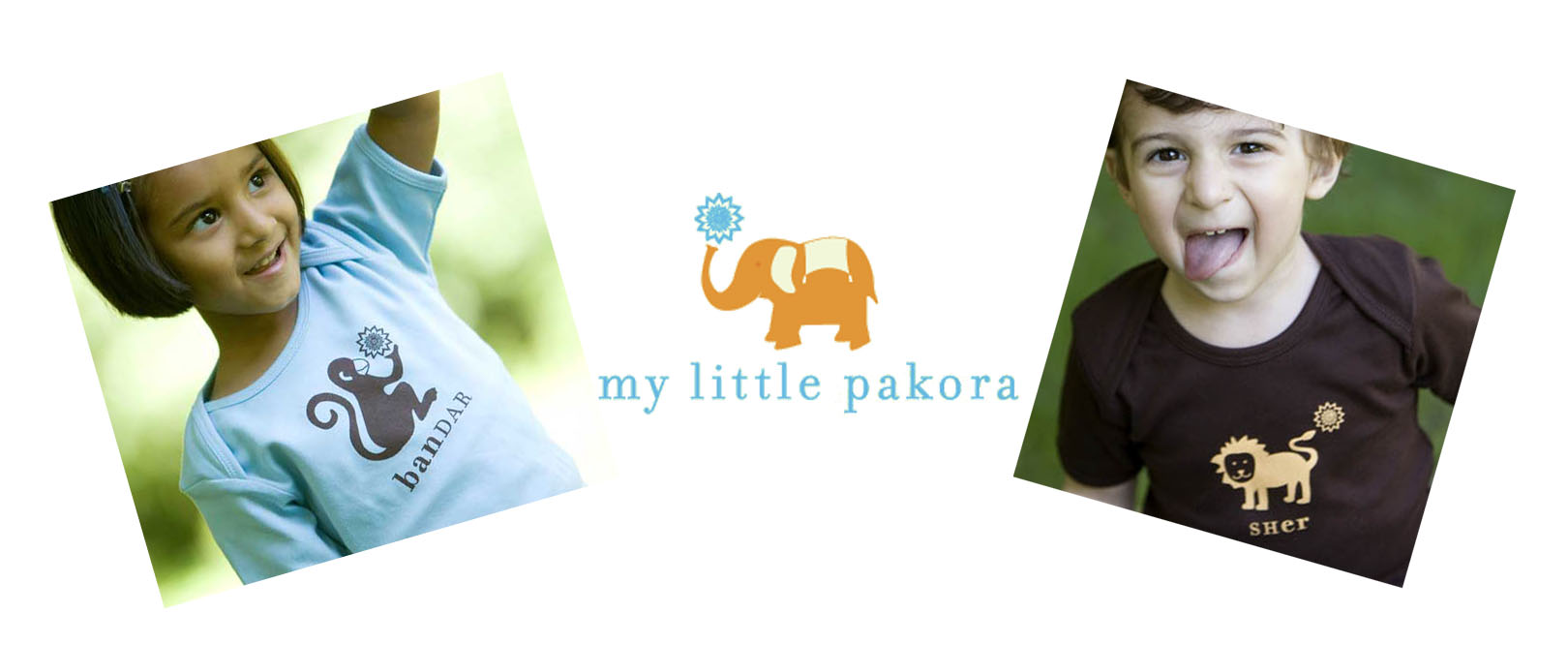 As we say on our site:  Ancient India gave birth to a rich array of ecological ideals.  Of course modernity burried some of these ideals, but one of the movements that is (re)gaining ground in India is the push for organic and sustainable farming.  We sat down with Sonia Gupta, founder of My Little Pakora – a fabulous line of baby wear inspired by South Asia (and produced with organic cotton from India), who enlightened us about what it means to buy organic clothing:
 

Your clothing is certified by SKAL – what does that mean?


SKAL is the certification for organic cotton production. What it means to the consumer is that you can be assured that the farms where your organic cotton comes from have been inspected. The inspection includes farm visits, examination of the soil, and review of samples taken from the farm to confirm that pesticides are not being utilized. 

What percentage of the cotton grown in India do you think qualifies as organic?
I would say around 32%.  As the demand for organic cotton grows I do foresee this percentage increasing.

What do think is the most important immediate benefit to Indian farmers of growing cotton organically?


I would say there are multiple benefits but one of the important facets is that the cost of farming is lower for the Indian farmer when growing organic goods. The investment into herbicides and pesticides can be extremely expensive and the use of these chemicals results in a "posioned land" – which not only affects the crops, but also the water and the adjacent land and villages.  On a positive note, the push for organic farming in the Indian community has lead to systems that are more sustainable and profitable.  The best part is they have learnt that you can rely on other methods for great crop production – pesticides are not the only answer. 

What do you love most about dressing your daughter in organic clothes?


I love that I am doing my part in helping Mother Earth. Aside from the sheer softness of organic clothes, by buying organic I know that I am supporting a eco-system that is sustainable! 

 

How do you encourage and educate your daughter about organic living?


We do quite a lot, starting with recycling. She is finally at the age where she understands why we do certain things like limiting our water consumption when brushing our teeth and having a bath, turning off the lights when we are not using them, recycling paper for arts and crafts, and ensuring that all paper and plastic is recycled.  Actually, on recycling day she helps me sort items which is a great learning activity.
Thanks, Sonia, for this wealth of information!  And check My Little Pakora's fantastic Thanksgiving sale here.
The shopping season has begun, and if you consider yourself eco and stylish, you can't carry around those bright green reusable grocery totes now can you?  We found these cute cotton shopping bags from Himalayan Tapestry.  Made from 100% cotton and printed with vegetable dyes, the totes are large enough to carry you through an afternoon of shopping.
And the best part?  They're handmade by Indian and Nepali women through a women's development center whose mission is to train and afford women the opportunity to support their families.  All proceed from every sale are invested directly back into the development center – so they can reach out to more women.
Makes me feel a little better about myself when I'm handing over my plastic.  Check it out: himalayantapestry.etsy.com

As an Indian parent, I want to strangle those people who, when they see my kids, just have to comment about their skin colouring.  "Oh, how fair she is!" or "How dark he's become this summer – too much time at the beach?  You should use SPF 185."  Aaaaargh!
I think my 3-year-old gets really confused about comments like these – are they compliments or criticisms?  Either way, my kids are going to be armed and secure about their skin:  we'll be reading The Skin You Live In
 by Michael Tyler many times over.  Published by the Chicago Children's Museum, this children's book is pure poetic brilliance.  It's a celebration of all different shades of skin and it certainly has us talking.
So if any aunties and uncles out there comment on my kids' skin colour in the future – watch out – because the kids and I are choreographing a Broadway-style song-and-dance-routine to this book.  And we'll be singing it to you.
Time to get serious here.  Last Saturday, I gave a speech in Los Angeles at the Kannada Cultural Association's Children's Day Festival.  My topic was "Preparing Our Children For The Future."  I didn't talk about academics and such, but about the importance of cultural education.  In sum, I stressed that culture was like a language – and that it needs to be incorporated early in children's life – so that they can internalize and make it a relevant part of their lives as they grow older.  I also urged parents to examine their child's relationship with culture – and to make sure they understand the true meaning behind many cultural practices – so that they'll be inspired to form their own communities in the future and continue traditions.
The response to the speech was terrific!  You can read the full text here.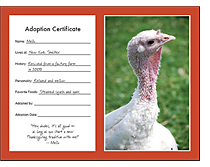 I'm kind of on the fence when it comes to Thanksgiving – if you live in the U.S., it's such a wonderful time to spend with family, friends and food.  But that poor turkey that the holiday revolves around – as a vegetarian it doesn't sit well with me.
This year, we're going to Adopt-A-Turkey!  Farm Sanctuary's Adopt-A-Turkey program has been around since 1986, and the organization has helped to save thousands of turkeys from slaughter.  They also stage an annual Celebration FOR the Turkeys in NYC, Watkins Glen, NY and Orland, CA, where "turkeys are the guests of honor, not the main course."   For $25 you can sponsor a turkey that lives at either their New York or California shelter, and in return you'll receive an Adopt-A-Turkey certificate with a color photo and fun facts about your new farm friend.  The kids are still deciding between Gideon and Rhonda – cute, eh?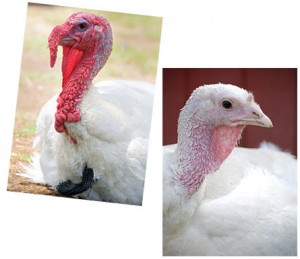 Farm Sanctuary also has a Turkey Express Adoption program, where you bring the turkey home with you – but I don't think I'll tell the kids about that…
I don't know about you, but the hour between the end of the work day and dinnertime – 5-ish to 6-ish – seems really long lately, especially with the recent change from Daylight Savings Time.  We used to head off to a playground so the kids could release their energy.  But since that's not an option now, we've turned to the ancient Indian mind-body exercise of yoga.
I started using Itsy Bitsy Yoga with my daughter soon after she was born – being a winter baby, I think it helped tremendously to stimulate and also soothe her.  Now we combine that book with Little Yoga – a cute and whimsical book for toddlers that illustrates animal yoga poses – so her older brother can join the fun.
If any of our neighbors happen to be peaking into our window, they may be wondering why we're all gnarled up on our floor…but not to worry – they're not tears of distress – we're just laughing hysterically!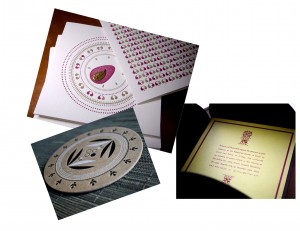 I'm infatuated with paper. So much so that sometimes I resent the digital age – people don't snail-mail cute "We've moved!" cards or creative party invitations anymore. 
But when you sift through .kamal.'s astonishing collection of letterpress cards and invitations, you'll want to join me in the effort to revive the era of paper correspondence.  Branded as "art on paper" (which it truly is), the designs are the creation of Kamal Patel, a London-born Pratt grad who now lives in Virginia.  She features cards, coasters, wrapping paper and custom invitations and announcements – all printed locally in Richmond, VA on eco-friendly 100% cotton or kraft chipboard.
Minimalist, modern and mesmerizing…
Check it out: www.onkamal.com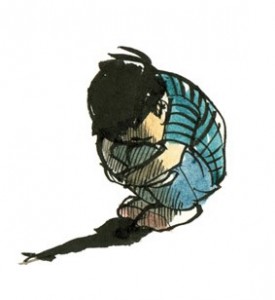 Remember Seinfeld's Bizarro World episode?  Sometimes it feels like India and the U.S. are each other's "bizarro worlds."  You know – in one world, people actually stop at stop lights, don't litter on the streets, and patiently wait in lines.  In the other…it's something you have to see for yourself.  I also noted other cultural contradictions while I was living in Bangalore a few years ago – like how wearing a sari is not seen as "fashion forward" and how people in Karnataka don't even expect you to speak Kannada (try explaining that to a Frenchman).
But punishing a child for speaking a language other than English?  Yup – last week 2 students at a private English-medium school in Andhra Pradesh were punished for speaking in Telugu at school.  The young boy and girl were forced to walk around school with placards around their neck which read "I will not speak in Telugu."  Then, a couple days later, several students were punished at another Andhra school for a similar "crime."  Their punishment:  to write "I don't talk in Telugu" over and over for 10 pages (obviously they weren't punished for poor English grammer!).
Yeah, OK, so your kid needs to learn English to get ahead in India.  But if the message coming from parents/school admministrators/government officials is that regional languages are "useless" – that's bilingual gone wrong – and it's the kids that suffer.
Bizarro indeed.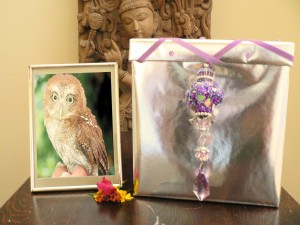 There is something about watching a child give away a possession (whether it be a toy, a hand-made card or a muffin) that makes your heart melt.  It's a raw affirmation of the goodness of humans – unadulterated and oh-so-sweetly innocent.
And it makes me think – how often do my children observe me giving to others (not counting the daily sacrifices I make for them, of course…)?  They don't see me handling a legal matter for a family member in need.  They don't see me writing those checks to chosen charities.  And they certainly aren't privy to all of those altuistic intentions swimming in my head – those that will have to be saved for post-kids liesure days.
Of course cultivating the spirit of giving – to family, to friends, to your community, or to those in need – is vital to raising compassionate children.  So what's a good way to resurrect the act of giving from the rare to the routine?
Taking our inspiration from hundis (offering boxes) found in Hindu temples, we created our very own Home Hundi.  After all, in the Eastern cultures, our home is our temple.  It's a simple activity:  take a box, embellish to your taste, and place in a central location. Then, help your child select a "cause" – something he is passionate about (my son is obsessed with owls, so his cause is to help save the Northern Spotted Owl (via Defenders of Wildlife)).  Throughout the year, encourage everyone in the family to give to the hundi.  It doesn't necessarily have to be money – it could be a toy,  a piece of food (I advise periodically checking and removing perishables…), an article of clothing, etc. – the objective is to encourage selfless thoughts of kindness.
At the end of the month/season/year, have your child empty the hundi into an envelope and "mail it off" to the chosen recipient.  Your child can then experience the intoxicating joy of giving….