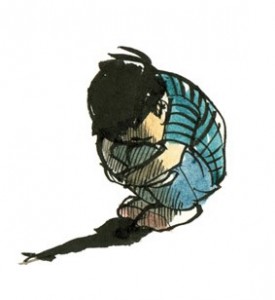 Remember Seinfeld's Bizarro World episode?  Sometimes it feels like India and the U.S. are each other's "bizarro worlds."  You know – in one world, people actually stop at stop lights, don't litter on the streets, and patiently wait in lines.  In the other…it's something you have to see for yourself.  I also noted other cultural contradictions while I was living in Bangalore a few years ago – like how wearing a sari is not seen as "fashion forward" and how people in Karnataka don't even expect you to speak Kannada (try explaining that to a Frenchman).
But punishing a child for speaking a language other than English?  Yup – last week 2 students at a private English-medium school in Andhra Pradesh were punished for speaking in Telugu at school.  The young boy and girl were forced to walk around school with placards around their neck which read "I will not speak in Telugu."  Then, a couple days later, several students were punished at another Andhra school for a similar "crime."  Their punishment:  to write "I don't talk in Telugu" over and over for 10 pages (obviously they weren't punished for poor English grammer!).
Yeah, OK, so your kid needs to learn English to get ahead in India.  But if the message coming from parents/school admministrators/government officials is that regional languages are "useless" – that's bilingual gone wrong – and it's the kids that suffer.
Bizarro indeed.
Tags: bilingual kids, Telugu