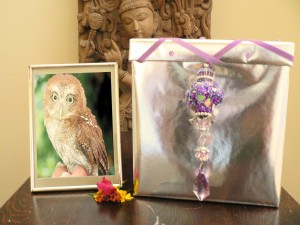 There is something about watching a child give away a possession (whether it be a toy, a hand-made card or a muffin) that makes your heart melt.  It's a raw affirmation of the goodness of humans – unadulterated and oh-so-sweetly innocent.
And it makes me think – how often do my children observe me giving to others (not counting the daily sacrifices I make for them, of course…)?  They don't see me handling a legal matter for a family member in need.  They don't see me writing those checks to chosen charities.  And they certainly aren't privy to all of those altuistic intentions swimming in my head – those that will have to be saved for post-kids liesure days.
Of course cultivating the spirit of giving – to family, to friends, to your community, or to those in need – is vital to raising compassionate children.  So what's a good way to resurrect the act of giving from the rare to the routine?
Taking our inspiration from hundis (offering boxes) found in Hindu temples, we created our very own Home Hundi.  After all, in the Eastern cultures, our home is our temple.  It's a simple activity:  take a box, embellish to your taste, and place in a central location. Then, help your child select a "cause" – something he is passionate about (my son is obsessed with owls, so his cause is to help save the Northern Spotted Owl (via Defenders of Wildlife)).  Throughout the year, encourage everyone in the family to give to the hundi.  It doesn't necessarily have to be money – it could be a toy,  a piece of food (I advise periodically checking and removing perishables…), an article of clothing, etc. – the objective is to encourage selfless thoughts of kindness.
At the end of the month/season/year, have your child empty the hundi into an envelope and "mail it off" to the chosen recipient.  Your child can then experience the intoxicating joy of giving….