Archive for December, 2009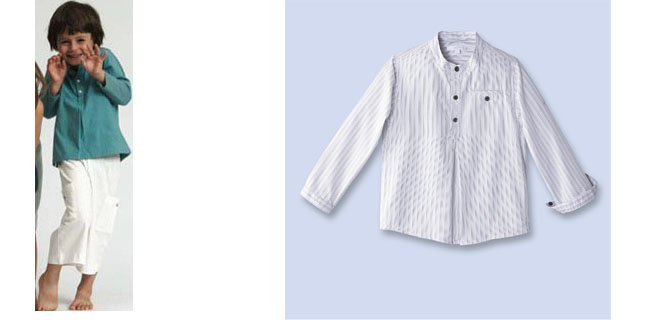 New clothes are synonymous with any holiday in the Indian culture.  I used to love the morning ritual of bathing and getting dressed-up on festival days during the childhood summers I spent in India.  There was something refreshing about starting the day in a new outfit – it was like the human equivalent of moulting.
In that spirit, I always try to have my kids wear new clothes on important days.  Buying clothes for my daughter is easy – girls clothes are just so darn cute whether you buy Target or Tartine.  For my son, however, I'm always disappointed at the offerings – it's always some variation of stripes or plaid or the occasional pop graphic.  So I have to look harder for his clothes.
Here are 2 great tunic tops that combine Indian style with California cool:  Oeuf's Marcel Tunic and Jacadi's dressier style from their Parc Monceau line.
My son will definitely be stylin' this Sankranthi!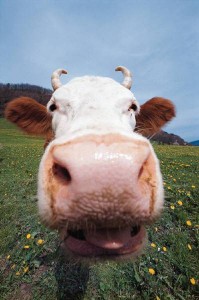 If you are Hindu and are off to a temple this New Year's for an archana or puja or such, you'll likely be asked what your gotra is by the priest.  But did you know that the word "gotra" is the Sanskrit term for "cow shelter?" 
Before they formed their great civilizations, the ancient Aryans were originally nomadic people.  Being nomads, their cows were critical to their livelihood.  During harsh weather they needed to protect their "pets," so several families would collaborate and house their cows in the same gotra.  And of course, disputes would inevitably arise as to whose cow was whose.  To resolve these disputes, a judge or supervisor – called Gotra-pati (meaning Master of the Gotra) – was appointed.  Gotra-pati were very well respected, and ancient Aryans introduced themselves by using the name of their Gotra-pati.
Hindus today continue this tradition of using thier gotra to identify their family lineage.
So now you know – when you tell the priest your gotra you're actually linking-back thousands of years to an ancient Aryan tradition!  Mooooooooo!
**A note about this post:  "Gotra" is often confused with the term "caste," which is incorrect.  We at Gnaana do not condone any type of promotion, justification, or even discussion of the caste system – particularly with young children.  By publishing this post about the meaning of the "gotra," we wish only to point out the historical relevance of this link with our ancestors.
These 2 videos deserve a chuckle.  Happy Holidays!
….
(Image courtesy of www.mangopowergirl.com)
My family usually prefers the savory over the sweet, but there's something about the holidays that makes me want to resurrect those cookie cutters.  Of course plain old sugar cookies won't cut it for my little gastronomes, so I went a-surfing and found this delicious recipe for Saffron Cardamom Shortbread Cookies (thanks MangoPowerGirl ). But Caveat Baker – the aromas from these cookies will transport you to the lush, green cardamom fields of India, so you may want to build-in some reminiscing time.
Here's the link to the recipe.  The only modifications we made were to use 1 1/2 sticks of butter (instead of 2), white wheat flour and to add 1/4 teaspoon of freshly ground cardamom to the cookie dough itself.
Enjoy!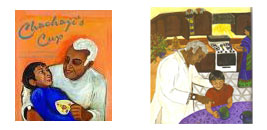 We featured Chachaji's Cup, a wonderful book by Uma Krishnaswami about an Indian-American boy, his great-uncle and the 1947 partition of India in our November Newsletter.  Now – guess what!  It's coming to life in NYC!  Yes, folks Making Books Sing is staging a musical called Tea With Chachaji featuring traditional dance and live music.  The musical is geared towards kids, but book-lovers of all ages are of course welcome to attend.
Performances are on January 30, 31 and February 3.
And the best part:  Gnaana families will receive a $2.50 discount off the ticket price.  Click here for details.
So mark your calendars – don't let your kids miss-out on this one-of-a-kind experience!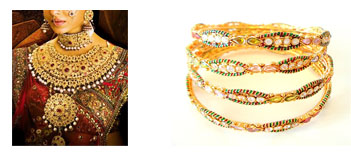 Red and green.  They're the infamous colours of Christmas, of course.  But this colour combination is also widely used in traditional Indian jewelry.  I remember many jewelry-shopping trips in India when I rejected necklaces or bangle sets because they were "too Christmasy" – leaving my relatives perplexed and shopkeepers muttering under their breath.
So all the red and green these days leaves me wondering: why are these colours so celebrated in India?  The answer takes us back to Mughal times and the tradition of Meenakari jewelry-making.
The art of decorating metal with enamel is known as Meenakari (or "Meena work")  – a craft which originated in Persia and was first introduced to India by the Mughals in the city of Jaipur, Rajasthan.  It is used in jewelry-making, as well as crafting gift boxes and other metal furnishings.  The technique requires highly-skilled artisan to engrave intricate designs on metal and then hand-paint liquid enamel within the designs, which then harden when heated.  Talk about attention to detail!
And where did the red and the green come in?  Well, along with white, they're described as "traditional Mughal colours" – colors that integrated the rubies, emeralds diamonds and pearls found in India.  Also, South Indian temple jewelry that was offered to the Gods was made with red and green semi-precious stones – thereby elevating them to the status of auspicious colors.
So this Christmas, as you speed past shimmering hues of red and green, you'll know that even in ancient India these colours were celebrated as being festive, divine and just darn beautiful!

Now I'm not one to advertise my political and social views on my kids' clothes and such, but I think I may make an exception for these great finds.
Got a little butter thief?  Yehhailife has these hilarious "I Love Butter" Krishna tees.  Available in infant sizes. They also write an awsome blog about all things Indian ("With An Attitude.") (Which we've been feautured in, thank-you-very-much. See the link in our Buzz page.)
And who can say no to Gandhi?  Tiny Revolutionary offers a great graphical tee featuring Gandhi's famous "Be the change you want to see in the world" quote – available in infant, toddler and youth sizes.
Finally, the cute French boutique Coq en Pate carries a whimsical "Vegetable Power" shirt featuring adorable French illustrations on 100% organic cotton.  Available for purchase online from UK shop The Emperor's New Clothes.
Unique, beautiful and (hopefully) inspiring!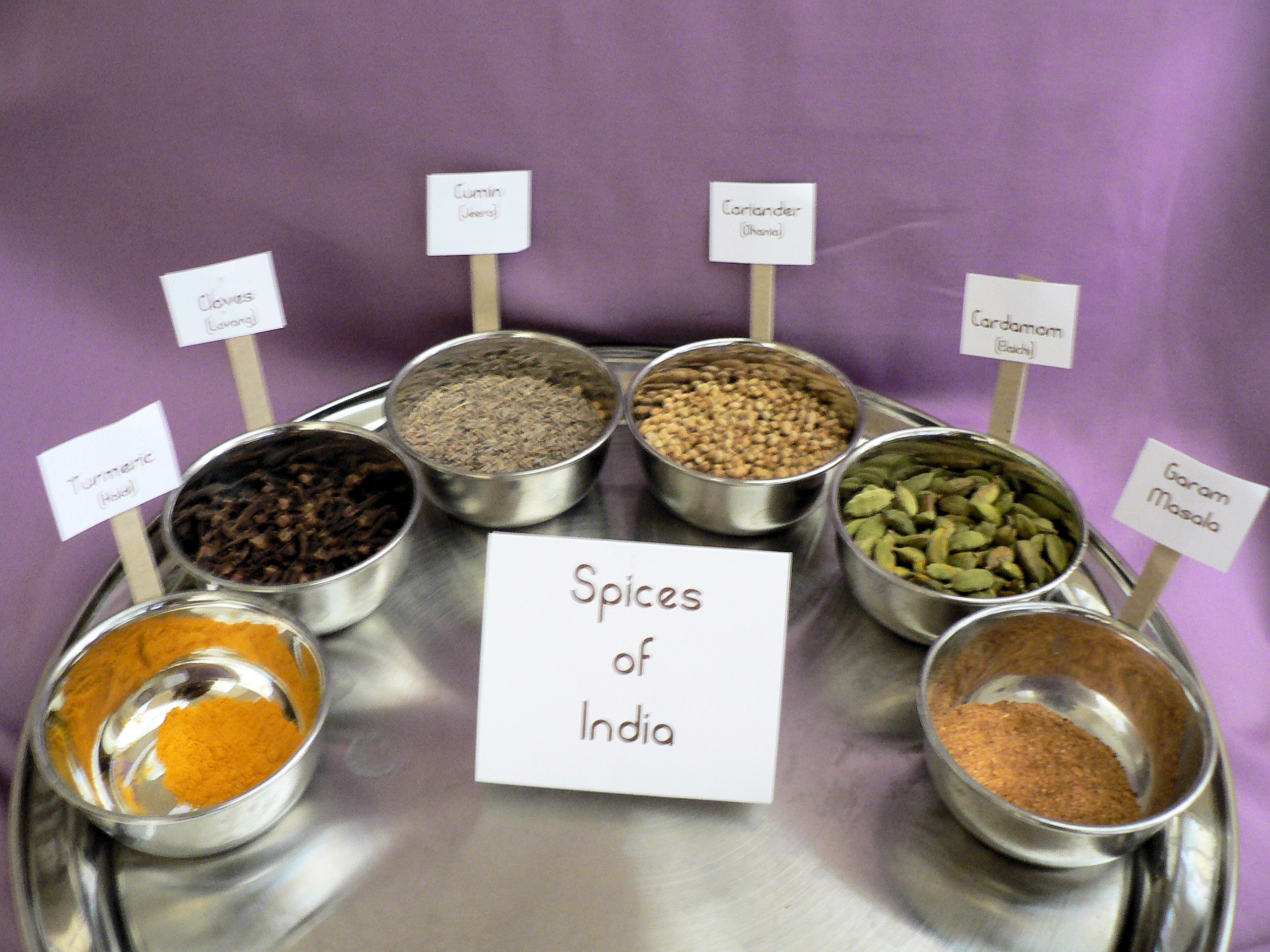 'Tis the season of spices, and all through the house…
Spices are synonymous with India – inseparable, really.  And you'll sure be smelling and consuming a lot of them during the upcoming holiday season:  cookies, cakes and savoury dishes will be infused with ginger, nutmeg, cinnamon and cloves.  Yum!
Spices also have wonderful health benefits and they are widely used in Ayurvedic treatments.  Smelling them, and learning about how they grow, happens to be a wonderful sensorial activity for kids.  So in the spirit of spices, we featured a simple game for kids in our December newsletter.  We call it The Spice Is Nice, and kids as young as 18 months will enjoy it.  Here's how to play (for 1 or more players – the more the merrier!):
 1.  Gather 6-10 aromatic spices (we used turmeric, cloves, coriander seeds, cardamom, cumin, and garam masala).  We don't recommend using red chili powder!
2.  Have your children smell each of the spices while you tell them the name of the spice (use your native language if you can!).  While they are smelling, ask them to describe the smell – i.e., if they like it or not and if it smells like something they are familiar with.  Make suggestions – and be fun and whimsical here – making non-food suggestions – the idea is to get them to think and explore.  You'll be surprised at what they come up with – garam masala may smell like train tracks!  They can also touch and taste if they want (but wash their hands afterwards).
3.  After 2-3 rounds of smelling, blindfold your child.  Present a spice for them to smell and have them identify its name.  Repeat as many times as desired.
4.  For older kids, supplement the activity with information as to how the spice is grown and harvested, and also how each spice is used in cooking and for other purposes.  The Epicentre's Encyclopedia of Spices is a terrific online resource.
For extra fun, we've put together a set of Spice Trivia questions.  Download here.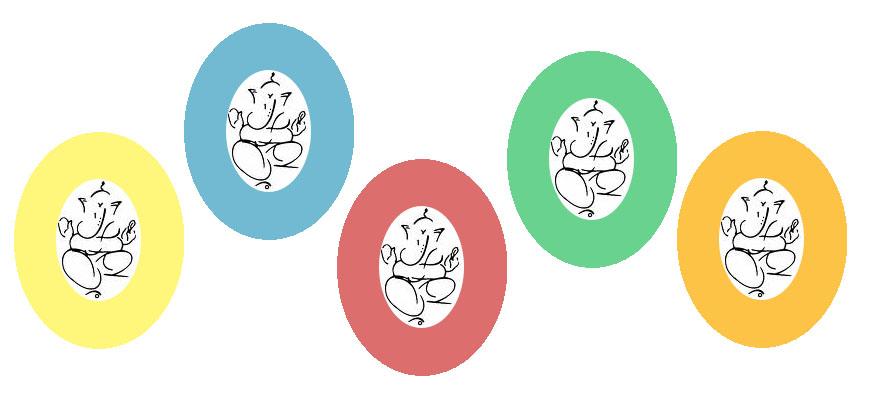 Have you heard of the Pancha Ganapati fesitval?  If you're a Hindu tormented by the "December Dilemma" – you know, whether to ignore Christmas (ergo risking social pariah status for you and your kids) or to celebrate a toned-down version (after all, even the U.S. Supreme Court has recognized that Christmas has many secular elements) – then read on.
The Pancha Ganapati festival is being touted by interfaith organizations as the "Hindu replacement for Christmas."  This 5-day festival (which conveniently runs from December 21-25 of every year), invokes the colours of Lord Ganesha's 5 shaktis (powers) – a sort-of Christmas-meets-Kwanzaa-meets-Hanukka.    A shrine is to be created in the main living room, which would contain a large statue or picture of Ganesha, and decorated with banana leaves, pine cones, tinsel, etc.  Then, on each of the days, children are invited to decorate Ganesha in the colour du jour and the family is to focus on a special sadhana (spiritual discipline).
Day 1 | Yellow:  Love and harmony among immediate family members
Day 2 | Blue:  Love and harmony among neighbors, relatives and close friends
Day 3 | Red:  Love and harmony among business associates and the public at large
Day 4 | Green:  Invoke the joy and harmony that comes from music, art, drama and dance
Day 5 | Orange:  Invoke the love and harmony in all three worlds (presumably the heavens, earth and the underworld)
Gifts are exchanged on each of the days, and placed under the shrine – to be opened on the 5th day.
Interesting.  So how do we come down on this holiday?  Kudos for the creation,  though we will have to do some further investigation.  But for now, let's spread the word – Hindus do have a holiday in December.  Fa la la la la la la la OM.

It's hard not to feel robbed at the airport these days, especially when traveling with kids.  What with the $5 for a pint of milk and a banana and the shameless $25 (and rising) charge for a checked bag, you're lucky if can emerge with enough cash to pay the tolls on the way home.  And that darn 50lb weight limit – God forbid that, like us this past weekend, you have to attend an Indian wedding, with multiple events each requiring a 5lb saree or salwar.  Makes we want to hide a few things inside the car seats…
Luckily for us, we had our handy Taylor luggage scale – a small, lightweight (under 1/2lb) contraption that travels with us everywhere and saves us the embarrassment of having to open and redistribute weight among our luggage at the check-in counter.  This particualr scale is digital (runs on a lithium battery), which eases the stress of having to squint to interpret a needle.
Dont' leave home without one!