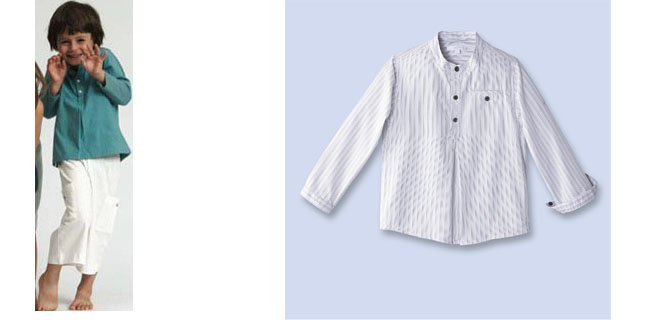 New clothes are synonymous with any holiday in the Indian culture.  I used to love the morning ritual of bathing and getting dressed-up on festival days during the childhood summers I spent in India.  There was something refreshing about starting the day in a new outfit – it was like the human equivalent of moulting.
In that spirit, I always try to have my kids wear new clothes on important days.  Buying clothes for my daughter is easy – girls clothes are just so darn cute whether you buy Target or Tartine.  For my son, however, I'm always disappointed at the offerings – it's always some variation of stripes or plaid or the occasional pop graphic.  So I have to look harder for his clothes.
Here are 2 great tunic tops that combine Indian style with California cool:  Oeuf's Marcel Tunic and Jacadi's dressier style from their Parc Monceau line.
My son will definitely be stylin' this Sankranthi!