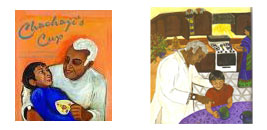 We featured Chachaji's Cup, a wonderful book by Uma Krishnaswami about an Indian-American boy, his great-uncle and the 1947 partition of India in our November Newsletter.  Now – guess what!  It's coming to life in NYC!  Yes, folks Making Books Sing is staging a musical called Tea With Chachaji featuring traditional dance and live music.  The musical is geared towards kids, but book-lovers of all ages are of course welcome to attend.
Performances are on January 30, 31 and February 3.
And the best part:  Gnaana families will receive a $2.50 discount off the ticket price.  Click here for details.
So mark your calendars – don't let your kids miss-out on this one-of-a-kind experience!
Tags: events, multicultural kids, stories