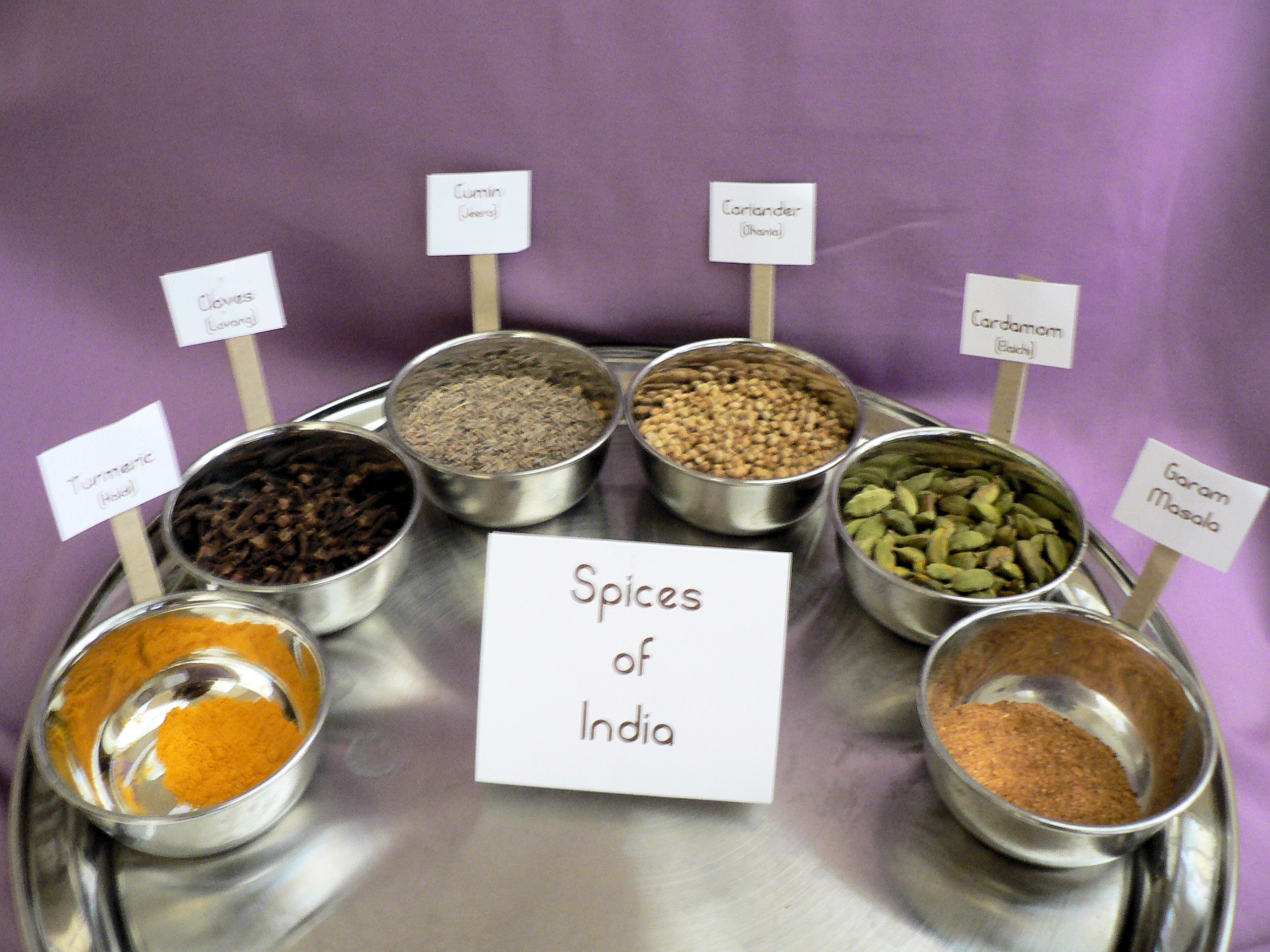 'Tis the season of spices, and all through the house…
Spices are synonymous with India – inseparable, really.  And you'll sure be smelling and consuming a lot of them during the upcoming holiday season:  cookies, cakes and savoury dishes will be infused with ginger, nutmeg, cinnamon and cloves.  Yum!
Spices also have wonderful health benefits and they are widely used in Ayurvedic treatments.  Smelling them, and learning about how they grow, happens to be a wonderful sensorial activity for kids.  So in the spirit of spices, we featured a simple game for kids in our December newsletter.  We call it The Spice Is Nice, and kids as young as 18 months will enjoy it.  Here's how to play (for 1 or more players – the more the merrier!):
 1.  Gather 6-10 aromatic spices (we used turmeric, cloves, coriander seeds, cardamom, cumin, and garam masala).  We don't recommend using red chili powder!
2.  Have your children smell each of the spices while you tell them the name of the spice (use your native language if you can!).  While they are smelling, ask them to describe the smell – i.e., if they like it or not and if it smells like something they are familiar with.  Make suggestions – and be fun and whimsical here – making non-food suggestions – the idea is to get them to think and explore.  You'll be surprised at what they come up with – garam masala may smell like train tracks!  They can also touch and taste if they want (but wash their hands afterwards).
3.  After 2-3 rounds of smelling, blindfold your child.  Present a spice for them to smell and have them identify its name.  Repeat as many times as desired.
4.  For older kids, supplement the activity with information as to how the spice is grown and harvested, and also how each spice is used in cooking and for other purposes.  The Epicentre's Encyclopedia of Spices is a terrific online resource.
For extra fun, we've put together a set of Spice Trivia questions.  Download here.
Tags: ayurveda, health, Montessori