Archive for January, 2010

(Images courtesy of Coyuchi)
Starbucks put "fair trade coffee" on the map.  But what about "fair trade cotton?"  Cotton is such a large part of our lives – from the towel we use in the morning to the sheets we sleep on.  Fair wages and the non-existence of child labour should be the norm – whether it's coffee or cotton, right?
Coyuchi certainly thinks so.  This California company is a pioneer in the application of the principles of fair trade cotton to the bedding and bath industry.  Not only are they fair trade certified, but they are also certified organic.  And guess where their cotton is produced?  Yup – India.
India accounts for about 16% of the world's cotton production (second only to China).  But did you know that it is the world's largest producer of organic cotton?  Roughly 50% of all organic cotton is grown in India (Turkey is second).  Coyuchi works with a single mill in India, which sources its cotton from a cooperative of 6,500 family farmers who grow organic cotton.  Farmers and mill workers are paid a fair wage, giving them the ability to afford health care and education for their families.  The company also works with the Chetna Project in India – an organization devoted to growing fair trade and certified organic cotton.
It certainly feels good when my family curls up with Coyuchi!
Featured above are the George Pillow Sham from the Baby collection and the Jersey Duvet Cover.  Learn more about organic and fair trade cotton at the Coyuchi Gallery .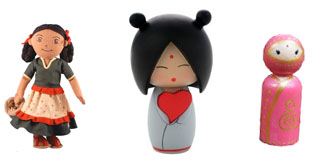 My poor daughter has been engulfed in her older brother's world of trains and spaceships since her birth.  So I decided it was high time that I girl-ify our toy chest.  And I'm starting with the fundamentals:  dolls! 
Here are a few uber-cute – and eco-friendly – finds (for ages 3+):
Global Green Pal's Pani Rani spreads the message that conserving water can make you feel like a queen!  Made with certified organic cotton and stuffed with 100% post-consumer recycled material, this Indian girl hob-nobs with the likes of Clean Air Kate, Recycle Kyle and Carbon Offset Chet.  $29.95
Momiji's gorgeous Love doll is almost too chic to take off the shelf.  Part of a collection of 3″ handpainted resin dolls, each one has a slot on the underside for a tiny folded card with secret message.  $15.00
Isas7ada's Amrita doll is also a hand-painted beauty.  Her tea party would include Jewish Jacob, Captain Pirate Looney and Artist Annette.  $5.00
And for some serious role-playing, check out play food India style:  Pewter Goblet's Mini Jalebi's, Laddoos and Masala Meals!  $5.00 – $15.00.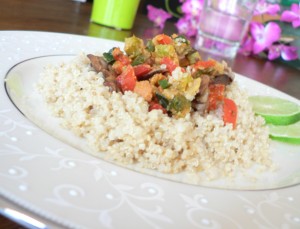 Quinoa (pronouced "keen-wah" or, as my toddler likes to say, "keen-i-wah") is simply a super-grain.  (Well, ok, technically it's not a grain – it's a seed – but it's prepared and eaten just like rice.)  Cultivated in the South American Andes since at least 3,000 B.C., the Incas revered this "mother grain" as sacred.  And weighing in at 12%-18% protein (about 6 grams per serving), quinoa can certainly be a "sacred" source of protein in vegetarian households.
Quinoa can have a slight bitter taste, so it should be combined with flavours that counteract this bitterness.  Here's one of my favourite quinoa recipes – with Indian flavours.  The secret ingredient here is sesame powder, made by grinding lightly toasted sesame seeds in a coffee grinder, which gives the stirfry subtle hints of nutty yumminess your children will love.
Ingredients: 
1 cup quinoa
2 cups water
2 Tbs. olive oil
2 cloves garlic, minced 
2 medium red bell peppers, diced
3/4 cup dice carrots 
3/4 cup diced celery

1/2 cup shiitake mushrooms 
1/2 cup green onion, diced 
1/2 Tbs. sesame powder
1 tsp. oregano
Salt, to taste
Pepper, to taste
Red chili powder, to taste 
Cook the quinoa in a rice cooker like rice.
Heat the oil, and add the garlic.
Add the vegetables and spices and cook until all are soft.
Serve over quinoa.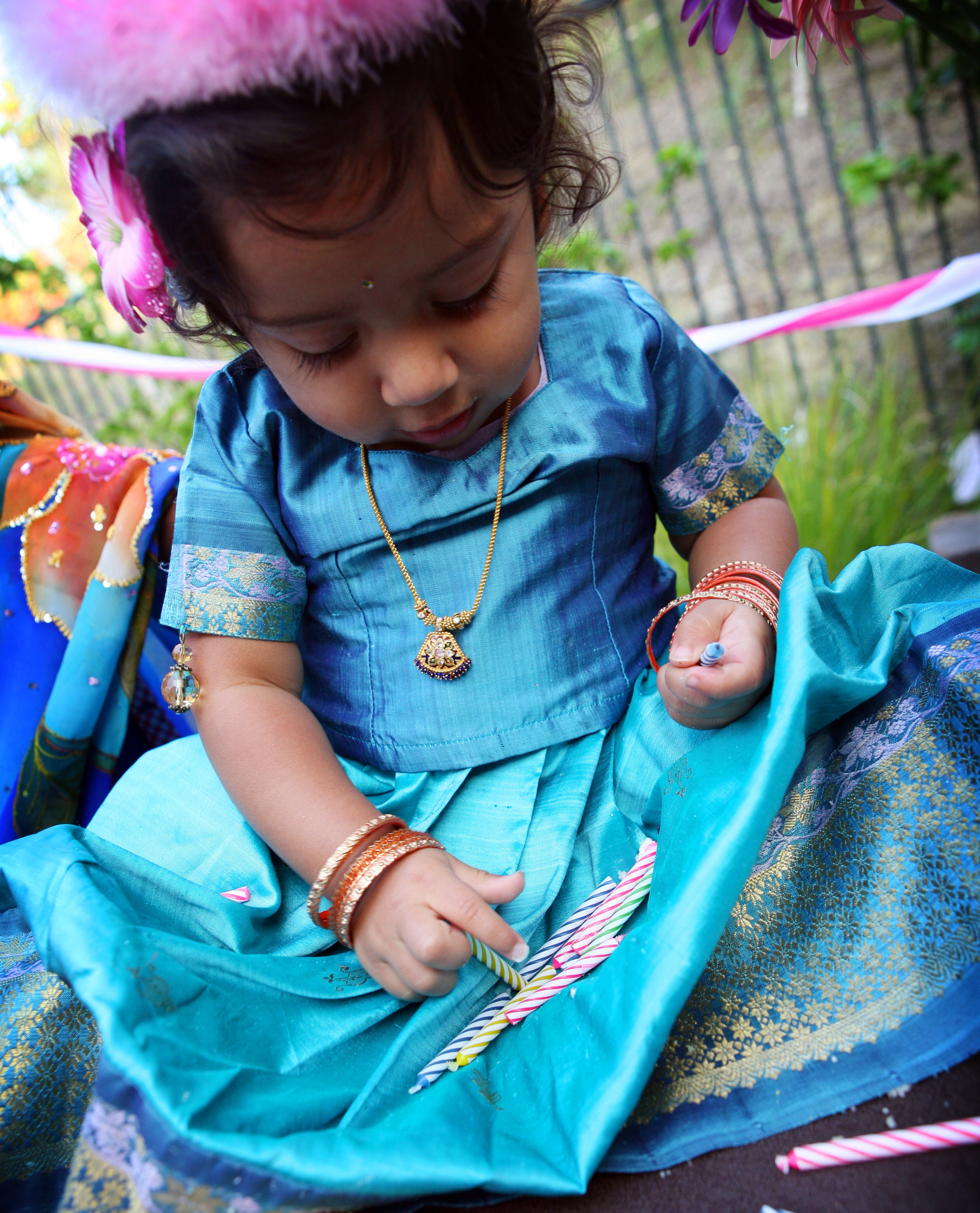 We try not to have our writers make this blog too personal of a space. But my baby – yes the little girl in the suitcase on our main Blog page – turned 1 a few weeks ago, and it got me thinking about First Birthday celebrations.  I remember attending my nephews' (twins) first birthday party while I was living in Bangalore – a grand affair with upwards of 400 guests and a spectacular array of food!  These mini-wedding-style first birthday celebrations are the norm in the Indian culture.  Of course, a child's first birthday IS a big deal – but I wondered how other cultures celebrate the occasion.  Here's what I found:
Korea:  Koreans perform a Toljabee ceremony on a child's first birthday of Dol (Tol).  Babies wear a specail hanbok (traditional Korean dress) and several items are placed before them – such as a string or thread (for long life), books, pencils, money and uncooked rice.  The type and order in which the child selects the items is said to give a clue to the child's personality and future – very similar to the "destiny pick" we perform in the Telugu culture during the child's Annaprasana (first solid feeding).
China:  Alough in China (as well as Japan and many other Asian cultures), everybody turns a year older on the New Year, many Chinese perform a ceremony similar to the Korean one.  The child is laid on the floor surrounded by many objects:  coins (wealth), a doll (many children), kitchen utensils, books, etc., and the child's selection is said to illuminate his or her future.  A meal of special long noodels (longevity for the child) is served, and gifts of money are given in red envelopes.
Japan:  Some Japanese have the custom of isho mochi – where the baby carries a rice cake (mochi) weighing 1 sho (also a homophone for issho  – meaning "whole lifetime") on its back – symbolizing the parents' hope that the child will never go hungry in its lifetime.  Some Japanese also perform the "destiny pick."
Ukraine:  Ukranian babies often have their hair cut for the first time on their first birthday. Godparents snip hair from each of 4 parts of the head (front, back and sides) – symbolizing the 4 directions of the world.
Hawaii & Polynesia:  A baby's first birthday is commemorated with a huge luau – complete with a pig roast feast and music.
France:  The French typically do not throw baby showers for expectant mothers (although now it is becoming more common).  This was partly due to superstition.  Instead, friends and loved ones waited until the child's first birthday to give gifts to the mother and baby.
What did we do? We opted for an intimate affair with family and close friends – American-style – celebrating my daughter's love of nature and birds.

Yes, it's Sankranthi today, but with what's going on in Haiti right now, I really don't feel like celebrating much of anything.  I remember the 2004 tsunami and how I cried for the people in my homeland and for those from our neighboring countries.  I can't begin to comprehend the anguish the Haitian community is experiencing right now – especially the children.
In the face of such a tragedy, it's difficult to fathom how any kind of contribution, in-kind, monetary or otherwise, can really help – but we have to start somewhere.
Gnaana has chosen to make a donation to Save The Children's Haiti Earthquake Children in Emergency Fund.  Save the Children is providing immediate lifesaving assistance, such as food, water, shelter and child-friendly spaces.
To the children in Haiti, we say to you:   Please keep your faith and look towards the future.  The sun always rises, and so too shall you.
Happy Sankranthi (Pongal) to our readers.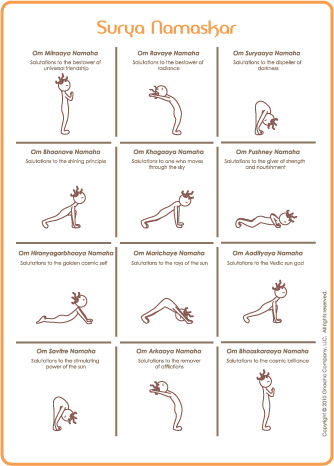 The Surya Namaskar, or Sun Salutation, has been practiced for thousands of years in India. It's a unique prayer-in-motion with alternating forward and backward bending postures that flex and stretch the spinal column and the abdomen. It's an invigorating (and healthy) way to start your morning!
It's also great fun for kids to do: they get to "say hello to the sun" with a compact set of 12 simple yoga positions (called asanas). We've put together a simple "lesson-plan" about the Surya Namaskar that you can use with your kids at home – or with your local playgroup or school if you're inspired to do so.
1. Downloand and print our handy Surya Namaskar graphic here . There are many variations of the Surya Namaskar, but we've featured the classic Ashtanga Vinyasa style. We've also listed the mantra that is recited for each step (a salutation to the 12 names of the sun), as well as an explanation of each mantra.
2. Before you begin any of the yoga, take a few minutes to talk about the importance of the sun (to plants, animals and humans) and it's many qualities (light, heat, how it gives us strength and energy and makes things really shiny, etc.).
3. If you are Hindu and celebrate Sankranthi/Pongal/Lohri and your kids are older, you can talk to them about the Winter Solstice and why Hindus celebrate this holiday on January 14 every year (viz. to mark the start of the sun's northward journey).
4. Tell your kids that they're going to learn a special way to say hello to the sun, and that you'll be doing 12 poses – each pose greeting a different quality of the sun that you named in Step #2.
5. Show your kids the graphic you printed out and go through each of the steps together. Go slowly the first time. You can recite the mantra for each step if you want (i.e. "Om Mitraaya Namaha" for Step 1), or you can simply give them the explanation (i.e. "Here we're saying 'hello' to our friend the sun, who is a friend to all in the universe."), or both – whatever you are comfortable with.
6. Note that the Surya Namaskar should be performed at least twice – switching the leg that you put forward in Steps 4 & 9 the second time around.
That's it! Have fun and try to do it on a regular basis.
Almost every ancient civilization has worshipped the sun – for obvious reasons, of course. In our modern times, we are indoors most of the time and buy most of our food from stores, so the importance of the sun can be marginalized. The Surya Namaskar is an excellent way to connect with nature and the lifeline of our universe!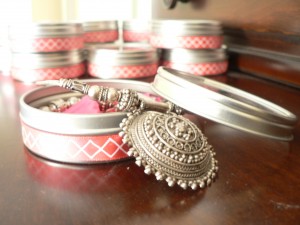 I envy those moms who manage to be perfectly accessorized – a fab necklace and earrings and all – while being out and about with their kids.  For me, it's a struggle to find a matching top and bottom in time before the kids throw my toothbrush in the toilet, so digging through my mess of a jewelry drawer to find a pair of earrings is not an option.
But I resolve that this year will be different.  And first things first – I need to be able to find my jewelry if I'm every going to be able to wear any of it.  So I dreamed-up these clever jewelry tins to organize my coordinating sets.  I ordered several dozen of these 2.8 inch round tins with clear lids and glued some pretty ribbon around them.  I lined the tins with coordinating tissue paper, and now my jewerly rests in their beautiful beds – neatly stacked and visible.
And when I travel, I can just pop the relevant tins into my suitcase and be on my way!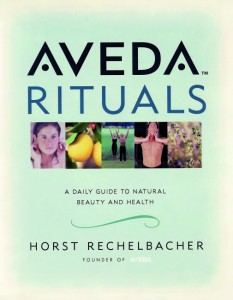 I love Aveda – they're the only salons I go to for my beauty needs.  I'd much rather have plant-based products used on my hair and skin than chemicals. 
It just so happens that the Aveda philosophy – a holistic approach to beauty and health "that works in harmony with the greater web of life" is eerily similar to elements of the Hindu philosophy.  It's also ironic that "Aveda" in literal Sanskrit translates to "against the Veda (knowledge)."  Any student of Sanskrit will tell you that if you put an "A" in front of a word, it will mean the opposite of the root word.
So Horst Rechelbacher, the founder of Aveda, obviously wasn't a Sanskrit scholar.  But he founded a global powerhouse of a company clearly rooted in the ancient Indian system of Ayurveda.  And his book Aveda Rituals is an intelligent and refreshingly concise prescription for incorpating simple Aveda (errr…Ayurveda) style rituals into your daily life.  Rituals like the "Aroma Energizer" and the "Good-Morning Movement" stretching exercises – that awaken your senses and your spirit, connecting you with nature and your surroundings to inspire you to lead a healthier and more fulfilling life.
If an American company can research, re-package and superbly brand ancient Indian wisdom into a format that we can all understand – I'll take more of those.  Now its off to my evening Meditation Moment.