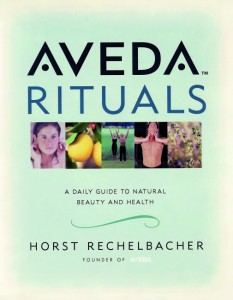 I love Aveda – they're the only salons I go to for my beauty needs.  I'd much rather have plant-based products used on my hair and skin than chemicals. 
It just so happens that the Aveda philosophy – a holistic approach to beauty and health "that works in harmony with the greater web of life" is eerily similar to elements of the Hindu philosophy.  It's also ironic that "Aveda" in literal Sanskrit translates to "against the Veda (knowledge)."  Any student of Sanskrit will tell you that if you put an "A" in front of a word, it will mean the opposite of the root word.
So Horst Rechelbacher, the founder of Aveda, obviously wasn't a Sanskrit scholar.  But he founded a global powerhouse of a company clearly rooted in the ancient Indian system of Ayurveda.  And his book Aveda Rituals is an intelligent and refreshingly concise prescription for incorpating simple Aveda (errr…Ayurveda) style rituals into your daily life.  Rituals like the "Aroma Energizer" and the "Good-Morning Movement" stretching exercises – that awaken your senses and your spirit, connecting you with nature and your surroundings to inspire you to lead a healthier and more fulfilling life.
If an American company can research, re-package and superbly brand ancient Indian wisdom into a format that we can all understand – I'll take more of those.  Now its off to my evening Meditation Moment.