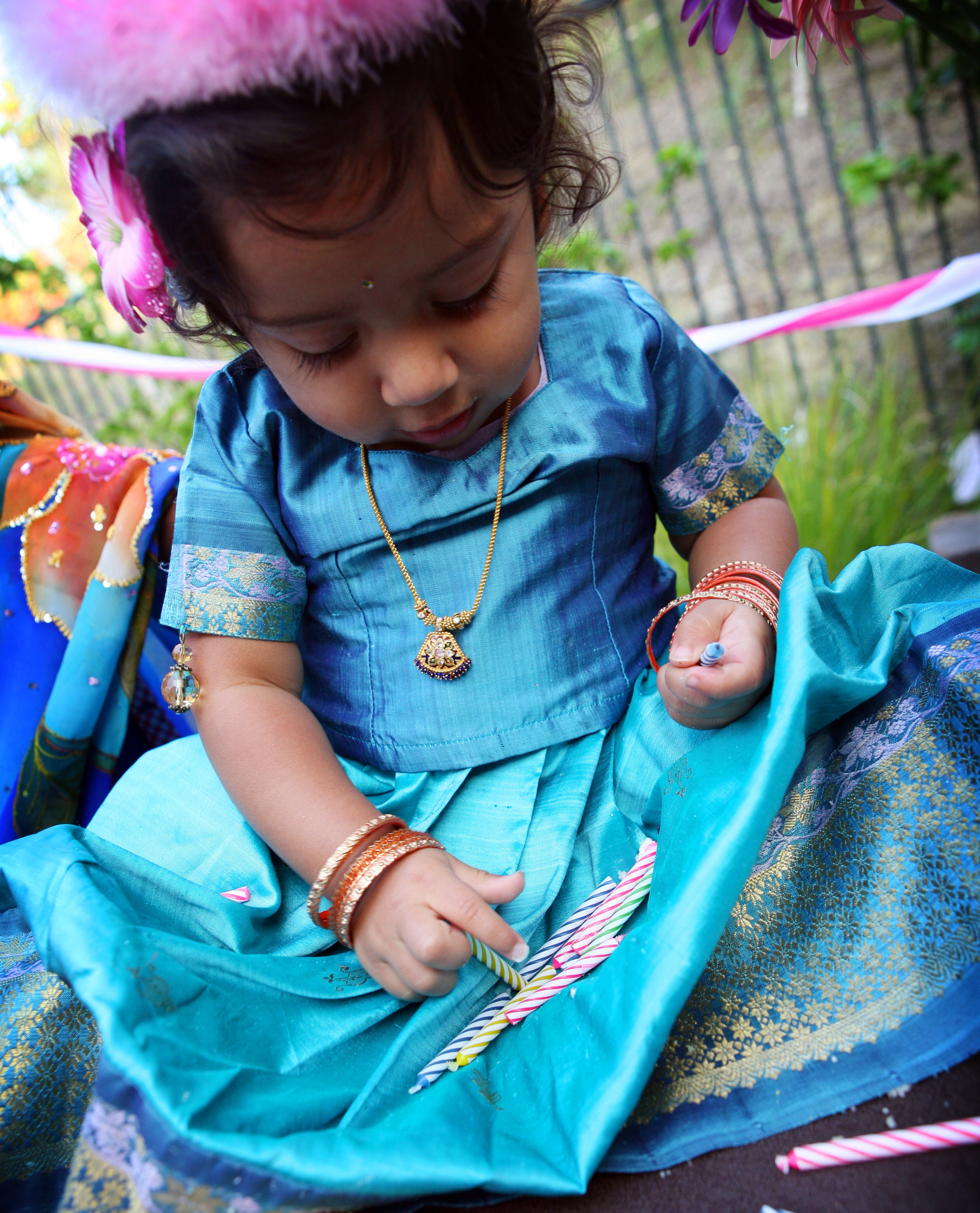 We try not to have our writers make this blog too personal of a space. But my baby – yes the little girl in the suitcase on our main Blog page – turned 1 a few weeks ago, and it got me thinking about First Birthday celebrations.  I remember attending my nephews' (twins) first birthday party while I was living in Bangalore – a grand affair with upwards of 400 guests and a spectacular array of food!  These mini-wedding-style first birthday celebrations are the norm in the Indian culture.  Of course, a child's first birthday IS a big deal – but I wondered how other cultures celebrate the occasion.  Here's what I found:
Korea:  Koreans perform a Toljabee ceremony on a child's first birthday of Dol (Tol).  Babies wear a specail hanbok (traditional Korean dress) and several items are placed before them – such as a string or thread (for long life), books, pencils, money and uncooked rice.  The type and order in which the child selects the items is said to give a clue to the child's personality and future – very similar to the "destiny pick" we perform in the Telugu culture during the child's Annaprasana (first solid feeding).
China:  Alough in China (as well as Japan and many other Asian cultures), everybody turns a year older on the New Year, many Chinese perform a ceremony similar to the Korean one.  The child is laid on the floor surrounded by many objects:  coins (wealth), a doll (many children), kitchen utensils, books, etc., and the child's selection is said to illuminate his or her future.  A meal of special long noodels (longevity for the child) is served, and gifts of money are given in red envelopes.
Japan:  Some Japanese have the custom of isho mochi – where the baby carries a rice cake (mochi) weighing 1 sho (also a homophone for issho  – meaning "whole lifetime") on its back – symbolizing the parents' hope that the child will never go hungry in its lifetime.  Some Japanese also perform the "destiny pick."
Ukraine:  Ukranian babies often have their hair cut for the first time on their first birthday. Godparents snip hair from each of 4 parts of the head (front, back and sides) – symbolizing the 4 directions of the world.
Hawaii & Polynesia:  A baby's first birthday is commemorated with a huge luau – complete with a pig roast feast and music.
France:  The French typically do not throw baby showers for expectant mothers (although now it is becoming more common).  This was partly due to superstition.  Instead, friends and loved ones waited until the child's first birthday to give gifts to the mother and baby.
What did we do? We opted for an intimate affair with family and close friends – American-style – celebrating my daughter's love of nature and birds.
Tags: birthday, traditions