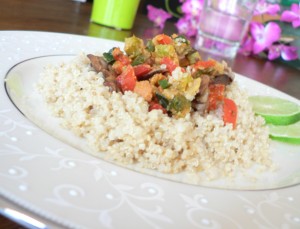 Quinoa (pronouced "keen-wah" or, as my toddler likes to say, "keen-i-wah") is simply a super-grain.  (Well, ok, technically it's not a grain – it's a seed – but it's prepared and eaten just like rice.)  Cultivated in the South American Andes since at least 3,000 B.C., the Incas revered this "mother grain" as sacred.  And weighing in at 12%-18% protein (about 6 grams per serving), quinoa can certainly be a "sacred" source of protein in vegetarian households.
Quinoa can have a slight bitter taste, so it should be combined with flavours that counteract this bitterness.  Here's one of my favourite quinoa recipes – with Indian flavours.  The secret ingredient here is sesame powder, made by grinding lightly toasted sesame seeds in a coffee grinder, which gives the stirfry subtle hints of nutty yumminess your children will love.
Ingredients: 
1 cup quinoa
2 cups water
2 Tbs. olive oil
2 cloves garlic, minced 
2 medium red bell peppers, diced
3/4 cup dice carrots 
3/4 cup diced celery

1/2 cup shiitake mushrooms 
1/2 cup green onion, diced 
1/2 Tbs. sesame powder
1 tsp. oregano
Salt, to taste
Pepper, to taste
Red chili powder, to taste 
Cook the quinoa in a rice cooker like rice.
Heat the oil, and add the garlic.
Add the vegetables and spices and cook until all are soft.
Serve over quinoa.
Tags: dinner, vegetarian