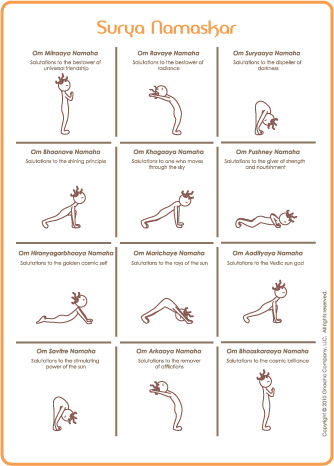 The Surya Namaskar, or Sun Salutation, has been practiced for thousands of years in India. It's a unique prayer-in-motion with alternating forward and backward bending postures that flex and stretch the spinal column and the abdomen. It's an invigorating (and healthy) way to start your morning!
It's also great fun for kids to do: they get to "say hello to the sun" with a compact set of 12 simple yoga positions (called asanas). We've put together a simple "lesson-plan" about the Surya Namaskar that you can use with your kids at home – or with your local playgroup or school if you're inspired to do so.
1. Downloand and print our handy Surya Namaskar graphic here . There are many variations of the Surya Namaskar, but we've featured the classic Ashtanga Vinyasa style. We've also listed the mantra that is recited for each step (a salutation to the 12 names of the sun), as well as an explanation of each mantra.
2. Before you begin any of the yoga, take a few minutes to talk about the importance of the sun (to plants, animals and humans) and it's many qualities (light, heat, how it gives us strength and energy and makes things really shiny, etc.).
3. If you are Hindu and celebrate Sankranthi/Pongal/Lohri and your kids are older, you can talk to them about the Winter Solstice and why Hindus celebrate this holiday on January 14 every year (viz. to mark the start of the sun's northward journey).
4. Tell your kids that they're going to learn a special way to say hello to the sun, and that you'll be doing 12 poses – each pose greeting a different quality of the sun that you named in Step #2.
5. Show your kids the graphic you printed out and go through each of the steps together. Go slowly the first time. You can recite the mantra for each step if you want (i.e. "Om Mitraaya Namaha" for Step 1), or you can simply give them the explanation (i.e. "Here we're saying 'hello' to our friend the sun, who is a friend to all in the universe."), or both – whatever you are comfortable with.
6. Note that the Surya Namaskar should be performed at least twice – switching the leg that you put forward in Steps 4 & 9 the second time around.
That's it! Have fun and try to do it on a regular basis.
Almost every ancient civilization has worshipped the sun – for obvious reasons, of course. In our modern times, we are indoors most of the time and buy most of our food from stores, so the importance of the sun can be marginalized. The Surya Namaskar is an excellent way to connect with nature and the lifeline of our universe!