Archive for February, 2010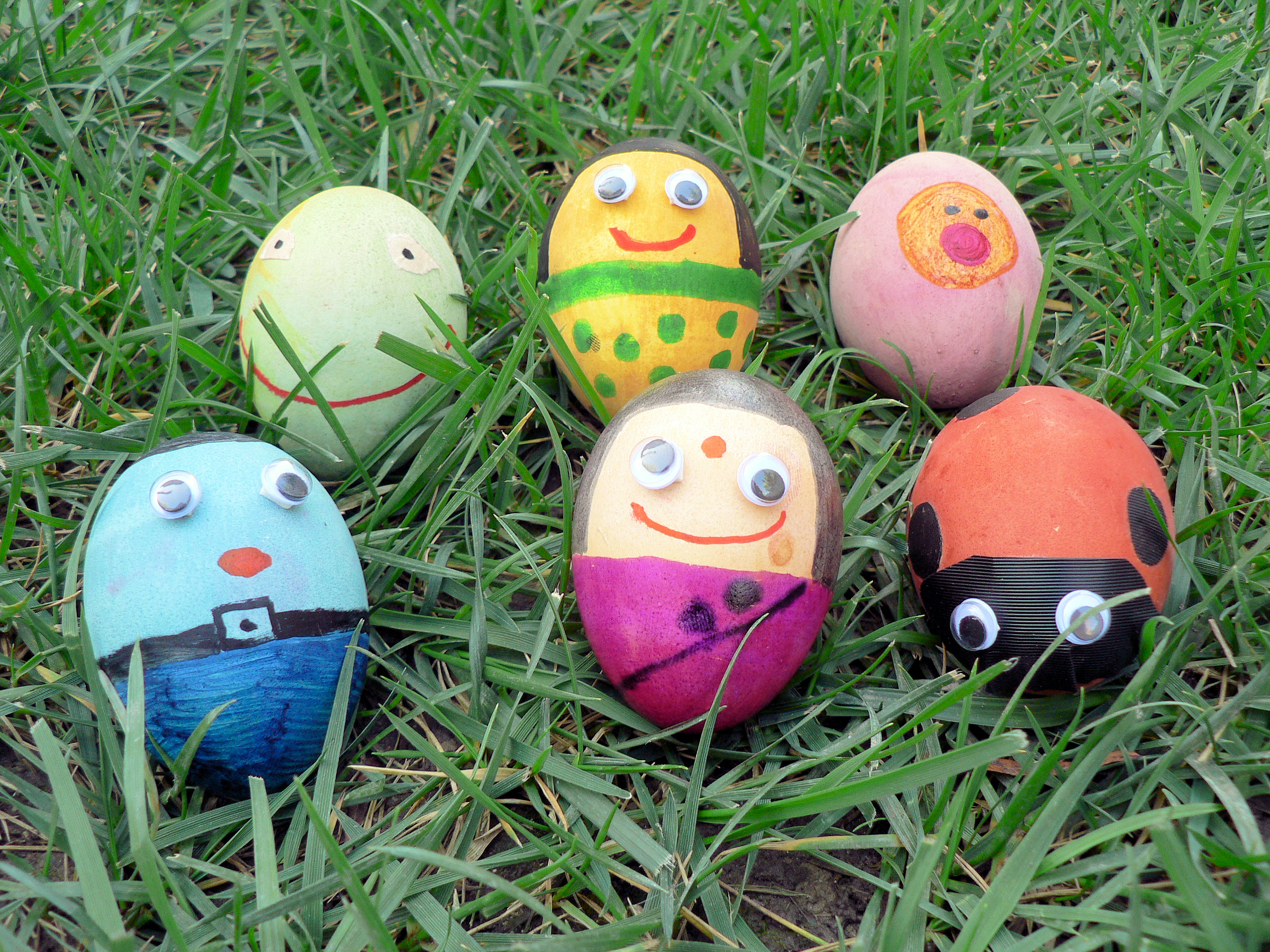 Usher in spring with crafty egg puppets – a perfect use of leftover Holi colors (see our post below on how to make your own Holi colors) –  and a creative twist to traditional Easter eggs. 
To color your eggs, you can either make your own natural egg dyes or use store-bought ones.  We followed Martha Stewart's recipe for natural dyes – using red cabbage, turmeric, onion skins and beets – and ended up with a radiant array of eggs red, blue, yellow, green and pink: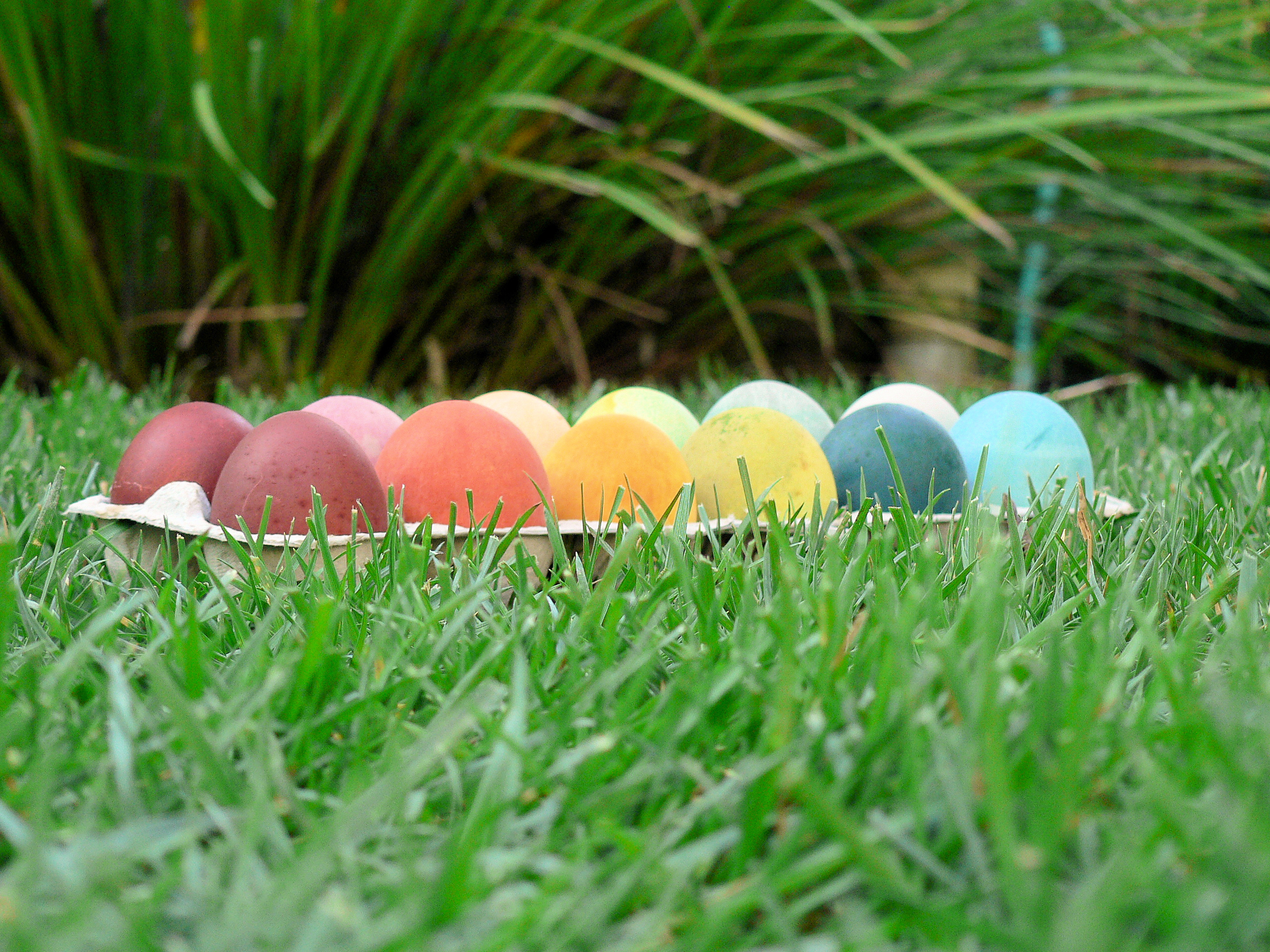 For the puppets, simple markers work best.  We also used giggle eyes, attached with snips of double-sided tape.  You can use the Egg Puppets to illustrate the Legend of Holi, or a favorite story of your own!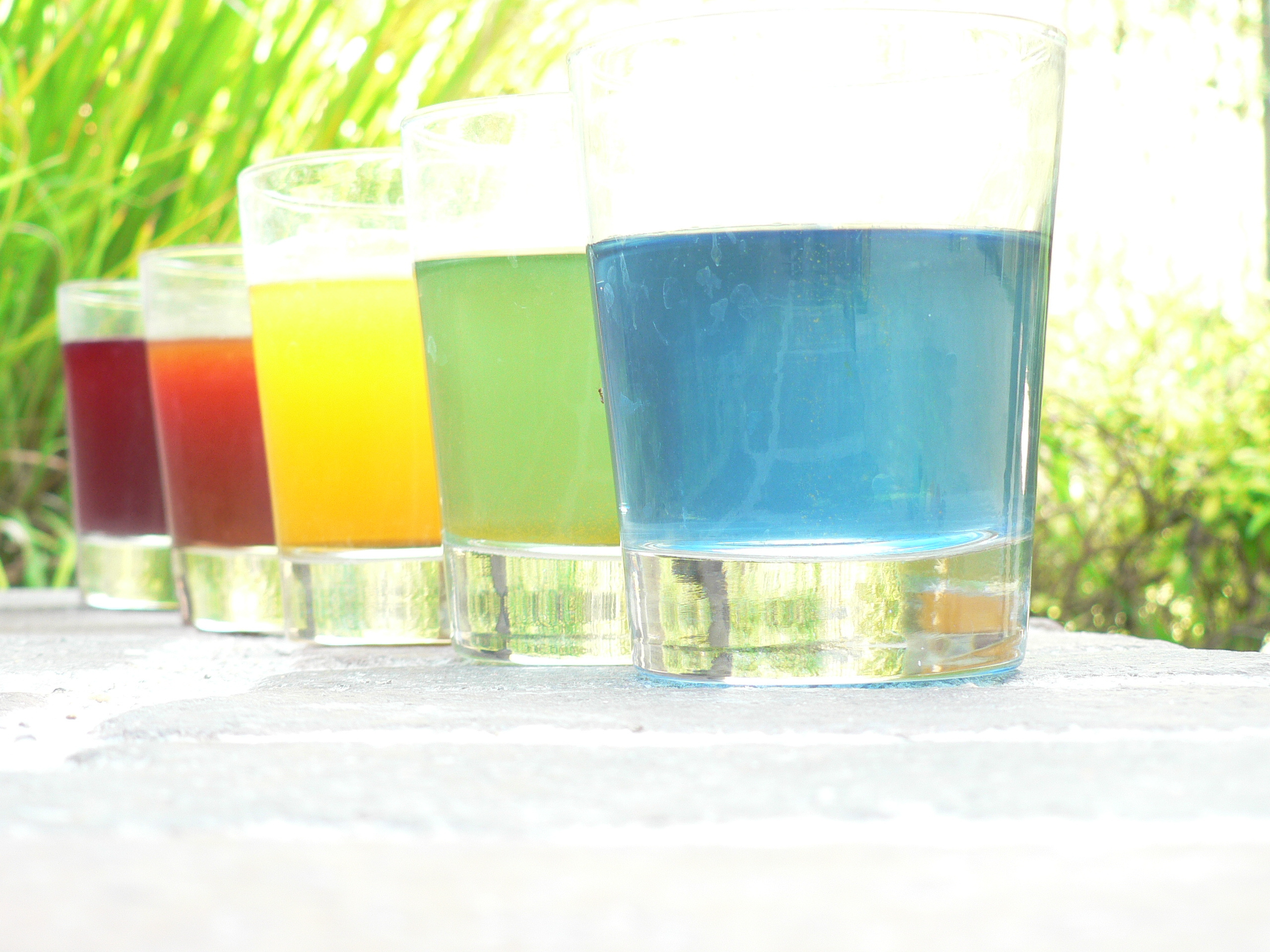 Holi is here…do you have your colors ready?  Harmful chemical colors are one of the perils of Holi (we're talking lead oxide, copper and mercury sulphite, etc.), so be wary of what hits your – and your kids' skin.  But you can be safe and make your own Holi colors at home with just 4 ingredients from the grocery store:  red cabbage (for blue), turmeric (for yellow), onion skins (for red) and beets (for pink).  All you need is 4 saucepans and you can turn your kitchen into a science lab with your kids!
The formula is pretty much the same for all colors.  Take 4 cups of chopped red cabbage, 3 tablespoons turmeric, 4 cups of chopped beets and 4 cups of onion skins (from about 8 large yellow onions) and place each in a seperate pot.  Add 1 quart of water to each of the pots, bring to a boil, simmer for 30 minutes, and strain.  That's it!  The colors will be very saturated, so you dilute with water for lots of Holi fun.  (Note:  the red cabbage solution will look purple at first, but don't be fooled, just dilute it with water and let it sit for awhile – you'll see it turn blue).
You have the basic primary colors – red, yellow, blue (plus pink) – so let your kids combine them to make their favorite.  We combined the red cabbage solution with the turmeric for a gorgeous green.  Yummy enough to drink – bottoms up!
(We got this idea from a Martha Stewart article about natural egg dyes – we just omitted the vinegar.  Thanks, Martha!)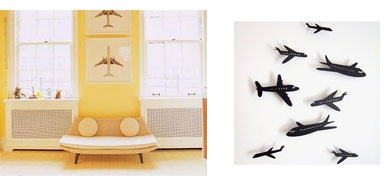 My kids have been really into airplanes lately – probably due to all the flying we've been doing.  So our Telugu letter of the week is Va for vimanamu (or viman in Hindi) – the word for "airplane".  We've been using our Telugu Alphabet Blocks of course, and the display in our play area includes other "va" obects – vankaya ("eggplant"), velugu ("light"), and vishnu (as in "Lord Vishnu").  And since my 3-year-old is working on his writing technique at preschool, I made an outline of the letter Va so he could practice – a great way to keep him occupied on the…yes… airplane.  The outlines have been such a big hit with him, we may just decide to offer a complete set as a future gnaana product!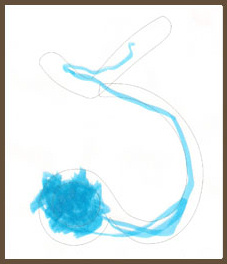 And I found some fabulous modern kids airplane decor for a bedroom or playroom.  Picture above is a stunning room featured in House Beautiful and laser cut paper airlpanes from Etsy seller owlyshadowpuppets ($20 for a set of eight and loads of possibilities).  Other cool kids airplane gear:  Hape International's eco bamboo airplane and Fred and Friends Air Fork One.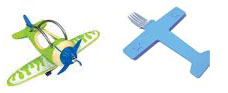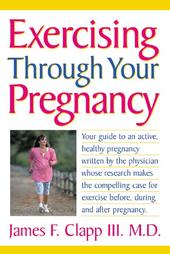 Should you or shouldn't you?  I remember when I was pregnant while my husband and I were living in Bangalore.  I came across a series of articles about the alarming rate of miscarriages suffered by women who traveled along Bannerghatta Road – a major thoroughfare with enough potholes to make even the moon jealous.  Imagine driving along this road in a dinky 3-wheel auto-rikshaw!
The articles connected the miscarriages with the severe jarring and bumping that the women were subjected to.  But I would travel down Bannerghatta Road – in both a car and in an auto-rikshaw – and, yes, I found myself bracing my womb (and the seat in front of me) during the worst bumps.  I concluded though, that the sensation really wasn't much different than what my baby would feel during a hard 4-mile run.
Which was another issue altogether.  I continued to run my daily 4-6 miles throughout the first half of my pregnancy, albeit at a slower pace. Now, you don't see very many pregnant runners in the U.S., so just imagine how my Bangalore neighbors reacted to my exercise habits!  I'm surprised they didn't turn me in for fetus-abuse!
If I hadn't read Dr. James Clapp's Exercising Through Your Pregnancy (and consulted my doctor, of course), I probably would have succumbed to social pressures and demoted myself to the proverbial "brisk walk."  Based on Dr. Clapp's extensive research and first-hand experience, the book dispells many of the myths and "old wives tales" surrounding exercise and pregnancy – concluding that women with healthy preganacies who engage in moderate – and even strenuous – exercise have more energy, experience less complicated labour, recover more quickly, and deliver healthier babies. 
And, really, if pregnant women weren't able to run – or drive down a bumpy road – the human species would have been extinct a long time ago…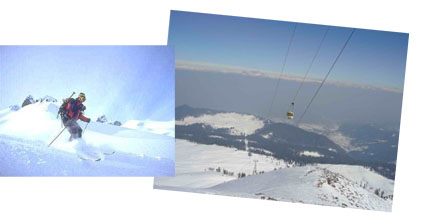 My 3-year-old has been transfixed on the Winter Olympics of late (the ski jump and the luge have been his favourites so far, despite the fact that he's tagged them both as "scary").  I've been pointing out the different countries of the competitors to him, but, sadly, we haven't seen any athletes from India or South Asia.
The Indian Winter Olympic Team, in case you were wondering, has 3 athletes (an alpine skiier, a cross country skiier and a luger).  Pakistan, for the first time in history, has 1 athlete (an alpine skiier) and Nepal has 2 comptetitors. 
If you get past the fantasy "Kashmir" Bollywood snow scenes, it turns out that Gulmarg (a small village 35 miles from Srinagar, Jammu & Kashmir) is becoming one of the world's premier destinations for "adventure skiing" – known for its deep "curry powder" snow.  Gulmarg is covered in snow for 6 months during most years and has the world's highest gondola ski lift.
There are quite a few hotels in Gulmarg:  Hotel Highlands Park  (claims to have hosted Presidents, Prime Ministers and royalty)  and Hotel Pine Ridge are 2 of the best.  You can rent equipment from the Kashmir Alpine Shop and go skiing, snowboarding or ice skating amidst the backdrop of the Himalayas.
Probably not somewhere I'd take the kids (imagine packing snowsuits for international travel!), but if I lived in India, or if I was the adventure-ski type, what a dream destination it would be!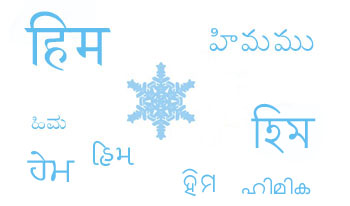 Snow is on everyone's minds these days.  The Winter Olympics are in full swing and our North American customers seem to be covered in it (even those in the balmy state of Texas)!  Snow is beautiful and magical – a stunning sight to behold.
Perhaps no other word better captures the exquisiteness of snow than the Sanskrit hima (pronounced with a short "i" as in "pit").  Merely speaking the word hima ushers in winter's breathtaking serenity. 
In the above graphic, you'll see the word hima as written in 8 Indic languages (Bengali, Gujarati, Hindi/Devanagri, Kannada, Malayalam, Oriya, Punjabi and Telugu).  If you speak one of these languages at home, see if you can get your kids to identify their native script!
Hima is, of course, also the first part of Himalaya (aalaya means "abode") – the mountain range that crowns India and holds many secrets of her past.  If you find yourself hibernating with the kids these days, stage a poetry reading with this stunning work:  The Himalayas by Allama Iqbal (scroll past the Urdu for the English translation).  Lyricism as only Iqbal can deliver…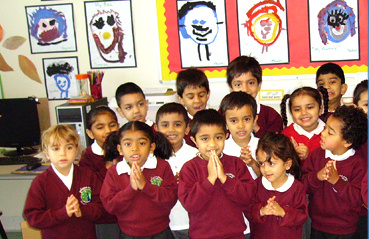 No, it's not a weekend thing – it's an every day thing.  That's right.  Welcome to Krishna Avanti Primary School  – the UK's first state-funded Hindu school.  "Where Vedic values and culture are a part of everyday life," and where "being vegetarian & eco-friendly becomes fun."
Located in the London borough of Harrow, home to over 40,000 Hindus, the school works with ISKON UK as its official faith partner and delivers the UK "National Curriculum."  Students learn Sanskrit, swimming and yoga, as well as music, dance and drama encompassing Indian (along with Western) instruments and styles.  There's also an emphasis on outdoor teaching – reminiscent of ancient India.
And why not?  There are Christian and Catholic Schools, Jewish Schools, Muslim Schools and Sikh Schools.  But critics say such schools only serve to divide communities and thwart efforts towards racial integration.  We say it's only fair to give parents a choice (especially since there exist state schools for 6 other major world religions in the UK).
The Krishna Avanti School is certainly an inspiration to the global Hindu diaspora.  We can dream of a place where kids eat healthy vegetarian meals and learn about a philosophical system that emphasizes freedom of thought, alongside traditional subjects.  A state-funded Hindu school would never happen in the US, or elsewhere for that matter, but that doesn't mean it can't happen privately.  Hmmm, our wheels are turning….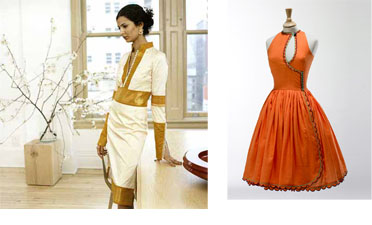 When I was 12, if you had asked me what I wanted to be when I "grew up," I'd have told you I wanted to be a fashion designer.  (A dream that was quickly squashed by practical and hyper-paranoid parents…)
Maybe, just maybe, I would have made it in the design field…but the more plausible scenario is that I would have drowned, especially amongst talent like Swati Argade (an Indian-American designer that marries traditional fabric artistry such as ikkat and khadi  with modern silhouettes) and Nipa Doshi (part of the internationally acclaimed London firm Doshi Levien).
Pictured above is an elegant sari-inspired dress from Argade's Stargazer collection and Doshi's Courtesan Dress  – hand woven in West Bengal with mul mul cotton.  What a dream date night it would be….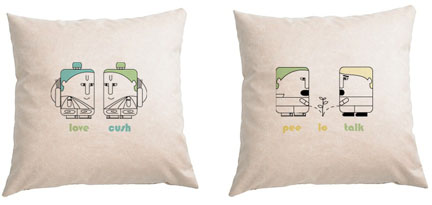 I'll betcha you don't know what a Batoota is.  Well, they're spreading from Mumbai to all over India – soon to infest the U.S.
So what are they?  They're "creatures which infest your daily mundane objects by redefining them and while doing so, passing a social comment, using puns," says Mumbai-based creator Roshnee Desai.
The whimsical characters featured on her pillow covers are intriguing to kids and adults alike – and great for a good chuckle in any room.  Our favourites are the "Love Cush" (a shout out to the Ramayana fans here) and "Pee Lo Talk" (anyone who's visited India will understand the humour here).
You can see more designs at Roshnee's website.  And yes, she can ship the covers to the U.S. and elsewhere – just email her at roshneedesai[at]gmail[dot]com.  Snatch them if you can!

Nala and Damayanti…a classic Indian love story.  It's about a brave King (Nala) who falls in love with a Princess (Damayanti) he has never seen.  He merely hears about her beauty and intelligence through a sage who comes to his court – and he's smitten!  Social decorum prevented Nala from professing his love for Damayanti in person, so he sends her messages via a golden swan.  Damayanti falls in love with Nala too this way, but in order for the couple to be united, she has to outwit the Gods Indra, Agni, Varuna and Yama – who also vie for her hand.
My father told me this story when I was a little girl – and I was so inspired that in my secret playtime I would pretend that I was Princess Damayanti.  So beautiful that even the Gods wanted to marry her…and so intelligent that she could outsmart them!  What a role model!
In celebration of Valentine's Day, we've designed these precious printables  – based on the story of Nala and Damayanti.  And they're free!  Just download, print (on cardstock), cut and fold.  (We've also included an option to print a simple "to" and "from" block for the front of the card).  The cards fold to a 3.5″ square – cut marks are indicated on the printout. 
You can punch a hole and secure with a ribbon (like we did), or just fasten with a sticker – no envelope needed (i'm sure the trees will thank us)!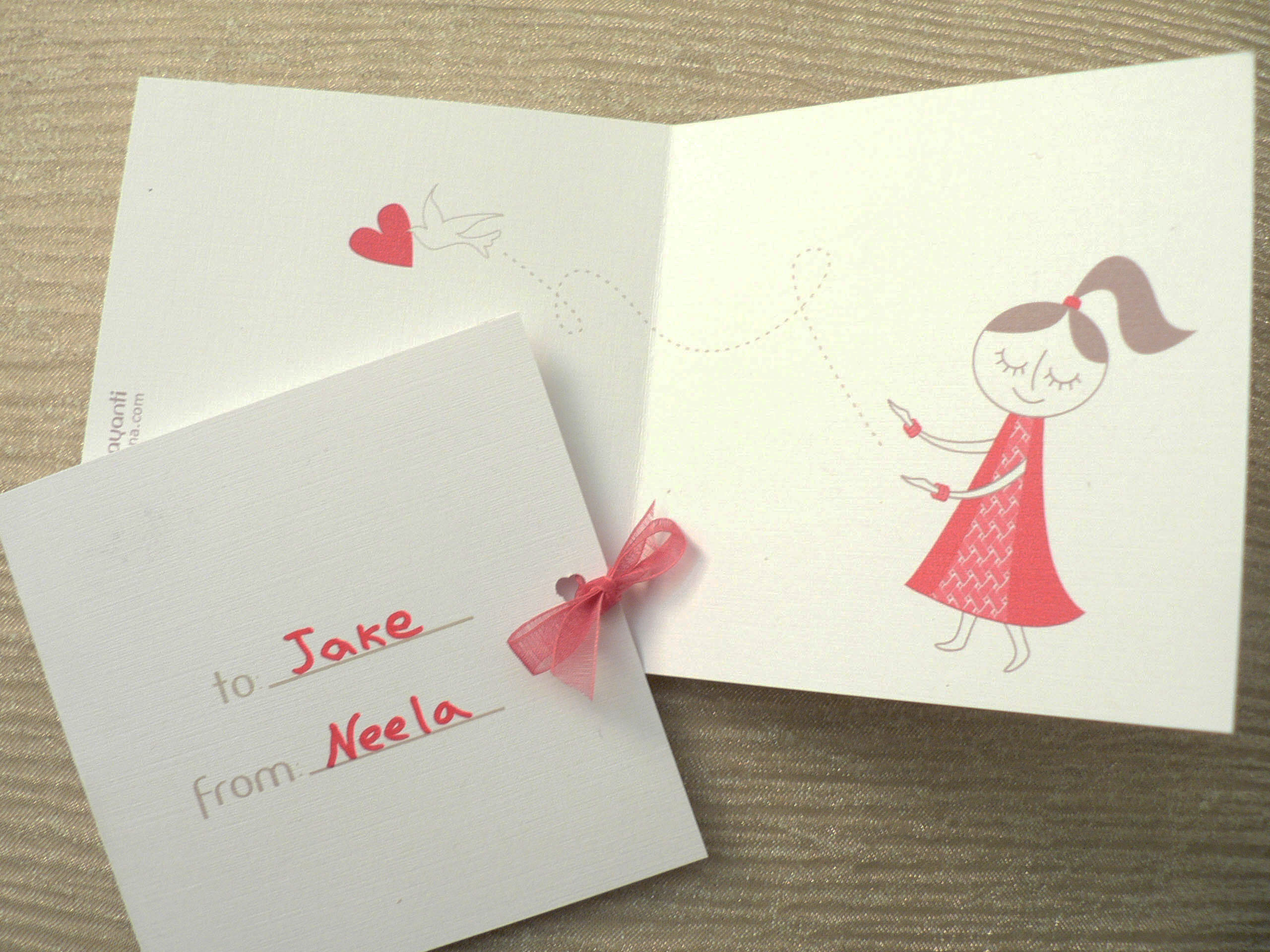 Download here:  Nala Card, Nala Cover
Damayanti Card, Damayanti Cover
And you can read the story to your kids here:  The Story of Nala and Damayanti
I hope your children are inspired as I was by the story!