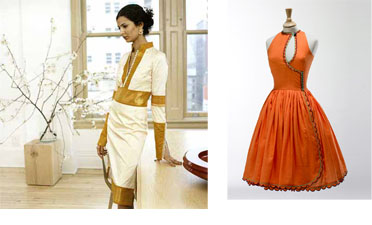 When I was 12, if you had asked me what I wanted to be when I "grew up," I'd have told you I wanted to be a fashion designer.  (A dream that was quickly squashed by practical and hyper-paranoid parents…)
Maybe, just maybe, I would have made it in the design field…but the more plausible scenario is that I would have drowned, especially amongst talent like Swati Argade (an Indian-American designer that marries traditional fabric artistry such as ikkat and khadi  with modern silhouettes) and Nipa Doshi (part of the internationally acclaimed London firm Doshi Levien).
Pictured above is an elegant sari-inspired dress from Argade's Stargazer collection and Doshi's Courtesan Dress  – hand woven in West Bengal with mul mul cotton.  What a dream date night it would be….