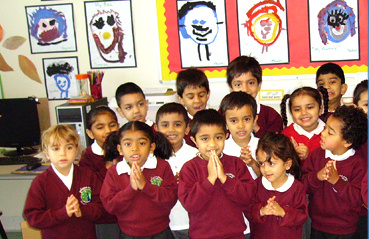 No, it's not a weekend thing – it's an every day thing.  That's right.  Welcome to Krishna Avanti Primary School  – the UK's first state-funded Hindu school.  "Where Vedic values and culture are a part of everyday life," and where "being vegetarian & eco-friendly becomes fun."
Located in the London borough of Harrow, home to over 40,000 Hindus, the school works with ISKON UK as its official faith partner and delivers the UK "National Curriculum."  Students learn Sanskrit, swimming and yoga, as well as music, dance and drama encompassing Indian (along with Western) instruments and styles.  There's also an emphasis on outdoor teaching – reminiscent of ancient India.
And why not?  There are Christian and Catholic Schools, Jewish Schools, Muslim Schools and Sikh Schools.  But critics say such schools only serve to divide communities and thwart efforts towards racial integration.  We say it's only fair to give parents a choice (especially since there exist state schools for 6 other major world religions in the UK).
The Krishna Avanti School is certainly an inspiration to the global Hindu diaspora.  We can dream of a place where kids eat healthy vegetarian meals and learn about a philosophical system that emphasizes freedom of thought, alongside traditional subjects.  A state-funded Hindu school would never happen in the US, or elsewhere for that matter, but that doesn't mean it can't happen privately.  Hmmm, our wheels are turning….