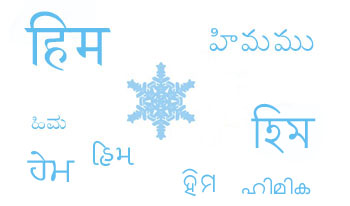 Snow is on everyone's minds these days.  The Winter Olympics are in full swing and our North American customers seem to be covered in it (even those in the balmy state of Texas)!  Snow is beautiful and magical – a stunning sight to behold.
Perhaps no other word better captures the exquisiteness of snow than the Sanskrit hima (pronounced with a short "i" as in "pit").  Merely speaking the word hima ushers in winter's breathtaking serenity. 
In the above graphic, you'll see the word hima as written in 8 Indic languages (Bengali, Gujarati, Hindi/Devanagri, Kannada, Malayalam, Oriya, Punjabi and Telugu).  If you speak one of these languages at home, see if you can get your kids to identify their native script!
Hima is, of course, also the first part of Himalaya (aalaya means "abode") – the mountain range that crowns India and holds many secrets of her past.  If you find yourself hibernating with the kids these days, stage a poetry reading with this stunning work:  The Himalayas by Allama Iqbal (scroll past the Urdu for the English translation).  Lyricism as only Iqbal can deliver…
Tags: bilingual kids, poetry, sanskrit