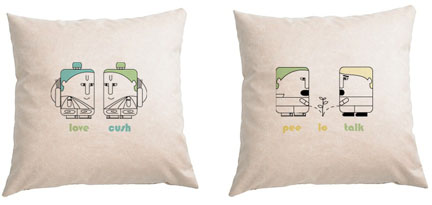 I'll betcha you don't know what a Batoota is.  Well, they're spreading from Mumbai to all over India – soon to infest the U.S.
So what are they?  They're "creatures which infest your daily mundane objects by redefining them and while doing so, passing a social comment, using puns," says Mumbai-based creator Roshnee Desai.
The whimsical characters featured on her pillow covers are intriguing to kids and adults alike – and great for a good chuckle in any room.  Our favourites are the "Love Cush" (a shout out to the Ramayana fans here) and "Pee Lo Talk" (anyone who's visited India will understand the humour here).
You can see more designs at Roshnee's website.  And yes, she can ship the covers to the U.S. and elsewhere – just email her at roshneedesai[at]gmail[dot]com.  Snatch them if you can!