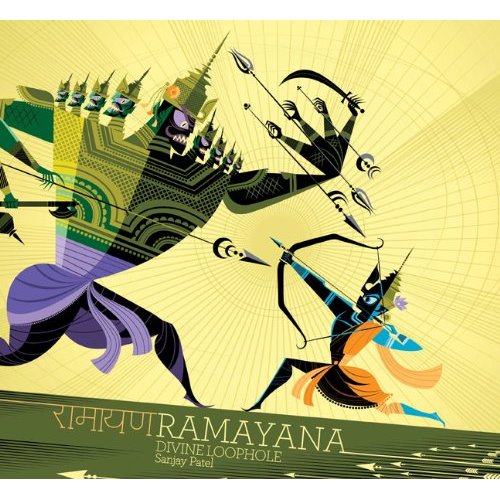 Kinda wierd to say Happy Birthday to a God, but that's what we're doing today:  saying Happy Birthday to Lord Rama.  Ram Navami is big deal for Hindus around the world – sort of feels like Christmas in March.  It's a commemoration of the Ideal Man after all – the protagonist of the epic Ramayana.
So how are we celebrating?  We're digging into Sanjay Patel's just-released Ramayana: Divine Loophole.  (If you don't know already, Patel is an animator for Pixar and has previously published the uber-cute The Little Book of Hindu Deities).  At 186 pages, it's a bit beyond a toddler's attention span – but the visuals are so stunning, you can narrate the Ramayana in brief to your kids just by flipping through the pictures.
Thank you, Mr. Patel, for giving parents a phenomenal way to present the Ramayana to kids.