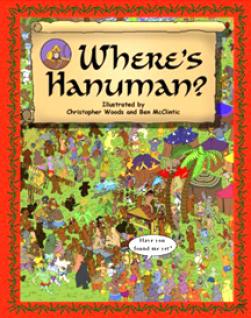 Hanuman, simply put, is remarkable.  I think he's the reason kids love the Ramayana so much.  He has tremendous strength and powers, darts through the sky, moves mountains with a single hand, and carries Rama and Sita in his heart.  But underneath it all he's still a monkey – what a superhero!
Finally we have a book for toddlers (or any age really) that centers around Hanuman.  Where's Hanuman is a seek-and-find book put out by Torchlight Publishing.  We featured it in our March Newsletter, but the awesome-ness of this book is so great that we had to write about it on our blog as well.  And check out the book's official website: www.whereshanuman.com.
So hat's off to you, Hanuman, for rousing the superhero in all of us.  And yes, we know most of India (except Tamil Nadu and Kerala) celebrates your birthday today – so janamdin ki badhai.