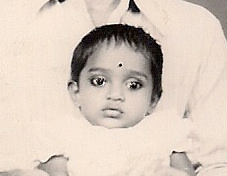 You may be scratching your head at this if you're a true-blooded Westerner – but back in the day, most families in India (and across the Middle East) applied kajal (or kohl), to their baby's eyes.  Kajal was thought to have a cooling effect upon the eyes – protecting them from the harsh rays of the sun. Superstition also dictated that applying kajal to an infant's eye (or elsewhere on the face) would ward off the evil eye.
Kajal has been used since ancient times by Egyptian queens (think Cleopatra).  It was originally made at home by combining the soot from oil lamps with ghee or castor oil.  However, commercially prepared kohls have been found to contain alarmingly high percentages of lead.  Needless to say, pediatricians now recommend that baby's eyes be kept free from any application of kajal – as it can lead to elevated lead levels in the blood stream, as well as allergies and infections.
In short, if you didn't make it yourself, don't use kajal on babies or children.  And read the ingredients: don't buy anything unlabeled.  To be safe, stick with naturally derived kohls and eyeliners – for yourself and for your daughters.  Two to try:  100% Pure's Black Tea Pigmented Gel Eye Liner and Physicians Formula Organic wear 100% Natural Origin Eyeliner.