Archive for April, 2010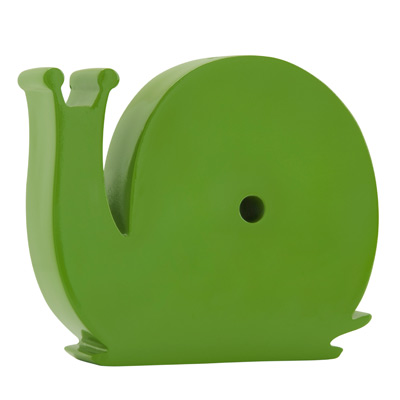 It's springtime and the snails are coming out.  I can't recall how my son's love for snails (or natha (pl. nathalu) as he calls them in Telugu) evolved – but sometime after his owl phase he declared snails "are really cute."  He'd spend countless hours "natha-hunting" in our yard, our neighbor's yard or anywhere with dirt for that matter.  So he's super excited that his pets are emerging once again.  He did this Telugu Alphabet "na" last year: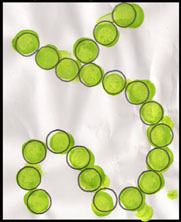 Pictured above is a very cool Resin Snail Bank by Dwell Studio.  And here are some of our favourite snail finds:  Escargot pillow from Petite Miette ($32.00), Snail Canvas Print from Bouji and Nouna ($144.00 (part of a set)) and Ravensburger's Snail's Pace Race game ($15.00).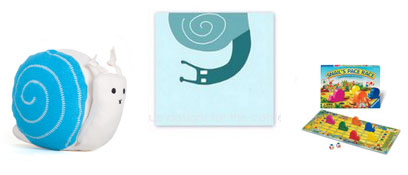 And some more (can you tell – we love all things snail):  cute personalized snail stationery by Minted and Plan Toy's Pull-A-Long Snail.  We'll definitely be re-visting letter "na"!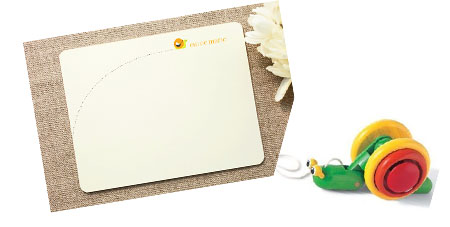 (Oh, that's right – it's Bengaluru now.)  It's juicy news in the hotel industry:  Bangalore, India is now on the green map.  Introducing the ITC Royal Gardenia Hotel – the world's largest (and Asia's first) hotel to be certified LEED Platinum.
If you're unfamiliar with LEED, it stands for Leadership in Energy and Environmental Design.  It's a certification program that rates a building's "green-ness" – taking into consideration energy and water efficiency, indoor air quality, emissions, and the use of recyclable materials and renewable energy.  There are 4 levels of certification:  Certified, Silver, Gold and Platinum, with Platinum being the highest.  You can learn more about LEED at the US Green Building Council's website (and about LEED India at www.igbc.in).
So what makes the Royal Gardenia super sustainable?  It's things like using solar energy, rainwater harvesting and drip irrigation, natural and LED lighting, CFC-free refrigeration and air conditioning  (in fact the hotel implemented the world's first integrated variable speed/flow Evergreen Chillers), and of course eco-friendly organic linens and toiletries.
There's certainly something special about this hotel – and you're sure to notice as soon as you step in the lobby – featuring dramatic vertical gardens (they use less water than the standard type).  The hotel just opened last October and surely has a bright and green future ahead.
And if you are so inspired, LEED is not just for the big guys – there's LEED for Homes too.  My husband and I are currently building one – so stay tuned for news as the process unfolds!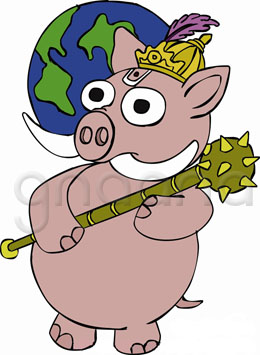 Monsieur Varaha – above – is my kids' 2nd favourite from our Das Avatar Puzzle (Narasimha seems to top their list).  He's been getting a lot of attention these days from my 1-year-old:  she loves that little Planet Earth perched on top of his tusks – no doubt due to all the Earth Day visuals she's been seeing.
If you think about it, the story of the Varaha Avatar is an uncanny allegory for the Save The Planet movement:  Lord Vishnu appears as Varaha to save Mother Earth and to defeat the demon Hiranyaksha.
So this Earth Day, we can reflect upon all the various "demons" that are harming our planet – and maybe take a small step in trying to defeat at least one of those demons in our daily life.
Happy Earth Day!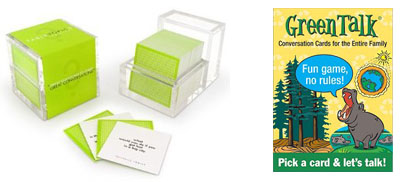 When I'm driving my son to school in the morning, our conversation usually goes like this:
       "Did you sleep well?"
       "Yeeeaaaah."
       "Did you have any dreams?"
       "Yeeeaaaah."
       "What did you dream about?"
       "I dreamed about playing."
       "What were you playing with?"
       "I was playing with freight train."
Sometimes we talk about his latest obsession (lately, spiders – so we talk about how they're scary or "not nice" or about how Daddy found one in the garage).  Then our conversation tapers, he sinks into listening to his CD and that's that.
It makes me feel kind of empty though.  Now that he's almost 4, I wish I could think of more things to talk about – you know, where it's not just me "telling" or "teaching" him but more him doing the talking and expressing.
So when I stumbled upon the concept of converation cards, I was thrilled at the possibilities!  Table Topics has several sets suitable for families, and their Kids To Go version has questions such as "what object would you like to be able to draw really well?" and "what makes you feel better when you're sick?"  US Games Systems also has several sets for kids – including Green Talk – a perfect way to get kids talking on Earth Day.  (The Green Talk cards are a little advanced for my 4-year-old – he probably needs to be at least a year older to really benefit from this set).
The best part is that they're a kick-start for coming up with my own questions!
This post is authored by Ms. Navjot Kaur, a Toronto-based elementary teacher, children's author and advocate for inclusion.  Ms. Kaur's first book, A Lion's Mane, published by Saffron Press, is an important story about a young boy and his Sikh identity.
We happened to be visiting our friend's home the night of Earth Hour.  What we experienced was a lovely surprise!
My son, who is only four, loved having the lights suddenly turn off, playing Charades in a candlelit room and believing it was all for him!  Our friends' amazing children even found a candle look-a-like for him so he could be included in the whole process.  It really was a fun night and there were no short-cuts – lights remained off for the entire hour!
Excuses are easy at times like Earth Hour, especially if you have company over, but this example just defines the leadership potential of our children. Not only did their responsibility towards this cause shine through the darkness of the night, it also helped us to reflect on the time we spend with our children, and what we could be doing better to ensure that they grow to respect the Earth and our environment.
While researching content for my last children's book, I learned more about the Ojibwe Teachings of the Seven Grandfathers.  The universal teachings – to respect the Earth and the natural environment – are a central part of Aboriginal culture and tradition.  Today, we can still learn from these teachings:
• Only take from the Earth what you truly need
• Shop locally to minimize your global footprint
• Reuse paperwork you receive from school or in the mail. (I fold the sheets in half and use a highlighter to write letters, numbers, words or fun questions to trace or solve on the back!)
• Involve your children in using those green and blue bins – habits form at young ages
A great family activity for Earth Day – coming up on April 22nd – is to create a tree using recycled materials.  Start with a large, empty margarine or yogurt tub (you can paint or decorate it).  Place packing peanuts you receive in parcels (preferably those made from corn so they are biodegradable) into the tub.  You can also use clay.  Use a little glue if needed.  Top off with small rocks and stones from the beach or garden to keep everything in place.  Take some earth-tone pipe cleaners or chenille stems and stick them into the tub to create a tree trunk.  Twist some stems around the main trunk to create branches.  Your child can choose to glue on some leaves or blossoms by tearing small pieces of tissue paper and scrunching it into a leaf or blossom.
Talk with your child throughout the process so they are learning about plant growth.  Older children may even want to create entire habitats with lots of trees.  Other ideas are to create a snapshot of the ancestral region of your family or, on a larger scale, paint a Famiy Tree on canvas board.  Place old and new family photographs in simple frames and "hang" them onto the tree.  Whichever tree you choose to create as a family will be beautiful as long as you have fun going green!
© 2010 Navjot Kaur
www.navjotkaur.com
www.saffronpress.com/books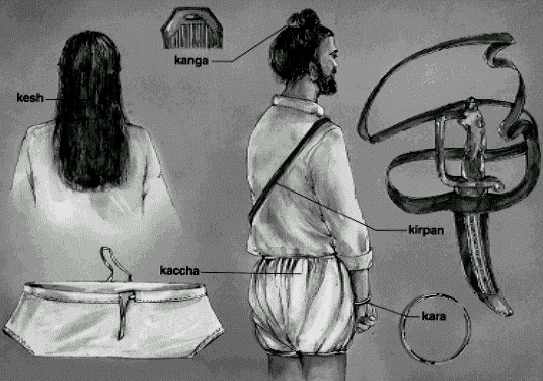 This post is authored by Ms. Navjot Kaur, a Toronto-based elementary teacher, children's author and advocate for inclusion.  Ms. Kaur's first book, A Lion's Mane, published by Saffron Press, is an important story about a young boy and his Sikh identity.
The most beautiful things in the world are not seen nor touched.  They are felt with the heart.
– Helen Keller
Helen Keller was deaf and blind and yet a wonderful teacher helped her break down the barriers of isolation – leading her to achieve immeasurable goals.  Helen became a dynamic author, political activist and lecturer – constantly campaigning for progressive causes.
To hear of such courage and strength is inspiring when today's media images are filled with mainstream connotations of what beauty and success should look like.  How can we ensure our children can sift through their world of iPods, iPhones, streaming videos, text messaging and billboard images and still find time to think about another person in need?  Or to  make friends with someone who doesn't quite fit in with the crowd?  It is a difficult, but necessary, task.  For now, we as parents are the role models – so the dialogue starts with us.
The Sikh festival of Vaisakhi is here and every year I wonder how I can make it more meaningful to my child.  Gnaana is doing such a great job of raising awareness about cultural heritage and it shows that this is a common thought amongst parents of diverse backgrounds.  So, I started to really delve into the story of Vaisakhi while researching an upcoming title.  What I found made me feel Helen Keller's definition of beauty in my heart.

The Panj Pyaare, or five beloved ones, chosen to represent the Khalsa (the baptized body of Sikhs) did not hail from high financial backgrounds or social status but came together to create a new force – united towards progressive causes – to uplift ordinary people's lives.  The hierarchical Hindu caste system of the 1600's systemically kept everyone "in their place" and people craved change.  It is inspiring to learn of the individual struggles and challenges each of the Panj Pyaare faced before joining the Khalsa and also, the knowledge that in April 1699, Guru Gobind Singh ji dared to challenge his Khalsa to stand out and BE different.
It could not have been easy to visibly stand out given the political climate of the time.  Perhaps our children would feel uncomfortable helping someone who is being harassed or being bullied in school – for fear of repercussion.  But we need to make them aware of ways they can help, such as telling an adult about the incident.  With courage and compassion on their side, our children can become strong advocates for change – recognizing the right thing to do when faced with difficult situations.
A unique identity made sure that members of the Khalsa could not be bystanders, but must always be ready to help someone in need.  Through the Amrit ceremony, and adopting the common last names of Kaur (lioness) and Singh (lion), all Sikhs, including women, would hold equal status in society.  Now that is a beautiful thing to teach my son and to celebrate – Happy Vaisakhi!
© 2010 Navjot Kaur
www.navjotkaur.com
www.saffronpress.com/books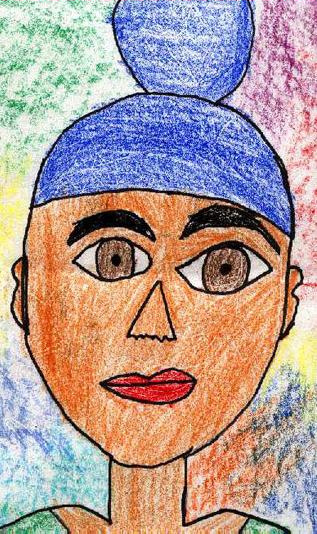 This post is authored by Ms. Navjot Kaur, a Toronto-based elementary teacher, children's author and advocate for inclusion.  Ms. Kaur's first book, A Lion's Mane, published by Saffron Press, is an important story about a young boy and his Sikh identity.
Children between the ages of 2 and 5 are firmly aware of differences based on gender.  It is quite astounding to learn that these formative years also mold lifelong biases related to race, ethnicity and disabilities – in addition to those based on gender.
By the time our children begin Kindergarten, they, along with their peers, may already have preconceived ideas about who they are.  This unconscious sense of self affects personal growth and self-esteem since these children may only value characteristics they feel hold greater worth.  As parents, we want nothing more than to protect our children and to ensure their safety and progress in society.  Building our children's self esteem and teaching them to respect others different from themselves is also part of this journey.
Positive images about self and others begin with each of us.  If we consciously try to avoid stereotypical comments within our conversations, our children will learn to do the same.  Adults often slip into "joking" about someone, without realizing that they are systemically promoting prejudice and bias – sending a message to their children that it's OK to do the same.  A personal example would be the number of "Sardar jokes" we hear in the Sikh community.  These jokes neither reflect the image of Sardars in my family, nor would I wish my son to place low self-worth based on these images or comments.  Bullying incidents often relate back to issues of low self-esteem and self-worth.
We can all do better than to enable this type of poor behaviour.  By giving our children the tools to think independently today, we are setting them up to succeed in tomorrow's global environment.  
Here are a few tips:
• Encourage your children to ask questions about people who look different.
• Introduce your children to books that talk about global cultures and citizenship.
• When you are in a social gathering and you hear stereotypical comments, do not support them with your silence.
• At home, try to ensure gender roles are equal and respect non-traditional roles to give our children a strong sense of worth.
• Have a positive attitude towards each other and to people around you.
 ACTIVITY:  Have your child create a self-portrait masterpiece!
If someone asked your child, "Who are you?" what would that portrait look like? 
Prompt your child with fun questions like:
If you were an animal, which animal would you be?   Why?
If you were a vegetable, which vegetable would you be?   Why?
Your child can sign and date this beautiful piece of art.  Store as a keepsake to show how much you value her/him.  You can even frame it!
(c) 2010 Navjot Kaur
www.navjotkaur.com
www.saffronpress.com/books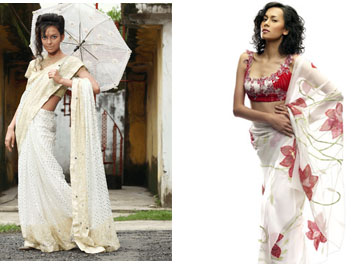 I love them. I love to look at them.  I love to wear them.  I love to shop for them.  And since I only get to wear them but a few times a year, when I do get a chance – that sari better be pretty darn special.
Shown above is a white and gold foil print chiffon saree from designer label kSara by Shradha Saraf, and a gorgeous red floral number from one of my favorites – Ravi Bajaj.
And below are some super stylish and elegant designs from RaiR and its sister site, CBazaar.  Both sites offer you the option of ordering a made to measure blouse, petticoat, or fall and edging work.  You just email them your measurements and desired blouse design, and everything arrives at your doorstep  – a godsend for busy moms if you ask me!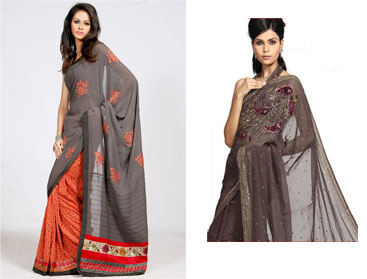 (Besides ours, of course.)  It's urban Indian design done masterfully.  Design Temple has worked with clients like MTV, Vogue, and the Taj Palace Hotels (they also did title design for The Namesake).  They've designed products, books and furniture as well – all in the name of Contemporary Indian Design.
Our favourites:  the Cheerharan Toilet Paper (inspired by a scene in the Mahabharata where the evil King Duryodhana orders the disrobing of Draupadi…in DT's words, "That saree never came to an end, this toilet paper unfortunately will."  Think potty traning and Mahabharata training for your kids all-in-one!) and the Shunya Laptop Bag (celebrating the binary opposition of shunya (Sanskrit for "zero") and one).
It's a lot to take in.  Enjoy: www.designtemple.net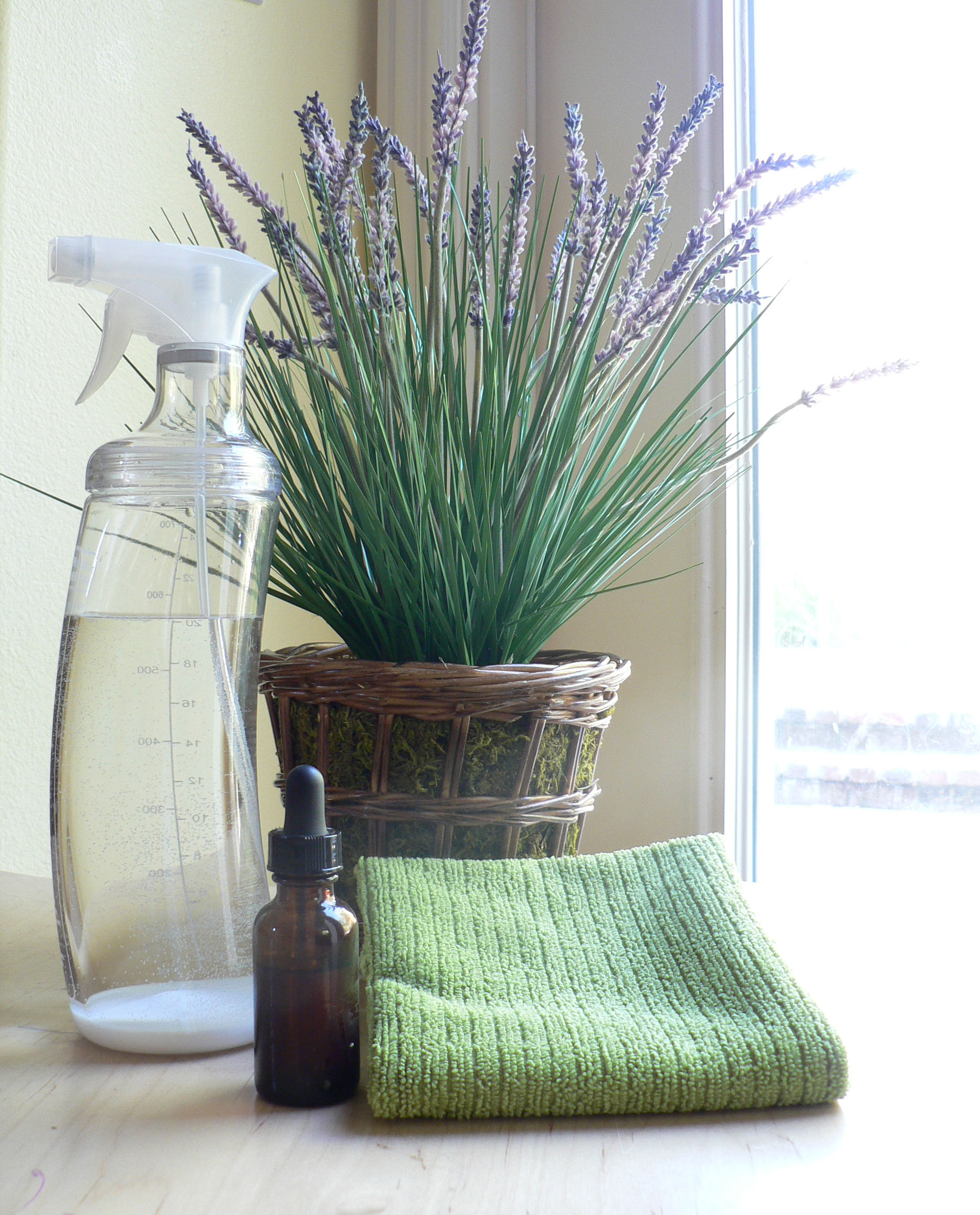 If you have to hold your nose or wear gloves when using something, it really shouldn't be in your house.  We're talking about cleaning products here.  We use a lot of cleaning products in our daily routines – all of which could contain harmful chemicals and toxins which our kids are exposed to.
But before the advent of modern chemical cleaning products, our ancestors in India used completely natural preparations to cleanse and purify.  Such as:
Brushing Teeth:  Instead of synthetic toothbrushes and toothpaste, our ancestors used twigs from the neem tree, which they chewed until the ends became frayed.
Soap and Shampoo:  Also called reetha and kunkudukai, the berries from the soapnut plan contain natural saponins.  When boiled and squeezed, they work up a rich lather when rubbed onto the skin or hair.  Interestingly, "soap nuts" are being resurrected by organic and sustainable living shops as a natural laundry detergent.
Dish Soap:    This may come as a shocker (unless you're an avid camper), but wood ash – when combined with the fats and oils in used pots and dishes – makes lye and crude soap.  So the fuel used for the fire to cook the food was then recycled when cleaning the dishes!
Air Fresheners:  A simple solution, really – a cupful of baking soda or talcum powder placed in a room will absorb the bad odors (it probably took a little longer than modern sprays though).
Antibacterials:  Pluck a lemon off a tree and there you have it!  Lemons have powerful antibacterial qualities as well as a fresh and invigorating smell.  They can also be used as mild bleaching agents.
Here's a simple DIY all-purpose cleaner you can make with a few simple ingredients – safe enough for your kids to go to town with (and a great Montessori Practical Life exercise):
In a squirt bottle, combine 2 cups water, 1 cup vinegar, and a few drops of essential oil for fragrance (we used 100% pure therapeutic grade Pink Grapefruit).  For really messy areas, pretreat by sprinkling some baking soda and wiping off with water (but avoid baking soda on easily-scratched surfaces).
Clean and natural!