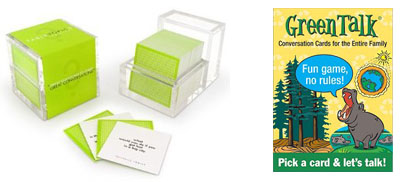 When I'm driving my son to school in the morning, our conversation usually goes like this:
       "Did you sleep well?"
       "Yeeeaaaah."
       "Did you have any dreams?"
       "Yeeeaaaah."
       "What did you dream about?"
       "I dreamed about playing."
       "What were you playing with?"
       "I was playing with freight train."
Sometimes we talk about his latest obsession (lately, spiders – so we talk about how they're scary or "not nice" or about how Daddy found one in the garage).  Then our conversation tapers, he sinks into listening to his CD and that's that.
It makes me feel kind of empty though.  Now that he's almost 4, I wish I could think of more things to talk about – you know, where it's not just me "telling" or "teaching" him but more him doing the talking and expressing.
So when I stumbled upon the concept of converation cards, I was thrilled at the possibilities!  Table Topics has several sets suitable for families, and their Kids To Go version has questions such as "what object would you like to be able to draw really well?" and "what makes you feel better when you're sick?"  US Games Systems also has several sets for kids – including Green Talk – a perfect way to get kids talking on Earth Day.  (The Green Talk cards are a little advanced for my 4-year-old – he probably needs to be at least a year older to really benefit from this set).
The best part is that they're a kick-start for coming up with my own questions!