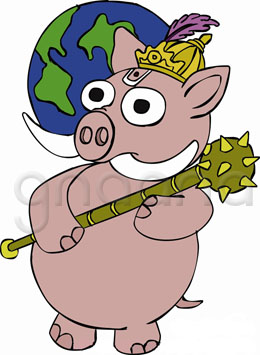 Monsieur Varaha – above – is my kids' 2nd favourite from our Das Avatar Puzzle (Narasimha seems to top their list).  He's been getting a lot of attention these days from my 1-year-old:  she loves that little Planet Earth perched on top of his tusks – no doubt due to all the Earth Day visuals she's been seeing.
If you think about it, the story of the Varaha Avatar is an uncanny allegory for the Save The Planet movement:  Lord Vishnu appears as Varaha to save Mother Earth and to defeat the demon Hiranyaksha.
So this Earth Day, we can reflect upon all the various "demons" that are harming our planet – and maybe take a small step in trying to defeat at least one of those demons in our daily life.
Happy Earth Day!
Tags: Das Avatar Puzzle