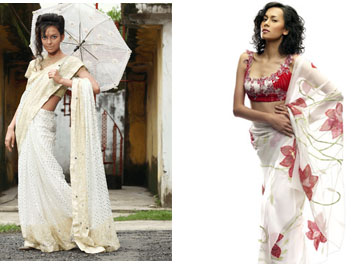 I love them. I love to look at them.  I love to wear them.  I love to shop for them.  And since I only get to wear them but a few times a year, when I do get a chance – that sari better be pretty darn special.
Shown above is a white and gold foil print chiffon saree from designer label kSara by Shradha Saraf, and a gorgeous red floral number from one of my favorites – Ravi Bajaj.
And below are some super stylish and elegant designs from RaiR and its sister site, CBazaar.  Both sites offer you the option of ordering a made to measure blouse, petticoat, or fall and edging work.  You just email them your measurements and desired blouse design, and everything arrives at your doorstep  – a godsend for busy moms if you ask me!