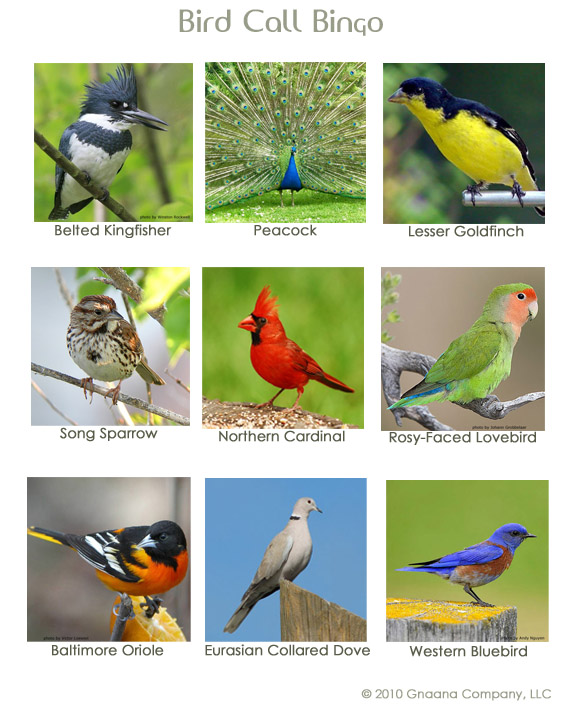 Our May Newsletter is out, and our activity this month will get your kids to sharpen their listening skills by tuning into some of the most inspiring sounds of nature:  bird calls!
First, download and print our Bird Call Bingo sheet (1 for each "player") – either on your home printer or a glossier version from a local photo processor:
Home Printer:  8.5 x 11
Photo:  8 x 10
Familiarize the kids with the bird calls by playing  a few rounds of the clips below and then identifying the relevant bird on the sheet.  When you're ready to play the game, give each player a pile of edible bingo "chips" – nuts, goldfish crackers, pieces of fruit, etc.  Then, play one of the clips at random.  If they correctly identify the bird, they get to eat their "chip"!  After a few rounds, your kids will be able to distinguish between cardinals, sparrows, finches and doves – a great snack-time activity!
Belted Kingfisher

Peacock

Lesser Goldfinch

Song Sparrow

Northern Cardinal

Rosy-Faced Lovebird

Baltimore Oriole

Eurasian Collared Dove

Western Bluebird
In India, legend has it that the call of grief produced by a male Saras Crane upon the loss of its female partner inspired Valmiki to compose the epic Ramayana.  You never know what can inspire your kids to compose their own magnum opus!