Archive for June, 2010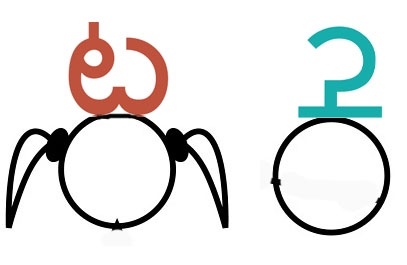 The word "Topi" (Telugu for "hat") is a funny word – we love saying it!  And with the summer sun blazing high, we're seeing "topeelu" on everyone these days.  Here's a selection for everyone in the family:

Above for women, left to right:  Dawning Dusk Hat by Anthropologie, Japanese Sun Hat by Etsy seller PascalineNY and Wide Brimmed Refashioned Denim Hat by Glorious Hats.
Below for girls, left to right:  Urban Hat by Catimini and Jean Bourget's White Beach Hat.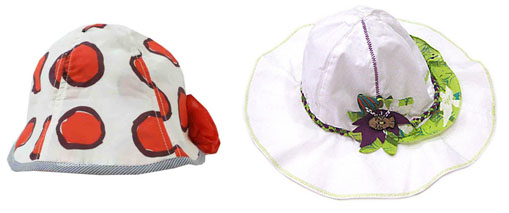 Below for boys, left to right:  Organic Elephant Hat by Tammachat Natural Textile (from last year, but super cute!), Oobi Baby's Denim Hat with Whale Underlay and Patchwork Toddler Sun Hat by Etsy seller Petite Legume.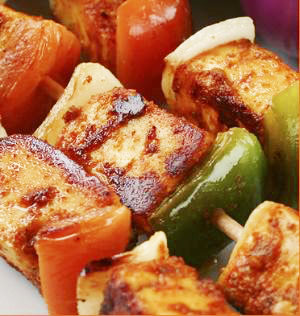 The Fourth of July is around the corner here in the States, and barbecues are on my mind.  It's usually BYOVB (Bring Your Own Veggie Burger) for us if we're grilling at a friend's house.  (Or, if I can't make it to the grocery store, we're stuck with eating buns and veggies.)  But as we're discovering with our new outdoor grill, there's much more we can do beyond Gardenburgers, soy dogs and corn-on-the-cob!
* Tandoori tofu?  I say yes!  Tandoori anything is great on the grill.  (We have a very tasty tandoori paneer and veggies kabobs recipe from Haryana state as part of our Chota Chef collection – always fun for my son to help me with.)  Just make sure you have a drip tray to catch the sauce if it spills.
* Zucchini, peppers, mushrooms, onions and the like can be grilled and tossed with some pre-cooked high-protein pasta.  Just drizzle some olive oil and sprinkle some parmesan cheese for a tasty lunch.
* Some other favourites are grilled bread (for bruschetta), grilled "homemade" pizza (I use pre-made wheat pizza dough from Trader Joes) and quesadillas.
* I haven't tried fruits yets, but I've hear apples and pineapples work well on the grill.  I can't wait to try grilled mango.
* If you are doing veggie burgers, soy dogs or portabello mushroom burgers, make sure to spray the grill with a non-stick cooking spray.  Veg versions don't have the natural juices and fats, so if you don't oil,  you'll end up with large chunks that stick to the grates.
* Though I haven't bought any yet, there are several books on vegetarian griling and barbecues.  Andrea Chesman's book seems most promising – I'm curious about those Brie, Cranberry and Pistachio Quesadillas.
Happy Grilling!
This post is authored by Rima Sanka, D.O., a Tampa-based pediatric allergy, asthma and immunologist.  Dr. Sanka has published research about red tide, aeroallergies and primary immune deficiency, has served as a distinguished lecturer at several Florida conferences and has been featured on local news broadcasts.

Atopic Dermatitis or Eczema is characterized by itchy, dry, red, crusty or flaking skin.  In more serious cases, skin may also blister, crack, ooze or bleed.  Most people think that it's just a skin problem.  But in kids, it could mean something more.  The majority of children with eczema have allergic eczema driven by allergies to foods or to their environment.   If your child has eczema, he or she may benefit from allergy testing and treatment. 
Eczema is particularly noticeable on the face, scalp, neck, insides of elbows, behind knees and on the buttocks.  Eczema has a hereditary component and often occurs in families with hay fever and asthma.  The incidence of allergic eczema is rising rapidly, especially in developed countries.
Identifying eczema is important because it is often the first manifestation of the "allergic march," which, if left unchecked, could possibly lead to hay fever and asthma.  To determine whether eczema is the result of an allergen, your allergist may recommend skin testing.   A tiny amount of the suspected allergen is placed onto the skin (or alternatively into a testing device that pricks the top layer of skin), thereby exposing the skin to a small amount of the allergen.  This test generally yields a positive or negative result.  If a person is allergic, a hive or wheal will form at the testing spot.  Skin testing is a precise and reliable test for IgE antibodies to specific substances, and is useful for quickly learning whether or not a person is allergic to a particular food. 
In addition to skin testing, your allergist may also order a blood test for the levels of antibodies and the numbers of certain types of cells.  In eczema, the blood may show an increased number of IgE antibodies or eosinophils.  Both tests are valuable tools in making the diagnoses of allergy, prescribing treatment, and predicting disease development.
Occasionally, the diagnosis may also involve a skin biopsy – a procedure that removes a small piece of the affected skin which is sent to a pathology laboratory for microscopic examination.
Skin tests, blood tests and biopsies are not always necessary for eczema diagnosis.  However, doctors may require them in order to identify particular triggers.
Treatment for eczema includes removal of allergens first and foremost.   This means that identifying allergies is key.  Other acceptable treatments include moisturization, gentle cleansers, itch relief medication, environmental and behavioral modification, corticosteroids, antibiotics, immunomodulators, immunosuppressants, light therapy, and alternative therapies.  Most patient will outgrow their eczema by 5 years of age.
What else can you do?  Studies suggest that delaying the introduction of solid foods until 4-6 months of age and breastfeeding for at least 3 months may decrease or delay one's chance of developing eczema.  Current research is looking into herbal and skin cell growth factors as new treatment approaches for recalcitrant eczema.
© 2010 Rima Sanka, D.O.
http://www.allergydoc.us
Image by National Eczema Association
The advice and contents of this blog post are for general informational purposes only and are not intended to constitute any expert or professional opinion.  Nothing contained herein is intended to create a physician-patient relationship.  You are advised to consult with a medical professional.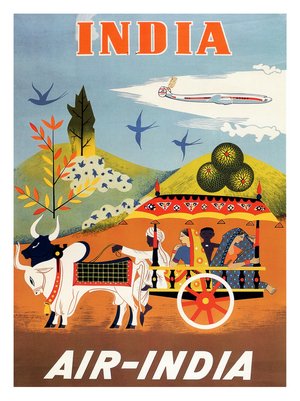 This post is authored by Rima Sanka, D.O., a Tampa-based pediatric allergy, asthma and immunologist.  Dr. Sanka has published research about red tide, aeroallergies and primary immune deficiency, has served as a distinguished lecturer at several Florida conferences and has been featured on local news broadcasts.

Summer…the kids are out of school and it's travel time for many families.  If your travel plans this season include South Asia, there are many health-related concerns you should be aware of.  It's best to see a health care provider at least 4-6 weeks before your trip –  to allow time for your vaccines to take effect and to start taking medication to prevent malaria, if you need it.  Even if you have less than 4 weeks before you leave, you should still see a health care provider for necessary vaccines and medications, as well as other information about how to protect yourself from illness and injury while traveling.   Here is a brief list of things to consider:
Vaccines:   In addition to being up-to-date with routine childhood immunizations, you and your kids may also need Hepatitis A and/or B, Typhoid and perhaps Rabies, Japanese encephalitis or Polio vaccines.  To find the most up-to-date requirements for your travel region, visit the CDC Website.  You'll also be able to find a provider who specializes in travel medicine. 
Medicines you may need:***
* The prescription medicines you take every day.  Make sure you have enough to last during your trip.  Keep them in their original prescription bottles and always in your carry-on luggage.  Be sure to follow security guidelines if the medicines are liquids.
* Anti-malarial – start 4 weeks before your departure and continue after returning.  NOTE: chloroquine is NOT effective against malaria in South Asia!  Strains are resistant.  DO NOT USE THIS!
* Diarrhea –  usually over-the-counter
***Note: Some drugs available by prescription in the US are illegal in other countries.  Ask your health-care provider to write a letter on office stationery stating the medication has been prescribed for you.
Other safety items you may need:
* Iodine tablets and portable water filters (to purify water if bottled water is not available) 
* Sunblock and sunglasses (for protection from UV sun rays) 
* Antibacterial hand wipes or alcohol-based hand sanitizer containing at least 60% alcohol
Prevent insect bites:  Many diseases, like malaria and dengue, are spread through insect bites.  You can prevent insect bites by:
* Wearing lightweight long-sleeved shirts, long pants and hats whenever possible.  (Also fits the typical dress code in India!)
* Remaining indoors in a screened or air-conditioned area during the peak biting periods (dusk and dawn).
* Sleeping in beds covered by nets treated with permethrin (if not sleeping in an air-conditioned or well-screened room) if you'll be in malaria-risk areas.
* Using insect repellent (bug spray) with 30%-50% DEET.  You could also use picaridin, available in 7% and 15% concentrations, but you will need to apply it more frequently.  And note that there is less information available on how effective picaridin is at protecting against all of the types of mosquitoes that transmit malaria.  (In the alternative, DEET-free insect repellants are available – but as with any application for children, you'll have to do some research as to the benefits and effectiveness of these products.) 
* Spraying rooms with products effective against flying insects (such as those containing pyrethroid, which quickly kill flying insects, including mosquitoes).
BE CAREFUL ABOUT FOOD AND WATER!  Diseases from food and water are the leading cause of illness in travelers, often causing vomiting and diarrhea.  Follow these tips for safe eating and drinking:
* Wash your hands often with soap and water, especially before eating.  If soap and water are not available, use an alcohol-based hand gel (containing at least 60% alcohol).
* Drink only bottled or boiled water, or carbonated drinks in cans or bottles.  Avoid tap water, fountain drinks and ice cubes. 
* Do not eat food from street vendors.
* Make sure food is fully cooked.
* Only eat pasteurized dairy products.
Last but not least, BE SAFE, especially while in motorized vehicles.
It takes meticulous planning and financial resources to travel abroad so make sure to invest in the necessary precautions and enjoy yourself!
For more information, check the CDC website on India.
© 2010 Rima Sanka, D.O.
http://www.allergydoc.us
Image: Vintage travel poster by VinMag.  £5.99
The advice and contents of this blog post are for general informational purposes only and are not intended to constitute any expert or professional opinion.  Nothing contained herein is intended to create a physician-patient relationship.  You are advised to consult with a medical professional.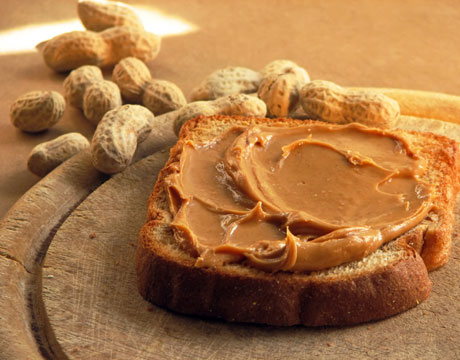 This post is authored by Rima Sanka, D.O., a Tampa-based pediatric allergy, asthma and immunologist.  Dr. Sanka has published research about red tide, aeroallergies and primary immune deficiency, has served as a distinguished lecturer at several Florida conferences and has been featured on local news broadcasts.
Food allergies appear to be on the rise – with peanut and tree nut allergies leading the way.  One study showed that from 1997 to 2002, the incidence of peanut allergy doubled in children.  Peanuts and tree nuts can trigger severe, life threatening reactions and are among the leading causes of fatal and near-fatal reactions to foods.  Many of you may remember hearing about a teenage girl who died after kissing her boyfriend – who had eaten a peanut butter sandwich.  Schools, camps, restaurants and daycares have had to completely change their practices and implement special policies to protect children with food allergies.  "Peanut free" schools are becoming more and more common.  Is it all hype?  What should we believe?  Here are some common questions – and the facts.
Can food allergies be outgrown? Allergies to peanuts, tree nuts, fish and shellfish are generally lifelong allergies; however, recent studies indicate that up to 20% of kids will outgrow peanut allergies (with the rate slightly lower at 10% for tree nut allergies).  The good news is that 85% of children will outgrow milk and egg allergies by 5 years of age.
Can alternative nut butters (e.g., cashew nut butter) be substituted for peanut butter? Many nut butters are produced on the same equipment used to process peanut butter – making them risky alternatives.  Also, many experts recommend that peanut-allergic patients avoid tree nuts as well.  (Tree nuts include, but are not limited to, walnuts, almonds, hazelnuts, cashews, pistachios, Brazil nuts and coconuts.  These are not to be confused or grouped together with peanuts (which are legumes) or seeds, such as sunflower or sesame.)  Tree nuts can be found as ingredients in many unexpected places.  For tips on reading labels, visit the FAAN website.
Can I prevent or decrease the risk of my child developing food allergies? The data here is conflicting. Although it may be the case that delaying the introduction of highly allergenic foods (such as waiting until a child is 3-years-old to give peanut butter) can stem the effects, this may not always work.  According to the results of a prospective, birth cohort study reported in the December 7, 2009 issue of Pediatrics, late introduction of solid foods into the infant diet was actually associated with an increased risk for allergic sensitization to food and inhalant allergens at age 5 years.  The protective effects of breastfeeding for 6-12 months have also had conflicting data.
What's in store for the future? There has been some exciting new research looking into oral peanut immunotherapy.  This involves introducing minute amounts of peanut daily into a peanut allergic patient in order to desensitize and cure them of their allergy.  Dr. Wesley Burks at Duke University has had some promising results, but this type of therapy is still strictly an academic tool – so don't try this at home!
How should I manage food allergies? This can be a challenge.  At this time there is NO cure for food allergies.  Avoidance is the ONLY treatment.  In case of accidental ingestion, your doctor may prescribe injectable epinephrine, antihistamines or steroids.
FAAN has developed a variety of resources to help parents, physicians and schools to work together to keep kids with food allergies safe.  Education, communication and cooperation are the keys to preventing allergic reactions in schools, daycares and camps – so make sure to keep an open dialogue.  We're all in this together!
And remember you're not alone.  It helps to meet other families who are in the same situation to share experiences.  Support groups are available.
© 2010 Rima Sanka, D.O.
http://www.allergydoc.us
The advice and contents of this blog post are for general informational purposes only and are not intended to constitute any expert or professional opinion.  Nothing contained herein is intended to create a physician-patient relationship.  You are advised to consult with a medical professional.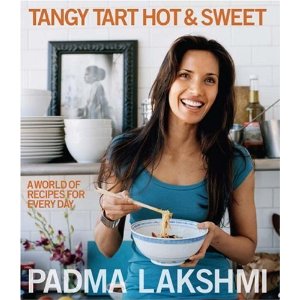 Now that the gorgeous Top Chef host and international model Padma Lakshmi has a daughter of her own (Krishna Thea Laksmi, born in February), I wonder what she'll be feeding her.
I had a hankering for singapore noodles the other day and I found her recipe for Singapore Noodles with Shrimp and Shiitake Mushrooms (from her Tangy Tart Hot & Sweet cookbook).   You can find a copy of the recipe here (and her comments about the dish).
I substituted Morningstar Farms vegetarian Chik'n Strips for the shrimp and added more soy sauce in lieu of the fish sauce.  I also added some thinly-sliced green beans  for more nutrition and flavour.  And being a true Indian cook, I don't have "curry powder" so I used 1/2 teaspoon each of ground cumin and ground coriander, and then added a pinch of turmeric.
Yummy, yummy!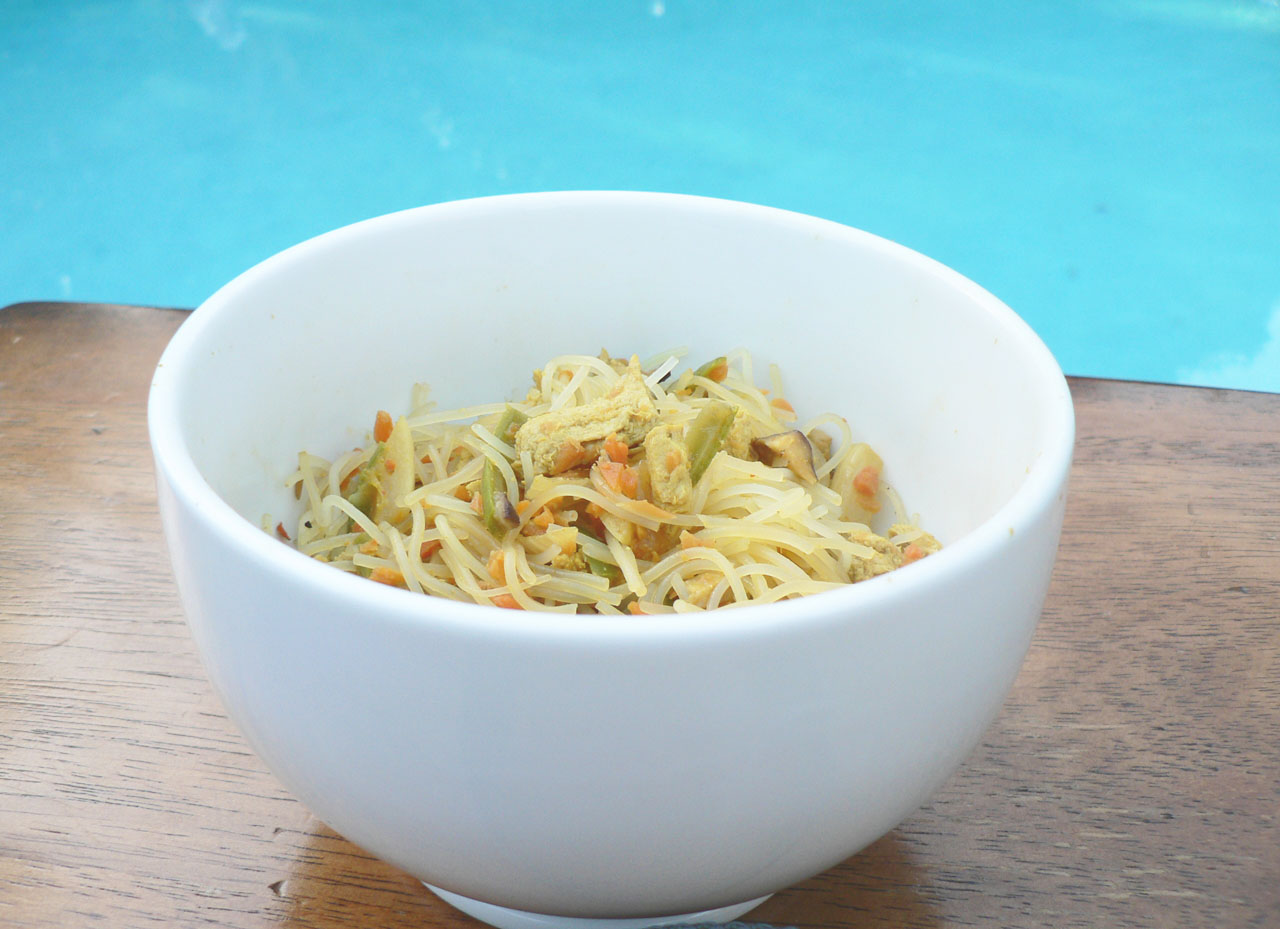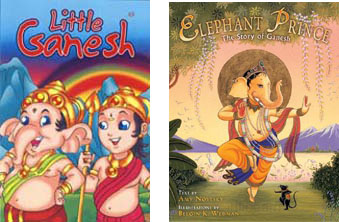 The Little Ganesh book we have has caught my son's attention of late.  He seems to be drawn to the large colour illustrations – and Ganesh's potbelly.
It's the story of Ganesh and his brother Karthikeya and their competition for a magical mango.  In brief, Brahma (on a whim) decides that he MUST know who is the "wiser" of the 2 brothers and enlists Narada, the mischevious sage, to find out.  Narada gifts a magical mango to Shiva, telling him that it must be eaten whole and can't be cut into pieces.  Being the chivalrous god that he his, he passes it onto Parvathi – but she's too proper of a wife and so decides one of her sons should have it.  But which one?  Narada steps in, reclaims the mango, and says he will give it to the first one who circles the world 3 times.  Most of us know what happens from here:  Karthikeya hops on his peacock, thinking he'll be lapping Ganesh on his mouse (the peacock and the mouse are their respective vahanas (modes of transportation)).  But Ganesh shows that he's the "wiser" one by circling his parents 3 times.  After all, his parents are his world…
I get it – but I see a number of problems with this story from the perspective of a 4-year-old.  I don't like how the brothers "can't" share the mango (NOT the example you want to set when you're trying to teach a kid the importance of sharing).  I don't like how Brahma and Narada were trying to quantify how "smart" the brothers were (would not want my kids doubting if they are "smart" or "smarter" than their friends, or worse – their siblings – what a confidence killer!).  Lastly, I don't like how it alludes to parents (Shiva & Parvati) playing favourites among their kids – this breaks the cardinal rule of parenting!
(I was also a bit disturbed by Mandala Publishing's Elephant Prince: The Story of Ganesh – a beautiful book about how Ganesh got his elephant head – but my kids do NOT need to be thinking about how the god Shani accidentally destroys a child's head at this point in their lives.  Of course this version of the story is probably less horrific than the one where a father (Shiva) actually beheads his son.) 
I don't want to avoid these important mythological tales altogether, so what do I do?  I change the wording of the story – that's what I do.  Instead of "wiser," I use "sillier."  And rather than the prize being the mango itself – it's who gets to use a really cool plastic knife to cut it. 
And I make Ganesh share that darn mango.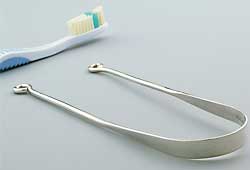 My daughter threw mine in the toilet a few weeks ago (thanks, dear), so I had to go without for a few days until my mother could mail me a replacement.  Those couple of days were torture – I felt so (for lack of better word) GROSS.  I'd been using a tongue cleaner since my toddler days, and it had become inseperable from my toothbrush – going with anywhere and everywhere I traveled.
My husband, however, doesn't use one.  And although I don't know the intimate details of the brushing habits of my other Indian relatives and friends, if I had to guess, I would say that the usage rate of tongue cleaners among them is about 50%.  Which makes me wonder:  is the use of tongue cleaners limited to particular regions of India?  Is it an urban/rural thing?
Whatever may be the answer, it seems that the West is (slowly) embracing tongue cleaners (apparently they originated in India (an ayurvedic technique) and China).  And why not?  They do nothing but good – scraping away the scummy film that causes bacteria build up and bad breath.  You still can't hop to a drug store and buy one – which I tried by the way, before I phoned my mother – but you can buy them online (for a ridiculous price by Indian standards).  They come in various sizes and shapes, and in silver, copper, plastic, etc.  Check out TePe's Tongue Detox (love the name) which is all the rage in Europe and the "patented" spoon-style one from OraMedix.
As for me, I prefer the simple stainless steel ones.  As a precaution, I had my mother-in-law buy 2 dozen of them on her recent trip to India.  So I'll be getting the kids to start using them.  And now I have a stash of my own to mail to them when they call me in distress.
Image:  Silver Tongue Cleaner by Aspen Dental House.  $45.00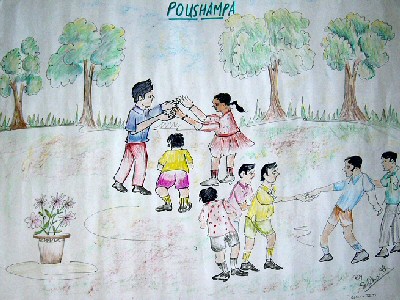 Image by Delhi Public School Indirapuram
Our June Newsletter is out – and this month we're featuring some traditional games played by children in Indian villages.  We did some investigation, emphasizing games which required little or no equipment (so games like Caroms, Chess (Shatranj), etc. were excluded).  Here's a list of what we came up with – so you'll have plenty of tube-free activities for the kids this summer: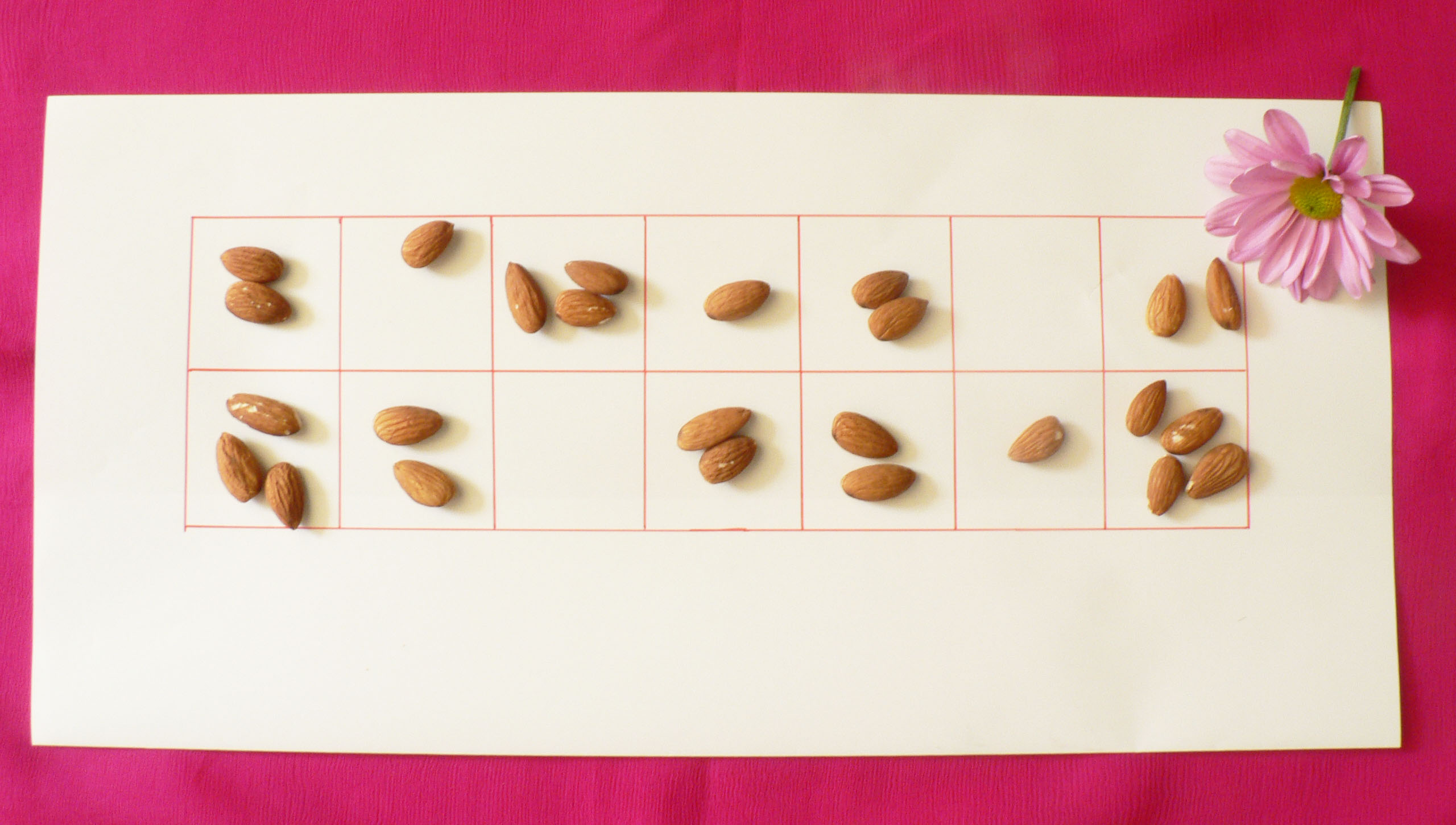 Indoor Games
Pallankuzhi (also called Pallanguli) – Many claim this game to be a South Indian game from Tamil Nadu, but we found that it's been played for centuries all over the world!  It's similar to mancala – with 2 players shifting and capturing coins in 14 crevices.  Although you can buy a wooden Pallankuzhi board (and tamarind seeds were originally used as the coins), we made our own "board" with paper and a marker and used almonds for the coins – see picture above.  This is a great counting exercise for kids.  Rules of the game are here (but note there are many variations).
Kanche (marbles) – Infinite possibilities!  Here are a few possible games to play.
Lattoo (tops) – See who's top can survive the longest OR try to get your top to travel to a particular spot.
Outdoor Games
Gilli Danda – Probably the most well-known traditional game, it's similar to cricket (and featured in the Bollywood move Lagaan).  Rules of the game here.
Pitthoo – All you need is a soft rubber ball and 5-6 flat stones.  This is a team game for 4-20 players – perfect for a family reunion.  Rules here.
Poshampa – Kind of a variation of musical chairs – 2 people make a gate-like structure with their arms, and other kids form a line and pass through the gate.  When the song ends (you can sing a song or use a CD player/radio), the "gate" closes, and the person trapped inside must answer a question.  Depending on the answer, he/she joins 1 of the 2 teams.  A tug of war (rassa-kashi) between the teams serves as the finale.  More here.
Gucci Garam – A player draws a circle and stands inside of it with a stick.  Other players throw a ball at him, which he tries to deflect.  If the ball touches him, or if he steps outside the circle, he is out of the game.
Giti Phod – Another team game, members of one team have to try to arrange rocks in a pre-selected configuration, while avoiding getting hit by a ball thrown by the other team.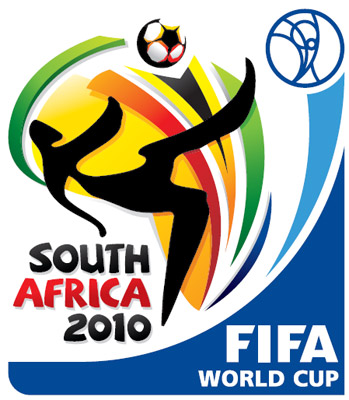 Are you excited?  I certainly am.  For those of you who know me well, you know I have a soft spot for South Africa.  Maybe it's because I was so moved by Mandela's autobiography (recommended on our In The Gnaana page), or maybe it's because Gandhi spent over 20 year there.  I don't know – but I have Mandela quotes framed and was weak in my knees when I met Archbishop Desmond Tutu while living in Bangalore.  So the fact that South Africa is the first African nation to host this World Cup is more than just a historical event – it's pure symbolism of the unity of sports.
Will South Africa be able to pull off a home town win against Mexico on opening day?  Or will the US be able to upset England?  The kids and I will certainly be watching.  (Game schedule here).
Now India didn't qualify – BUT did you know that a group of Indian kids won the Street Child World Cup held in Durban, South Africa earlier this year?  India was one of 8 countries to participate in this groundbreaking event – organized by UK Human Rights organization Amos Trust as a "celebration of the potential of street children.  The tournament garnered attention and support from David Beckham and Archbishop Tutu, among others.  You can read about (and support) this inspirational organization on their website.  The video brought tears to my eyes.