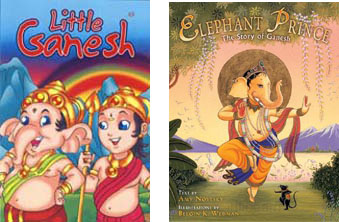 The Little Ganesh book we have has caught my son's attention of late.  He seems to be drawn to the large colour illustrations – and Ganesh's potbelly.
It's the story of Ganesh and his brother Karthikeya and their competition for a magical mango.  In brief, Brahma (on a whim) decides that he MUST know who is the "wiser" of the 2 brothers and enlists Narada, the mischevious sage, to find out.  Narada gifts a magical mango to Shiva, telling him that it must be eaten whole and can't be cut into pieces.  Being the chivalrous god that he his, he passes it onto Parvathi – but she's too proper of a wife and so decides one of her sons should have it.  But which one?  Narada steps in, reclaims the mango, and says he will give it to the first one who circles the world 3 times.  Most of us know what happens from here:  Karthikeya hops on his peacock, thinking he'll be lapping Ganesh on his mouse (the peacock and the mouse are their respective vahanas (modes of transportation)).  But Ganesh shows that he's the "wiser" one by circling his parents 3 times.  After all, his parents are his world…
I get it – but I see a number of problems with this story from the perspective of a 4-year-old.  I don't like how the brothers "can't" share the mango (NOT the example you want to set when you're trying to teach a kid the importance of sharing).  I don't like how Brahma and Narada were trying to quantify how "smart" the brothers were (would not want my kids doubting if they are "smart" or "smarter" than their friends, or worse – their siblings – what a confidence killer!).  Lastly, I don't like how it alludes to parents (Shiva & Parvati) playing favourites among their kids – this breaks the cardinal rule of parenting!
(I was also a bit disturbed by Mandala Publishing's Elephant Prince: The Story of Ganesh – a beautiful book about how Ganesh got his elephant head – but my kids do NOT need to be thinking about how the god Shani accidentally destroys a child's head at this point in their lives.  Of course this version of the story is probably less horrific than the one where a father (Shiva) actually beheads his son.) 
I don't want to avoid these important mythological tales altogether, so what do I do?  I change the wording of the story – that's what I do.  Instead of "wiser," I use "sillier."  And rather than the prize being the mango itself – it's who gets to use a really cool plastic knife to cut it. 
And I make Ganesh share that darn mango.