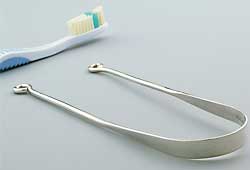 My daughter threw mine in the toilet a few weeks ago (thanks, dear), so I had to go without for a few days until my mother could mail me a replacement.  Those couple of days were torture – I felt so (for lack of better word) GROSS.  I'd been using a tongue cleaner since my toddler days, and it had become inseperable from my toothbrush – going with anywhere and everywhere I traveled.
My husband, however, doesn't use one.  And although I don't know the intimate details of the brushing habits of my other Indian relatives and friends, if I had to guess, I would say that the usage rate of tongue cleaners among them is about 50%.  Which makes me wonder:  is the use of tongue cleaners limited to particular regions of India?  Is it an urban/rural thing?
Whatever may be the answer, it seems that the West is (slowly) embracing tongue cleaners (apparently they originated in India (an ayurvedic technique) and China).  And why not?  They do nothing but good – scraping away the scummy film that causes bacteria build up and bad breath.  You still can't hop to a drug store and buy one – which I tried by the way, before I phoned my mother – but you can buy them online (for a ridiculous price by Indian standards).  They come in various sizes and shapes, and in silver, copper, plastic, etc.  Check out TePe's Tongue Detox (love the name) which is all the rage in Europe and the "patented" spoon-style one from OraMedix.
As for me, I prefer the simple stainless steel ones.  As a precaution, I had my mother-in-law buy 2 dozen of them on her recent trip to India.  So I'll be getting the kids to start using them.  And now I have a stash of my own to mail to them when they call me in distress.
Image:  Silver Tongue Cleaner by Aspen Dental House.  $45.00
Tags: ayurveda