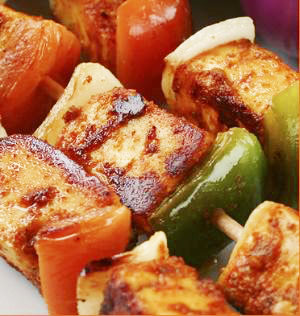 The Fourth of July is around the corner here in the States, and barbecues are on my mind.  It's usually BYOVB (Bring Your Own Veggie Burger) for us if we're grilling at a friend's house.  (Or, if I can't make it to the grocery store, we're stuck with eating buns and veggies.)  But as we're discovering with our new outdoor grill, there's much more we can do beyond Gardenburgers, soy dogs and corn-on-the-cob!
* Tandoori tofu?  I say yes!  Tandoori anything is great on the grill.  (We have a very tasty tandoori paneer and veggies kabobs recipe from Haryana state as part of our Chota Chef collection – always fun for my son to help me with.)  Just make sure you have a drip tray to catch the sauce if it spills.
* Zucchini, peppers, mushrooms, onions and the like can be grilled and tossed with some pre-cooked high-protein pasta.  Just drizzle some olive oil and sprinkle some parmesan cheese for a tasty lunch.
* Some other favourites are grilled bread (for bruschetta), grilled "homemade" pizza (I use pre-made wheat pizza dough from Trader Joes) and quesadillas.
* I haven't tried fruits yets, but I've hear apples and pineapples work well on the grill.  I can't wait to try grilled mango.
* If you are doing veggie burgers, soy dogs or portabello mushroom burgers, make sure to spray the grill with a non-stick cooking spray.  Veg versions don't have the natural juices and fats, so if you don't oil,  you'll end up with large chunks that stick to the grates.
* Though I haven't bought any yet, there are several books on vegetarian griling and barbecues.  Andrea Chesman's book seems most promising – I'm curious about those Brie, Cranberry and Pistachio Quesadillas.
Happy Grilling!
Tags: vegetarian