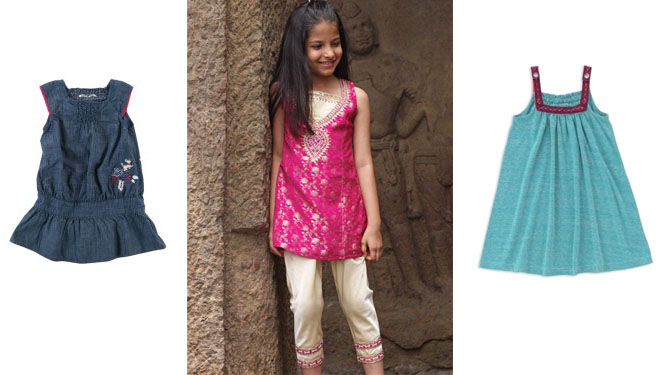 This post is authored by Rajas and Ranis, a designer children's boutique from the United Kingdom.  It is one of the few boutiques around the world (and UK's first) dedicated exclusively to Indian clothing for children.  Their retail store is located on Deepdale Road in Preston.
The influence of ethnic wear into mainstream fashion in recent years has been obvious with more color, embroidery and sequins being featured in many everyday garments.  Indeed the Indian-style kaftan has become a norm for many women and girls alike. Scarves, sarongs, dresses and handbags have all been heavily inspired by the Indian look.  Even home wares such as bedding and cushions have been transformed into beautifully bright pieces of Indian-influenced art – a delight to adorn any modern household.
So don't be afraid to incorporate Indian style into your kids' everyday wardrobe.
And not to forget accessories – Indian bangles or other jewelry pieces provide a stunning contrast to simple Western wear.
Some of our more casual and cotton outfits, like the block print dresses below, are perfect for play or lunch out on the town.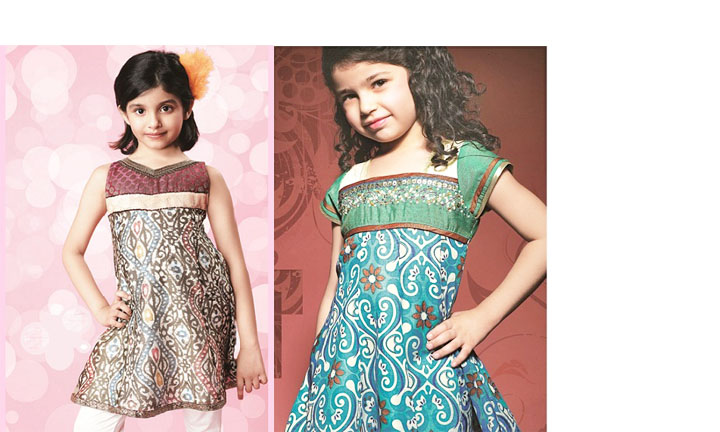 For a more fashion-forward look, try separating parts of an Indian outfit and pairing them with Western pieces.   Beaded churidars can look super with a casual dress.  For example, the ivory churidar featured at the top of this post could be worn with either a denim dress or a simple sundress.
Top of post:  Chipie Girls Denim Dress by Spruced Goose, £21.00;  Turquoise Blue Sundress, £28.50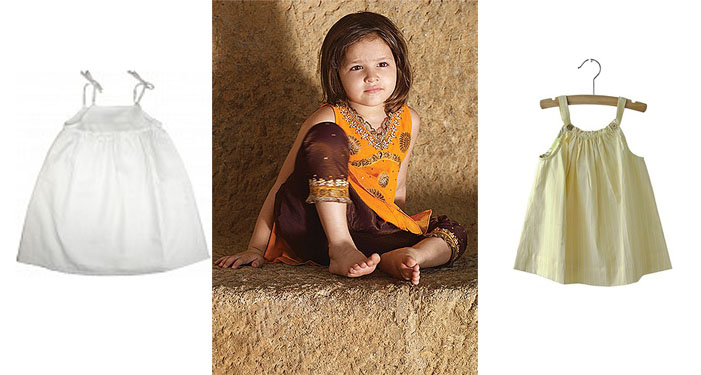 Above:  La Fee Clochette Dress in Manon White by Zebre a Pois, £6.93;  Sasha Dress by Pink Chicken, $65.00
Or try the opposite – beautiful cotton and lightly-embroidered tunics worn over jeans, leggings or even skirts liven up any outfit for a casual but pretty just-put-together look.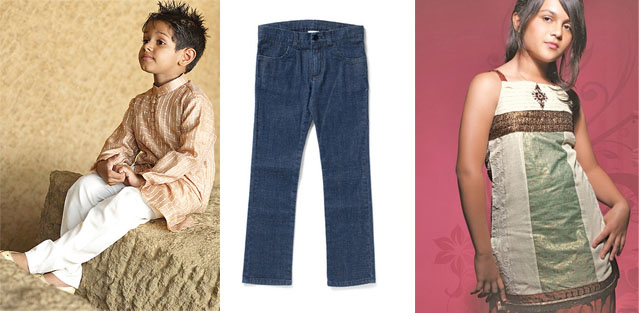 Above:  Miller Denim Trousers by Elias & Grace, £22.50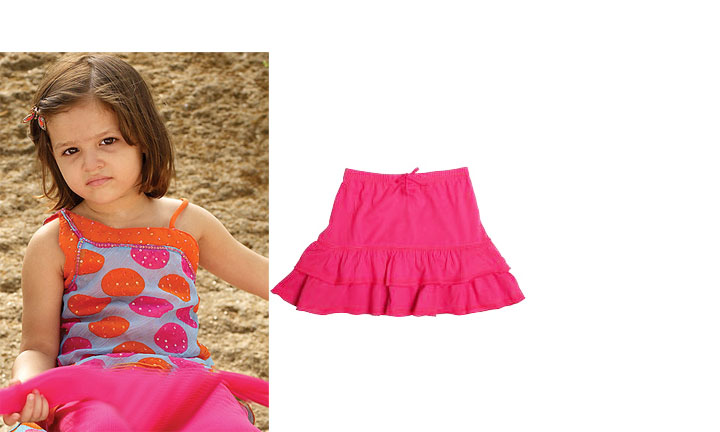 Above:  Rose Moyen Knit Skirt by Du Pareil Au Meme, 9,90 €
© 2010 Rajas and Ranis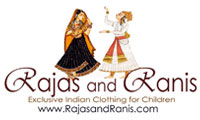 See Indian wear for children as you've never seen it before!  Be inspired by beautiful styles in vibrant colours, pretty prints and detailed embroidery.  Create stunning looks for your little ones this wedding and festival season with the Rajas and Ranis summer collection.  Available for worldwide shipping.
For a limited time Gnaana readers can claim a free gift with any order placed.  Just mention "Gnaana" at checkout.