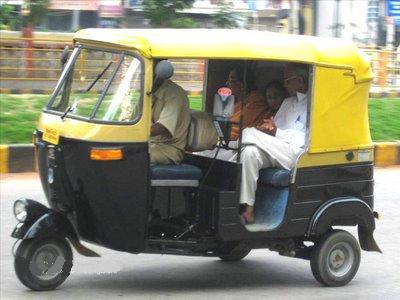 Oh, you 3-wheeled wonder, How do I miss thee?  You have room enough for 5 laddoo-sized adults and their offspring.  You zip and you zoom, but by God's Grace, you seldom topple.  You have the omniscience to make sure to hit all potholes, old and new, on any road you travel.  You are an indispensible part of the Indian Experience.  Thank you.
So this past weekend, my son and I spent a few hours ogling over our Tour du Monde canvas that arrived on Friday (yes, hours –  he is simply enthralled by it).  He happened to notice a curious graphic over the approximate area of Pakistan and asked "what's that?"  I told him it was an auto-rickshaw, that it had 3 wheels and that people in India ride in them all the time.  He gave me this look of utter astonishment, as though saying, "I can't believe you kept this a secret from me for so long, Mommy.  How could you not apprise me, a covetous connoisseur of all motorized land objects, of the existence of this 3-wheeled vehicle????"
And so began our web search for "all things auto"…
First, toy autos can be purchased here.
A curious interview with a tech-savvy auto driver – who has his own website!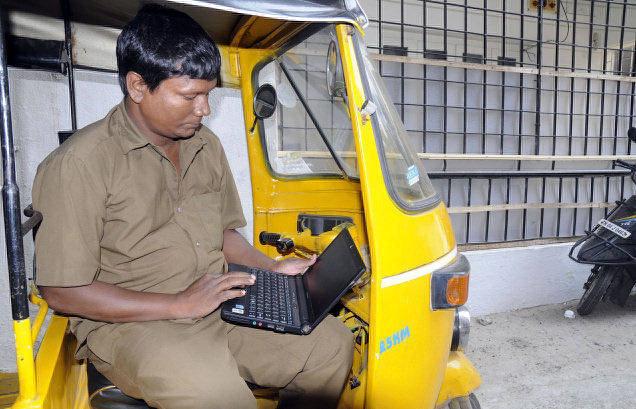 (Image by The Hindu)

Funny cartoon entitled Anatomy of an Indian Autorickshaw, apparently from a T-Shirt.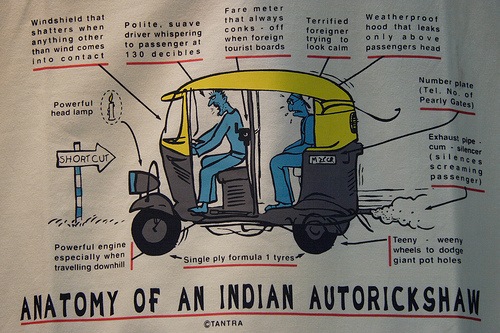 Autos on strike: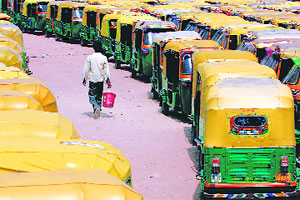 For about €1600, you can enter the Richshaw Challenge – an auto rickshaw race (of sorts) that's organized by Chennai Event Management Services.

A decked-out auto, probably decorated for Diwali or a wedding.  Interestingly, the Rickshaw Challenge folks seem to work with Pimp My Shaw, offering custom paint jobs, upholstery and sound systems for autos.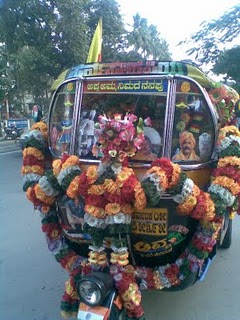 (Image by Anurag Saurabh)

The solar auto…

Coming to a city near you.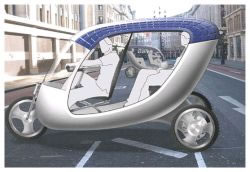 And last but not least, my son's favourite auto video – featuring an auto that gets stuck in the sand…indeed a poetic ending to this post.
Tags: Diwali