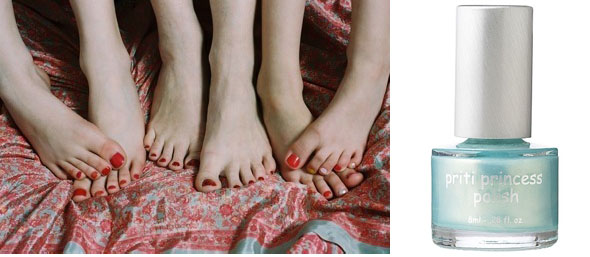 Not that I have the time to sit in a nail salon (I go maybe once or twice a year if my feet are lucky), but I've been seing a lot of "organic nail bars" popping up.  I presume the people who work there don't have to wear those surgeon's masks to fend off those vicious fumes.
Which made me think, maybe I should be on the lookout for non-toxic polishes for use at home. 
And then I found Priti NYC.  Their polishes are made without toluene, dibutyl phthalate (DHB) and formaldehyde – which are all known carcinogenic ingredients.  Available in over 100 shades for grown ups and…
It's very own Priti Princess collection for girls (or boys – my son currently as traces of the green Glow Leaf on his feet).  It's apparently the first line of non-toxic polishes made exclusively for kids.
My personal favourite is the Soy Nail Polish Remover, made with natural soybean esters, coconut and essential lemongrass oils.  No acetone, no petroleum and no stench!