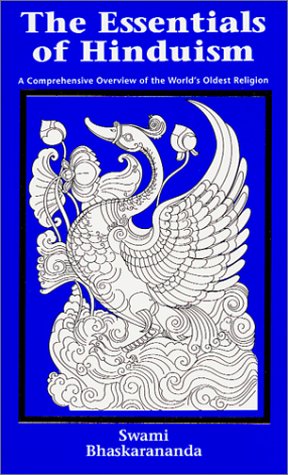 I know I certainly do.  I could study it for an entire lifetime and still feel like there is more I want to know.  But most of the books out there (those published in the U.S. and in India) are so dense and unreadable – mired in tangential explanations and footnotes that just leave you scratching your head.   (I even have one book that has footnotes for the footnotes!)   Perhaps this is why many people glaze over definitions of purusha and prakriti, and then throw their hands up in the air in defeat.  They probably feel like they just don't have the time to digest a seemingly "complicated" religion such as Hinduism after working a 60-hour week and taming their toddlers.
Well I have a book for you:  The Essentials of Hinduism: A Comprehensive Overview of the World's Oldest Religion.  Think of it as Hinduism 101 written by an eloquent and authoritative Swamiji.  Swami Bhaskarananda breaks down the essentials with clear headings and no-fuss explanations`of karma, yogas, mantras and moksha.  It's not the be-all-end-all resource on Hinduism – I don't think such a book is possible – but it's a darn good start.  In any case, it's several steps up from "The Complete Idiot's Guide to Hinduism" which, I ashamedly admit I have read, though would certainly NOT recommend.
And I love his explanation of the Paramahamsa that's depicted on the cover:
"The picture on the front cover depicts the Paramahamsa – a mythological swan with the ability to drink the essential part of milk rejecting its watery part… [I]t is seen that a Paramahamsa remains in water and yet the water never clings to its feathers.  Similarly, a spiritually illumined soul lives in the world, yet is never contaminated by it."
Befitting, no?
Tags: Hinduism