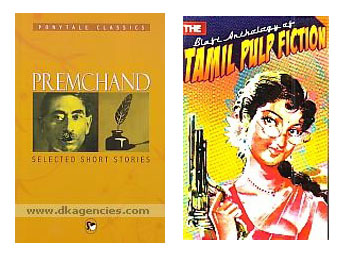 Sure there's Jhumpa Lahiri and Arundhati Roy.  But what of Indian fiction written in native languages?  We in the West are pummeled with the importance of reading translations of War and Peace and Madame Bovary, but what of the Tolstoys and Flauberts of India?
I admit I don't know have a huge knowledgebase of classical Indian fiction writers (meaning, those who write in their native languages).  I picked up few novels while living in Bangalore:  some by Sarat Chandra Chatterji (Devdas (of course), and Parineeta (much better than the movie – and I liked the movie) and Nishkriti (a little disturbing)) and also Tagore (Chokher Bali – absolutely brilliant).
There is certainly something to be said about native Indian fiction.  And I found a goldmine of a website:  DK Agencies – a Delhi-based book supplier which ships worldwide.  They have translated works from writers all over India – both classical and contemporary.  Hindi, Telugu, Punjabi, Tamil, Kannada…and the list goes on.  I can't wait to get my hands on Premchand's Short Stories.  Or maybe The Blaft Anthology of Tamil Pulp Fiction – a little more contemporary(Outlook India calls this "the best produced paperback in the history of Indian publishing.").  And many others that would be great additions to the library
Beach reading, no?