This post is authored by Ms. Dithi Chakrabortty, a self-taught freelance artist from Geneva, Switzerland.  Dithi's work has been featured in various Indian and international magazines and websites.  She takes on private commissions and also sells her work online through her Etsy shop.
Here is a step-by-step on how to draw Goddess Lakshmi, one of my favourite subjects – along the lines of how I would do it.  Depending on the age of your little one(s), you can have them draw just the face, down to the torso or even the whole figure.  Enjoy!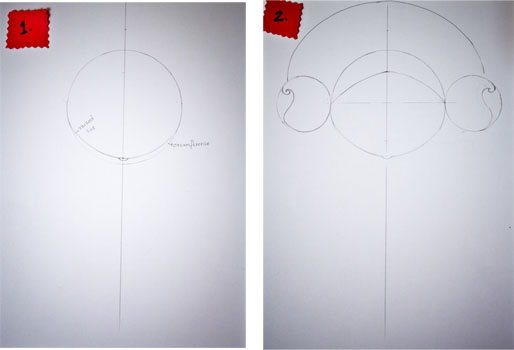 Draw a straight line along the mid-point of your drawing sheet – this will help maintain symmetry as you proceed.  Start with a circle on the top half for the face and follow by drawing a semicircular crown around it.  Two smaller circles can be drawn on both sides of the face to mark the ends of the Goddess's crown.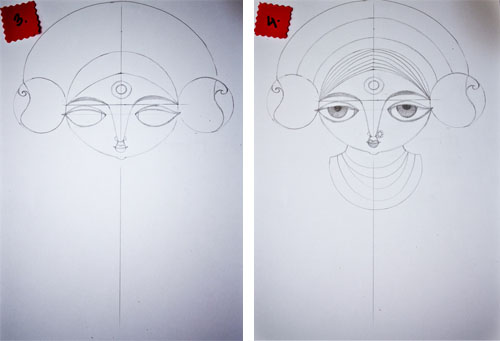 Next, fill-in the facial features and mark the hair-line as shown above.  Draw paisley shapes inside the circles at both ends of the crown.  Then, draw two lines downwards from both sides of the face to mark the neck.  Add semicircular lines end to end to mark the pearl necklaces.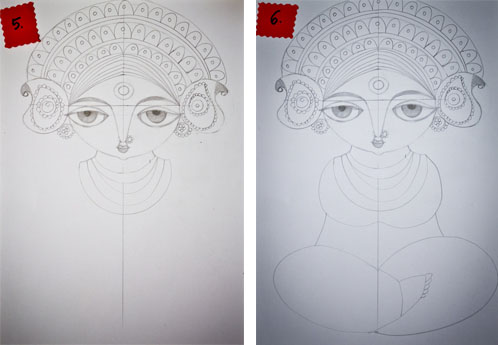 The crown can now be filled with any design of your choice.  Usually a Goddess's crown is depicted in gold and studded with jewels (emeralds, rubies and pearls, for example).  I have added two circular earrings right below the crown. We can then proceed to draw the torso and end with the Goddess's legs wrapped up in a padmasana posture (the 8-shaped form or the lotus sitting posture).  We can also draw the left foot, as this is the only one that shows through Her saree.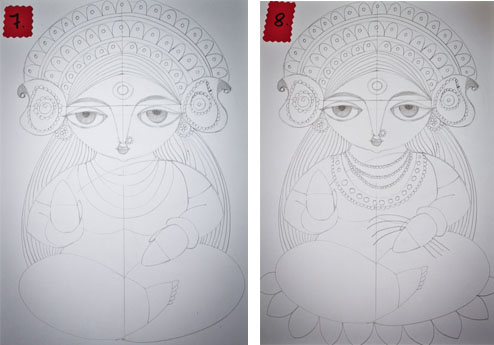 Next we draw Maa Lakshmi's flowing hair –  downwards from her crown.  The hands on both sides have very specific mudras (hand gestures):  in her right hand, She holds a lotus with her open palm (a sign of blessing for Her devotees) and her left hand holds a bunch of rice grains (note her left arm is wrapped around a pot of gold).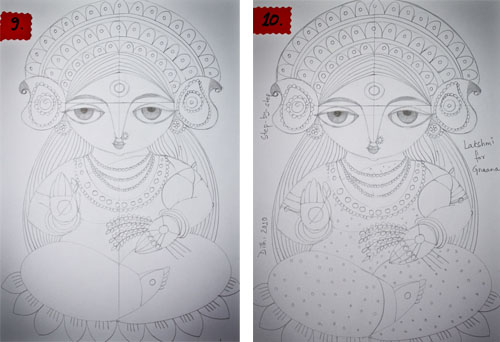 Filling-in the details once you have the outlines ready is the fun part.  Draw the petals of the lotus as Her seat to complete the drawing. Voila – Maa Lakshmi drawing simplified.
Hope you all have fun with this.
© 2010 Dithi Chakrabortty
www.deezden.blogspot.com
www.deezden.etsy.com
Tags: art