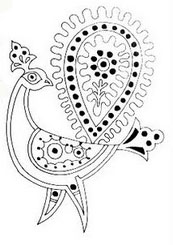 This post is authored by Ms. Dithi Chakrabortty, a self-taught freelance artist from Geneva, Switzerland.  Dithi's work has been featured in various Indian and international magazines and websites.  She takes on private commissions and also sells her work online through her Etsy shop.
India boasts of an immensely diverse platter of folk art forms – each one heavily influenced by the culture and people of its region-of-origin, and each unique in its style and technique.  Growing up in West Bengal, I had many opportunities to come face-to-face with several different folk art styles, be it the patachitras (scroll paintings) from Kalighat, the terracotta horses from Bankura, or the floor paintings known as Aalpona that adorn every household during festivals and weddings.  Durga Puja pandals (temporary structures to house the Durga idols for the 10-day festival), for example, would be an ideal playground for folk-artists to showcase their craftsmanship (and a treat for us gawkers to relish magnificent displays of indigenous folk art).
Even as a child, I was intrigued by and drawn to folk forms of art, be it in paintings or in sculpture.  Their beautiful detail, their naive and rustic quality, the use of traditional designs and simple themes, the unapologetic use of vibrant colours and the intricate patterns make these art-forms so rich and so Indian in character.  Not a surprise, then, that much of my love for everything folk spills over in my work as well!
The paisley motif (known as Kolka in Bengali), for example, is a very popular pattern used in many Aalpona designs.  I used this as the base to develop the jewel-studded ends for the crown of Goddess Lakshmi (Maa Lokhhi) in this painting: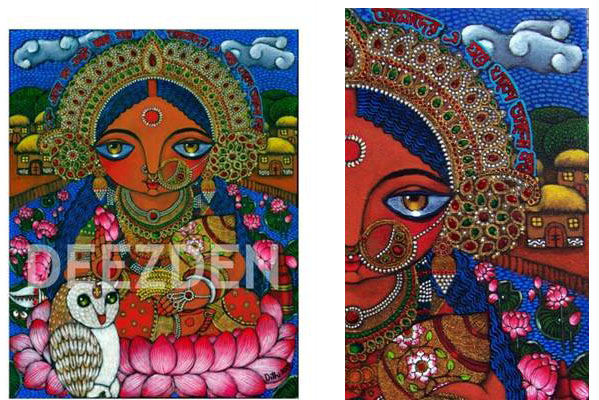 (Images © 2008 Dithi Chakrabortty)
Folk art has influenced the work of many artists from time to time.  Kalighat Patachitra is one such style (named after its inception and presence right outside the famous Kali temple in Kalighat, Kolkata) and has influenced many renowned Bengal-school artists over the years.  Jamini Roy, one of the greatest Indian painters of the 20th century from Bengal, was greatly inspired by and prolific in the use of the Kalighat lines and themes.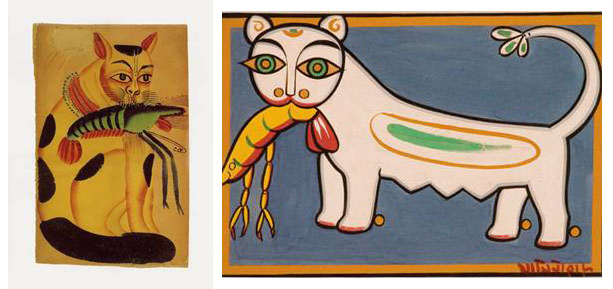 Images: (left) Typical Kalighat painting;  (right) Jamini Roy art (Theme: Household cat with Prawn)
Here is a little background on 3 popular Indian folk art forms.
Madhubani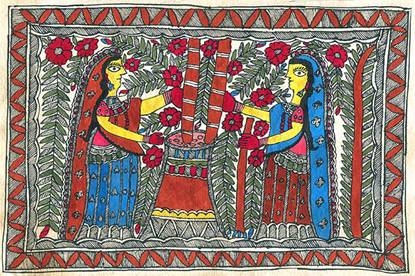 Image Source: www.exoticindiaart.com

Origin:  Bihar
Medium:  Vegetable dyes on handmade paper
Themes:  Hindu Mythology, nature, daily life and social functions
Special features:  The paintings are made with bamboo sticks; hence, the lines are very thin and sharp, with prominent black outlines and intricate patterns.  Popular themes are Gods and Goddesses as well as women, birds and fish.  Originally, only the women of the village Madhuban were authorized to make these paintings.  Over a period of time, men and children were brought into the fold and now entire families are dedicated to this tradition.
Patachitras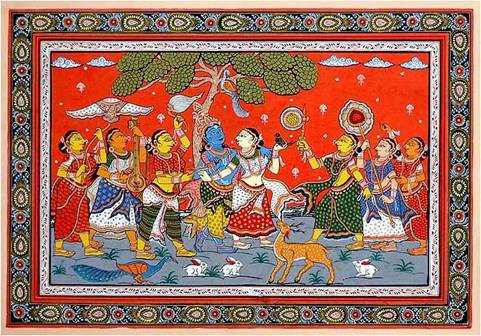 Image Source: miniimpex
Origin:  Bengal (Orissa, West-Bengal)
Medium:  Vegetable colours or ink on handmade paper or palm leaves
Themes:  Mostly narrative
Special Features:  Patachitras are narrative scroll paintings. Many different styles of patachitras exist, the most famous ones being those from Orissa and Kalighat, Kolkata.  Indigenous artists sometimes try to spread social messages through their scrolls and often accompany the display of each piece with a self-composed song that explains the story as the scroll unfolds.
Interesting Link:  The ancient art of patachitra meets modern day advertising.
Warli Paintings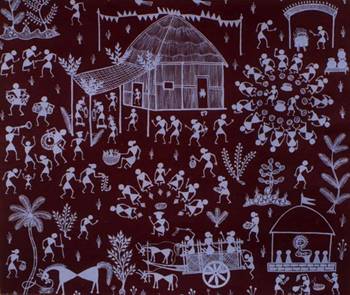 Image Source: www.parijatindia.com
Origin:  Maharashtra
Medium:  White pigments on earthen walls or terracotta
Themes:  Nature and village life
Special Features:  Historians believe that the Warli tradition (named after a tribe that makes this art) can be traced back to as far as the Neolithic period between 2,500 BC and 3,000 BC.  Warli paintings are a celebration of life, nature and tribal living.  Geometric patterns painted in white on a terracotta backdrop draw scenes from village life, depicting man and nature side by side.  The wedding scene complete with ritualistic detail is a very popular theme with Warli artists.
Exposure to folk art from India is a wonderful way to introduce your kids to India's creative traditions.  You can visit galleries, ethnic craft fairs or even check out books from the library.  Encourage your kids to examine the art and then let them depict a subject of their choice in a folk style they like.  Enjoy!
© 2010 Dithi Chakrabortty
www.deezden.blogspot.com
www.deezden.etsy.com