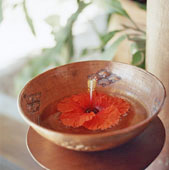 I was told that having a red hibiscus plant growing on your property is considered a sign of good luck in parts of North India and in the Bengal region.  So imagine my disappointment when, a month after we moved into our new house, our very own red hibiscus plant suffered from a severe attack of white flies and looked like it was on its way to the graveyard.
The kids also seemed rattled by our very, very sick mandaara-mokka (Telugu for "hibiscus plant").  My 4-year-old kept asking about it, and I told him that the mokka-doctor ("plant doctor" –  a.k.a. our gardener) would be coming and giving it some mondu ("medicine") – yes, lot's of "ma" words this month.  In fact, the "doctor" had to spray the plant and its neighbors 3 times (with an organic biological fungus – we don't use chemical sprays).  Daddy even spent an entire Sunday afternoon painstakingly wiping off each leaf with soapy water (thanks, Dad!).  After a month of suspense, our mandaara-mokka sprouted its first flower last week – Hooray!
Here is our recovering plant, along with my son's favourite swim trunks – also featuring our beloved flower – a keepsake photo for my son: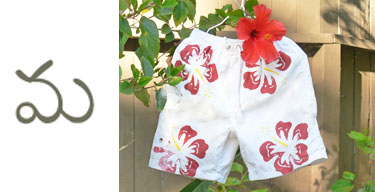 (Swim trunks by 3 Pommes)
I am on the hunt for a beautiful bowl, like the one pictured at the top of the post.  Wouldn't this be fabulous in an entryway?
Some more hibiscus finds:  Red Silk Hibiscus Hair Clip by LiD Designs ($22.00) and Organic Hibiscus Tea ($6.49).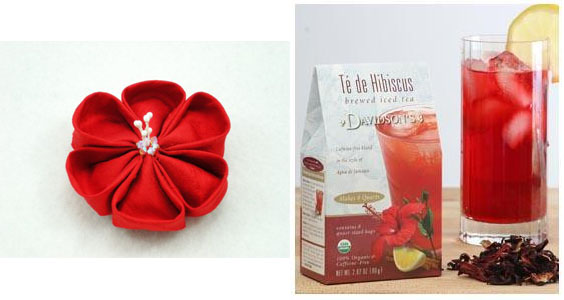 And I found this recipe for Hibiscus Salad with Poppy Seed Dressing – that calls for the use of Wild Hibiscus Flowers in Syrup.  I never knew there was such a thing, but the most popular product seems to come from Australia.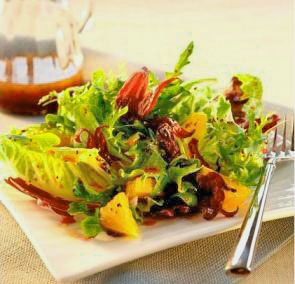 **Note:  The Telugu "mandaara(mu)" has the same spelling as the Hindi "mandara," as in the mythic Mount Mandara – that was used to churn the ocean of milk in the Puranic account of Lord Vishnu's Kurma Avatar.  It is unclear if there is any link between these 2 terms.
Top image by Google Images.
Tags: Telugu