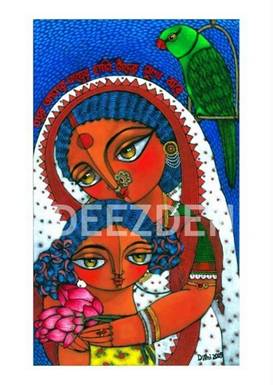 (Image © 2008 Dithi Chakrabortty)
This post is authored by Ms. Dithi Chakrabortty, a self-taught freelance artist from Geneva, Switzerland. Dithi's work has been featured in various Indian and international magazines and websites. She takes on private commissions and also sells her work online through her Etsy shop.
My childhood – including my family and the home that I grew up in –  has almost everything to do with my love for art.  I remember vividly my very first art lesson, at 4 years of age:  my mother was teaching me how to draw flowers.  She would emphasize drawing "clear, confident lines" and would say "….try to use the eraser as less as possible, keep it neat." I probably fell in love with creating art right then, watching Maa enjoy herself as she drew a bouquet sitting pretty in a vase with a Camel HB pencil – helping me with my first drawing copy.
A lot of learning and inspiration came from the family.  Both of my two elder sisters loved art and crafts.  Sitting down to paint was a way to relax for all three of us –  on weekends and even on some vacations.  Both parents encouraged us to take our art-kits along when we travelled – so we could draw scenes from holidays to bring back home as visual journals.
Then there was this one-of-a-kind art school that we attended (all three of us in succession) in the quaint little town where we grew up – very close to Kolkata, India.  It was a school that didn't just hand out certificates to students at the end of a cut and dry curriculum; it was a place where kids learnt how to enjoy and immerse themselves in the process of creating something that is their own.  One of the many interesting activities in our class was when our teacher took a blank page from each one of our copies, hand-drew borders to the page and then wrote in the top right hand corner Mon theke which in Bengali means "from your imagination." Those blank bordered pages became the windows that led us into our own creative worlds.
Meaningful family activities can go a long way in stimulating children to express themselves creatively.  Every time there was a birthday in our family, for example, it was sort of a tradition to make gifts and greeting cards from the scratch (buying presents was not considered a cool thing to do as it was the "easier-way-out").  Not just that, we would make gifts out of recycled products – the idea was to create something thoughtful and relevant, with whatever resources were around.  So birthdays meant thinking ahead of time, trying to conceive an appropriate gift without being repetitive and then giving that idea shape and form.
Making art, as you can see by now, is associated with loads of happy memories from childhood, probably the reason why it still remains for me:  a therapeutic process and one of the best ways to unwind and introspect.  This, to my mind, is one of the most valuable gifts parents can give to their children – enabling them to appreciate the fact that you will have a beautiful friend in any form of art, be it music, painting, photography, drama or dance – a  friend that is demanding but one that will never fail you.  On that note, I hope all of you parents reading this today will take a page Mon theke and give that to your little one(s), letting their creativity take flight and letting them have fun as they fill it up.
© 2010 Dithi Chakrabortty
www.deezden.blogspot.com
www.deezden.etsy.com