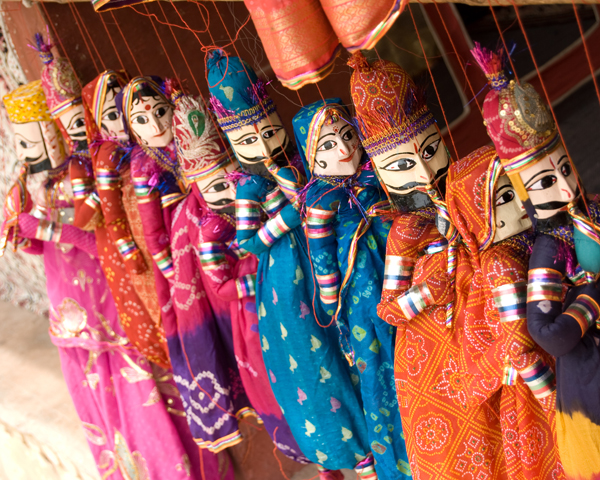 There's something about puppets that puts a smile on my face – whimsical and quirky, I think they are sublime symbols of the sheer delightfulness of childhood.
We went to a fabulous Jim Gamble puppet show over the weekend, featuring tales of the African Ashanti.  Which got me thinking about those beautiful Rajasthani Puppets from India.
Kathputlis, or wooden puppets with strings, are (or more accurately – were – thanks to to the proliferation of television) popular forms of entertainment in Rajasthani villages.  The pupetteer usally illustrates a folk tale, a scene from the Ramayana or the Mahabharatha, and even tackles more serious social issues (such as the dowry system and illiteracy) for older audiences.  Characterized by shrill voices and the incorporation of music, the tradition originated about a thousand years ago with the Bhat community, who staged shows for royal families.  Puppet India has a more detailed explanation of kathputlis and other puppets from all over India.
How cute would a pair of these look hanging in a kids room?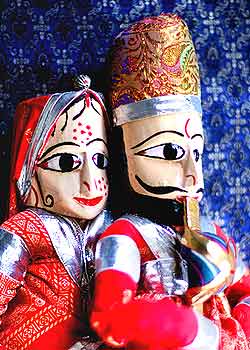 Image by Indialine
And if you can't wait until your next trip to India to score some, you can purchase online at DD Heritage World or Jupiter and Sons (fair trade puppets at One World is Enough).  Be prepared for sticker shock, of course.
Top image by Vineet Bansal, Honorable Mention in MSU Global Focus 2008 Photography Competition.
Tags: ramayana