Archive for September, 2010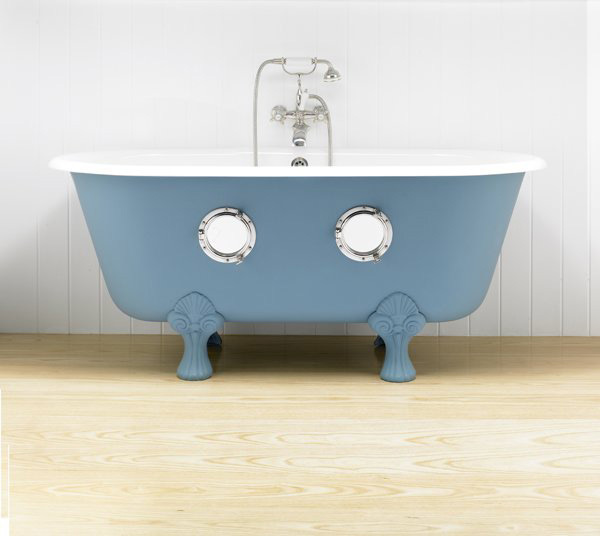 We have this circular wooden platform in our backyard, most likely the former home of a pool table, that has become the kids' Oda (Telugu for "ship").  We embark on our "Oda" and take little shikaars (excursions) to various places – to Japan to ride those speedy bullet trains, to Hawaii to see volcanoes, or to my son's imaginary land of Fisiko.  The other evening we sailed to meet some friendly rakshasaas – who treated us to a meal of biryani and milkshakes (would not have been my choice of accompanying beverage, but whoever refused a rakshasa, right?).
Our shikaars have become evening rituals, and with all the places we have yet to explore, looks like the "Oda" is here to stay.  And although trains still trump in our house, here is some Oda inspiration.
Pictured at the top of this post, Porthole Bath by The Water Monopoly.  £3800
Below, Wooden Giants Cargo Ships by Postlerferguson.   £40 – £60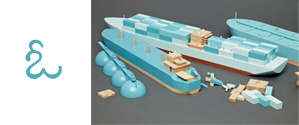 Below, whimsical prints by Paris shop Galerie Anais:  left, Autour du Monde (Around the World); right, Oh Mon Bateau.  $14.00 (each)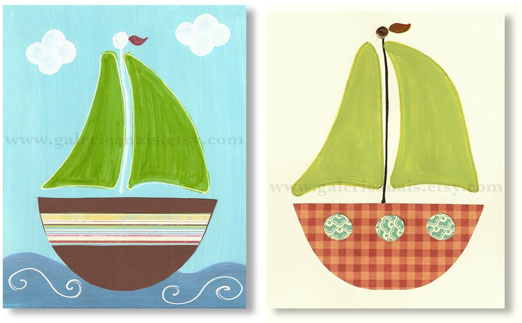 Below left, Ship Shape Butter Boat by Alessi.  $30.00. 
Below right, Chrome Porthole Mirror by Foresti & Suardi.  $183.00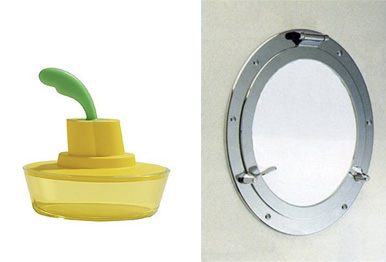 And of course, the classic paper boat – as reinvented by paper engineer and gift wrap extraordinaire Denise Sharp.  Her beautiful blog d.Sharp Journal features amazing and unique gift wrap and packaging ideas – you're sure to find some Diwali projects!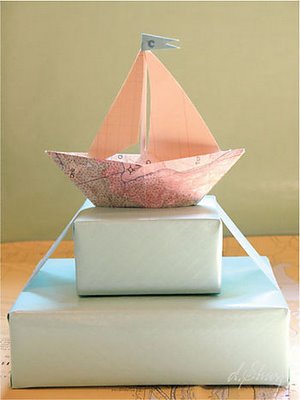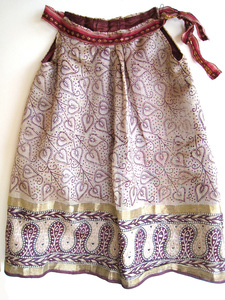 Yes, of course, sarees are beautiful – timeless and classic.  But some sari styles DO go out of fashion.  So what can you do with those sarees that take up valubable real estate in your closet – the ones you will likely never wear again?  Upcycle them into dresses and outfits for your kids (or yourself)!
We've pictured some ready-made styles available for purchase, but sarees can be made into virtually any dress style.  Collect some pictures of dress silhouettes you like (or maybe even purchase some patterns at a fabric store), and take your saree (and your daughter) to a local tailor.  You'll want to call ahead and see if the tailor is willing to do a custom dress – but most tailors these days won't refuse the work, and you may be surprised at how affordable it can be.  For around $50.00 – $80.00 you could have a custom-tailored, one-of-a-kind outfit worthy of a designer label!  (Of course, if you can wait until your next trip to India, you could save $$$ off the price of tailoring – but then again, the tradeoff is that you'd have to spend valuable time visiting the tailor).
Pictured above:  Monsoon Sari Dress, $48.00.  Below, Pink Lemonade Sari Dress, $48.00.  Both by Little Bit.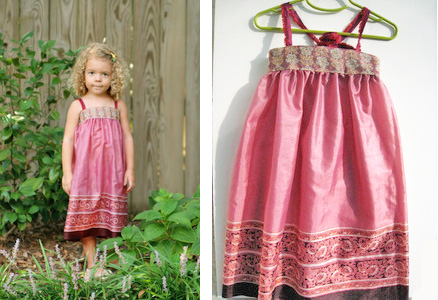 Below left, Girls Sari Sun Dress, £12.00.  Below right, Recycled Sari Shorts, £8.00.  Both by People Tree.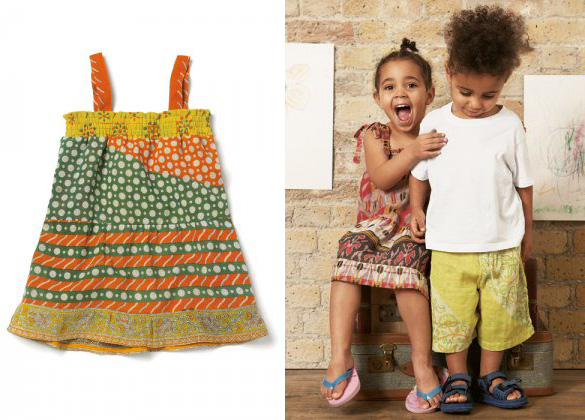 Below left, dress made from Indian sari by Magpie Made (custom tailor).  Below right, Recycled Sari V-Dress, £30.00, by People Tree.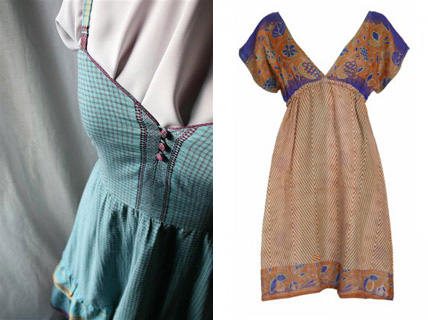 What about a sari jacket?  Below, Light Quilted Jacket made from recycled sari, £178.00, by Sari Couture.  Sari Couture is a company dedicated to upcycling sarees into chic clothing and accessories, with a portion of their sales going towards helping underprivileged children.  What a concept!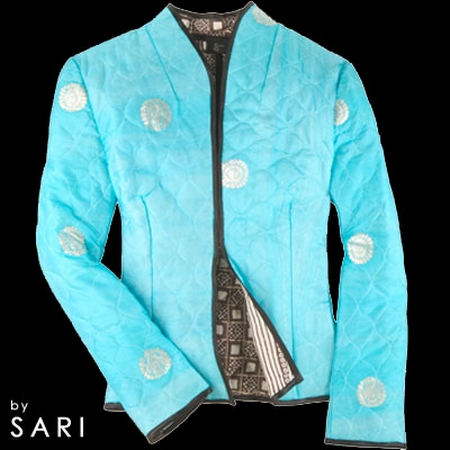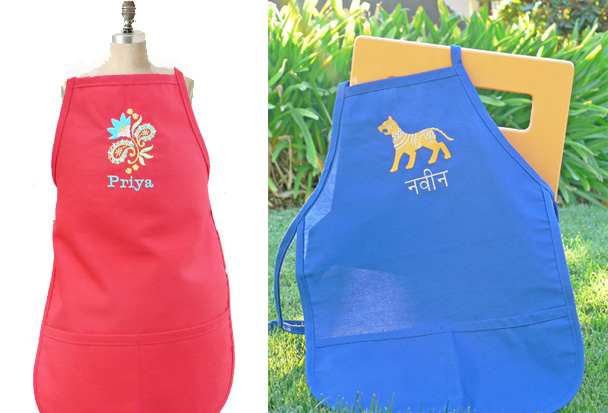 We're closing out New Products Week with our new apron designs – 1 for the girls and 1 for the boys:
Phool (Flower): A red apron  featuring an East-Indian flower, embroidered with vibrant turquoise and accents of apple green, gold and blush.  Quite stunning, no?
Baagh (Tiger):  A blue apron embroidered with a tangerine and silver Bidri tiger.  Grrrrr!
AND due to many emails and requests, we're also now offering aprons in Larger Sizes!  Yes folks, our Titlee (Butterfly) and the new Phool (Flower) aprons are made to match the chota ones.  They are sized at 28″L x 24″W (71cm x 61cm) and feature an adjustable neck – so they are perfect for older kids and adults.  A memorable gift for sisters, moms and grandmas!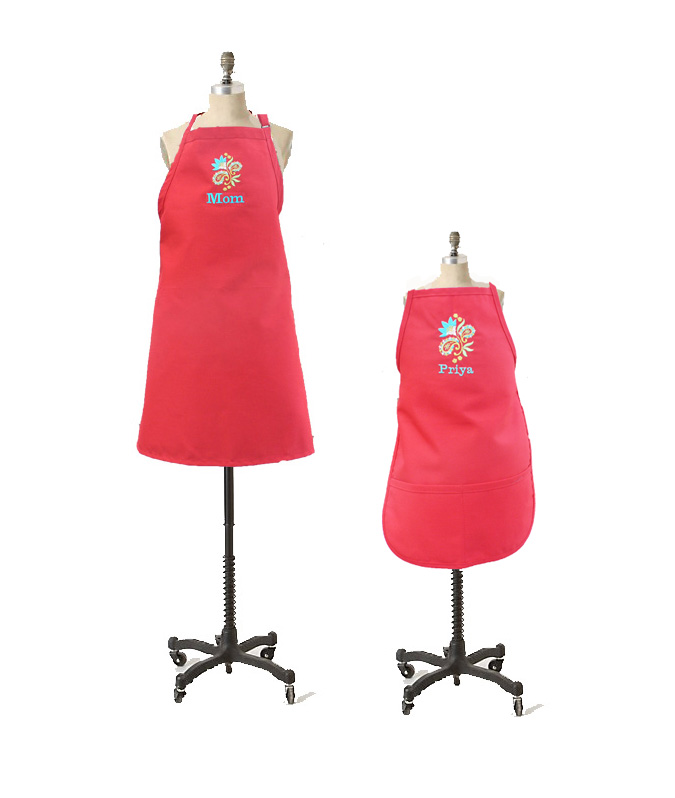 All the aprons are available now – you can view and order on our aprons page.
To celebrate our new aprons, from now until Diwali, gnaana is running a special:  order any apron and receive 20% off The Chota Chef Recipe Cards – just enter code NEWAPRONS at checkout. A wonderful pairing for the holidays!
But remember, our aprons take about 2-3 weeks to be personalized, so make sure to order yours well before Diwali on November 5th.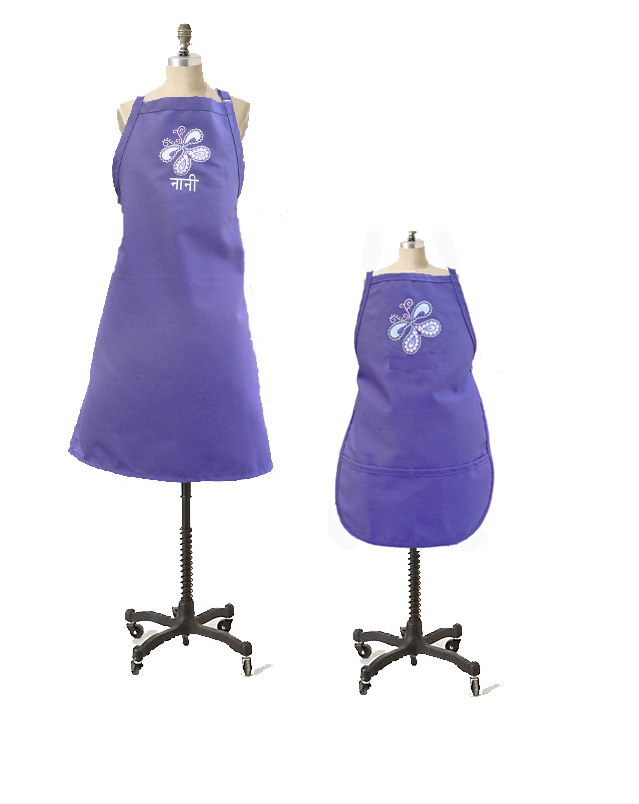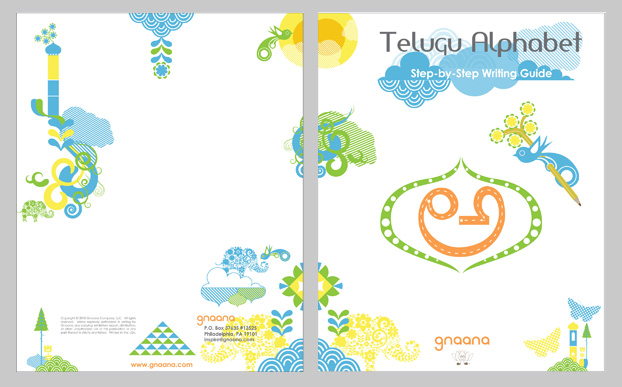 We introduce our Alphabet Writing Books for you today, designed and compiled by Sara Petrous.  Does Sara know how to write all these languages?  Of course not (she admitted that when I sent her instructions for the the first letter – the Telugu letter "a" – pictured on the cover above – she though it was a pretzel!).  But Sara has been working with our linguists in putting the pages together.  She also designed the fabulously fun and graphical covers.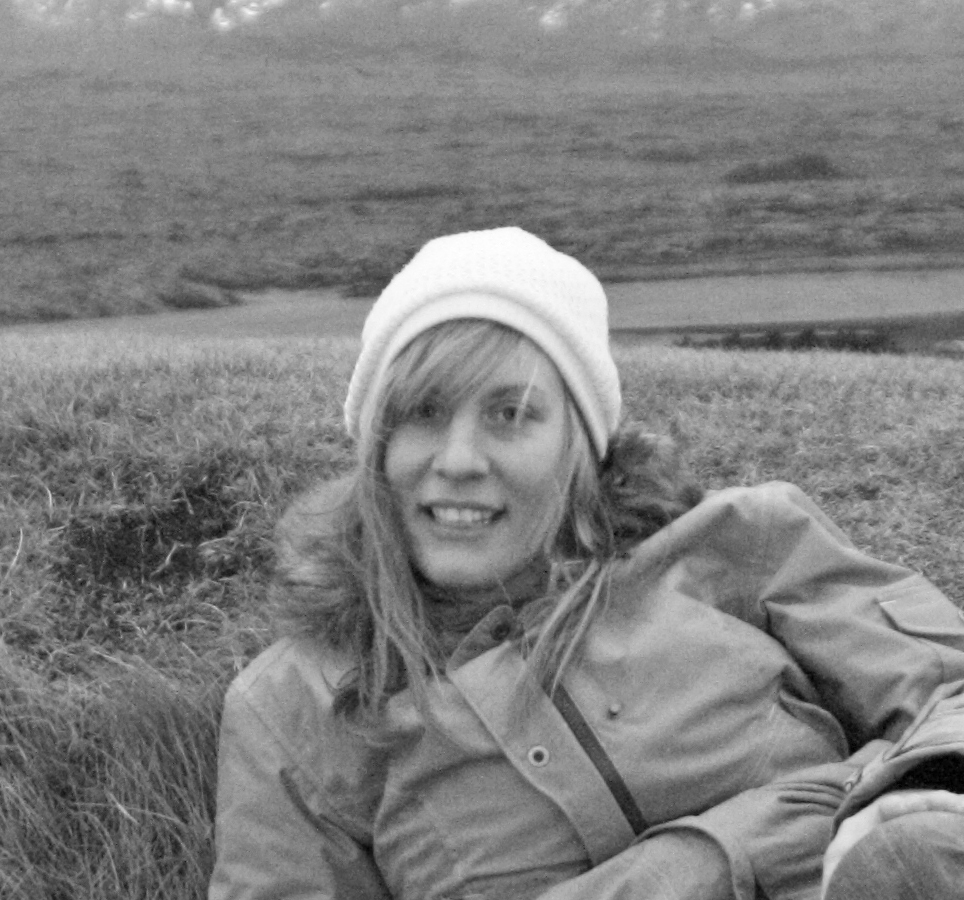 You may recall seeing her name on our Chota Chef Recipe Cards – she was indeed the illustrator on those.  Originally from Detroit, Sara served in the U.S. Army before studying fine art and industrial design.  She recently illustrated a children's book – Anne's Amazing Adventure and is currently writing and illustrating a children's book of her own.  Along with her passion for traveling, foreign culture and food, Sara enjoys writing, jogging and photographing architectural ruins.  She resides in Philadelphia with her two cats, Oliver and Seymour.
Now why haven't writing books like this been published before, you may ask.  Well, they probably have been – but you'd have to trek to India and spend a week trying to find them – if any bookshops or schools even carry them.  But after visual recognition of the Indic alphabet characters, learning to write the script is the logical next-step in languge-learning for kids.  In Montessori education, children trace the shape of alphabet characters by running their fingers along the infamous sandpaper letters (note that traditional Montessorians use cursive letters, rather than print, to allow for more fluid hand movements):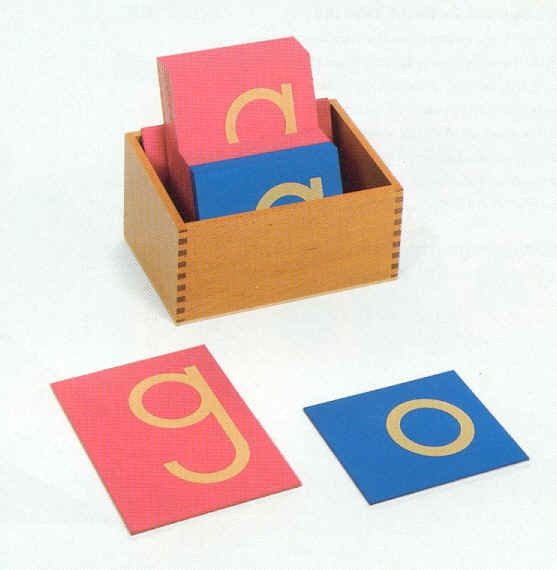 The idea is that through this physical act of the hands, the letters are etched in the brain.  This is why Montessori children learn to write (between the ages of 3-4) before they even master reading.
Our Alphabet Writing Books are set-up to mimic those sandpaper letters – except that kids will use a pencil or crayon instead of their fingers.  It struck me one day when I was having my son practice his English letters on our Kumon Wipeable ABC Flashcards that this exercise was very similar to the sandpaper letters – there were even step-by-step directional arrows to direct the kids: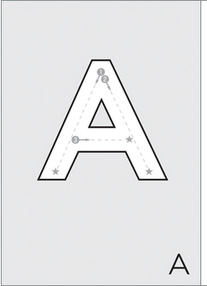 What a fabulous learning tool, I thought!  I had been using self-made computer printouts thus far (which you can see on some of my previous blog posts) – but I knew putting together these books would be a great exercise for many kids – and portable for the park or airplane.
Here is a snap from our Hindi book (you can see the directional arrows, and room for more practice on the back of each page).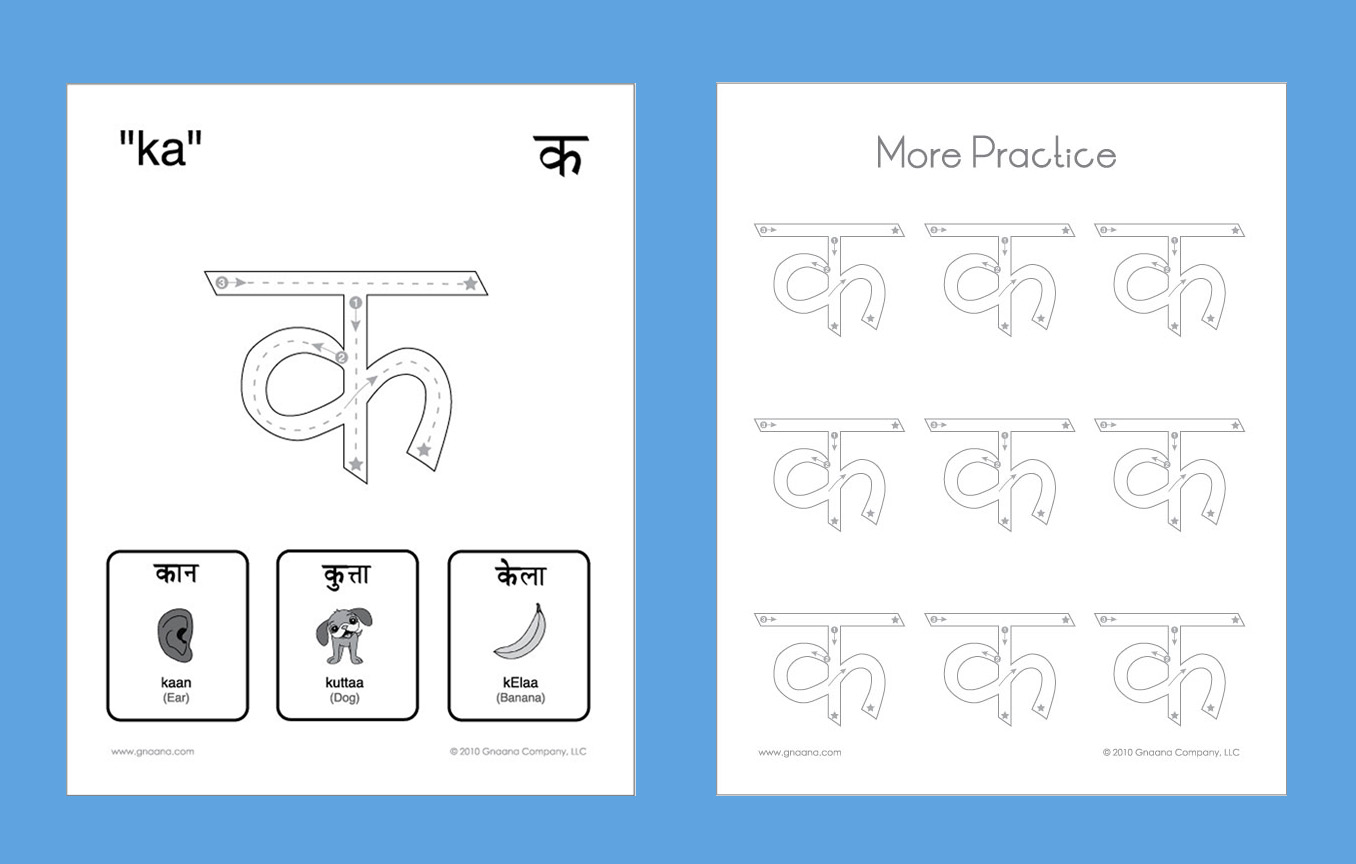 Bear with us, we're still putting these together, so they won't be ready until after Diwali.  They will be available in Gujarati, Hindi, Tamil & Telugu.
Now here's what Sara has to say:
1.  What do you think the artwork on the covers conveys to kids? The cover art is so colorful and playful.  It seems to invite the viewer into this new, more exciting environment for learning. The design is laid out in such a visually flowing manner. The eyes can easily follow the characters around on the front and back cover which seems to be like a snapshot or moment in time taken from a great celebration.
2.  What about the covers makes them attractive to kids? I would like to think that if the cover reveals a moment of celebration, then learning what is in between the covers would be a way to celebrate their culture.   Rather than just another sterile text book, the language books are vibrant and welcoming.
3.  You've been working with our linguists in composing the interior pages – how difficult was it for you to follow their drawings? I am really fascinated by other languages, so this project was quite fun for me.  The drawings weren't very difficult to follow.  It just took a bit of concentration.  Before starting each language and its' set of characters, I reviewed the overall shape, noting the difference in angles or curves from the previous language I had just drawn.  Because the characters are so visually interesting, I see them as images rather than letters.
4.  You did the illustrations for Gnaana's Chota Chef Recipe Cards as well.  What were some of your favourite cards? I love how the food characters are having such a great time in every recipe. Some of my favorite illustrations are Enlightened Eggplant,  Panj Spice Chana Masala (specifically how every chic pea's expression shows their own personality. I like the little one in the back. It's like he's screaming "I'm open. Over here! Over here!"), Kashmiri Kawha, Independence Heros and Thar Des-sert Lassi.
5.  What do you like most about designing for children? Designing for children constantly reminds me of the little joys in life.  I try to remember and keep with me that carefree happiness that we often have as children. It gives me a fresh perspective that I attempt to portray in my work. I am glad to know that my drawings might make someone, especially a child, smile.
Thanks, Sara!  And for some fun, here are some snippets of her work from The Chota Chef – Sara probably knows more about Indian geography as a result of this project than anyone I know!
Recipe #18, from the state of Punjab: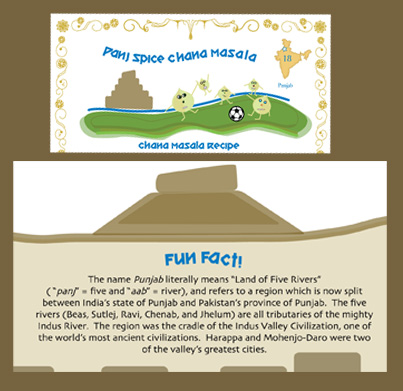 Recipe #13, from Maharashtra ("Bye, Bye, Biti" (British) as my daughter likes to say).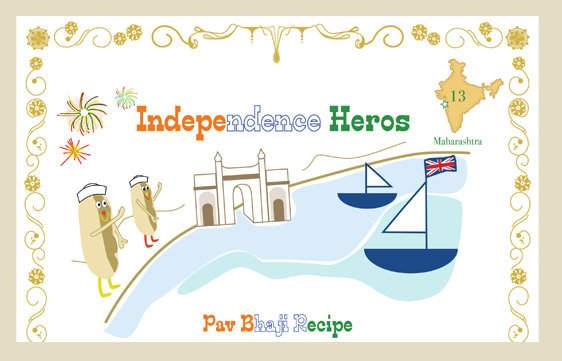 Recipe #16, from Rajasthan (Mango Lassi):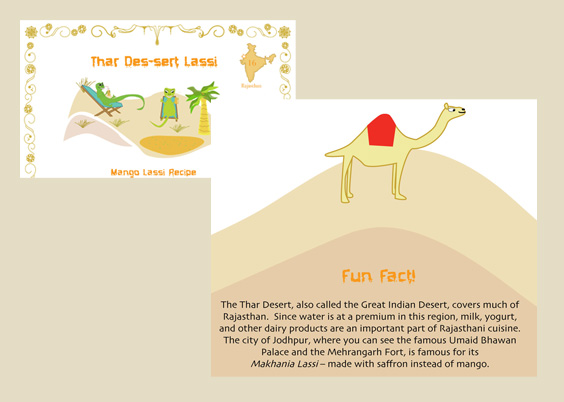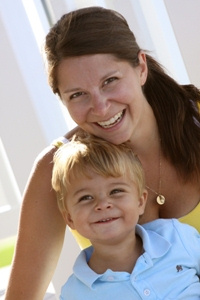 photo credit: Damien Achilles
When I dreamed up the concept for gnaana's Bindi Baby line of books, stationery and prints, I knew Kate Armstrong would be perfect for the job.  Kate is not new to gnaana – she assisted us with our branding and identity and was also the artist behind the wildly popular Nala & Damayanti Valentine's Day printables.  Kate is creative director and owner of Bella Mi Design Boutique and she designs logos and other illustrations for children's brands, in addition to helping companies with branding and website design and development.  She's also launched Bella Paperie – a line of stationery featuring chic and couture designs.  She's based in New Jersey and finds inspiration in her adorable son Jack.
So why Bindi Baby?
If you're Hindu, you've heard it before:  What's that on your forehead? or Why do "Indian people" wear a red dot? Such an ancient and enduring symbol of Hinduism  – yet so misunderstood!  For the record (excerpt from back cover of our Bindi Baby Books):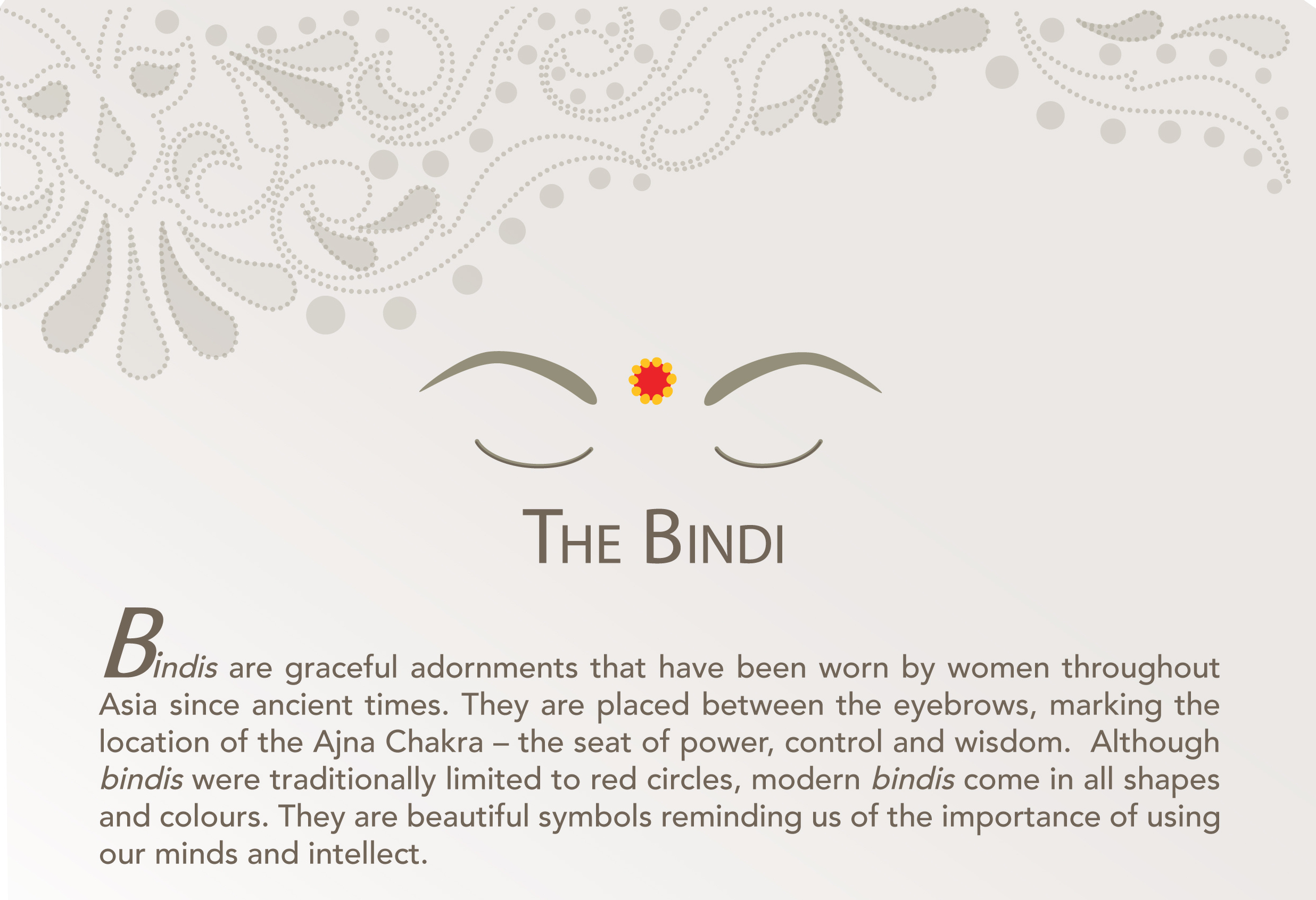 I had wanted to develop simple beginner language books suitable for the youngest babies (and also for beginning readers of Indian scripts).  Animals and Numbers were the natural subjects to start with, so the idea was to design a set of high-style graphics with Indian elements that would really attract kids.  The bindi-theme was perfect for this mission – bindis come in all shapes and colours and are a gorgeous and iconic celebration of that which is India!
Here are some thoughts by Kate:
1.  Did you know what a bindi was before working with Gnaana? I had heard of them, but I had no idea they could be so ornate and beautiful.
2.  What interested you most about the project? Child-themed illustrations are one of my favorite things to work on.  And I loved the idea of pairing traditional bindis with a modern illustrative style.  I knew the project would be unique and interesting.
3.  What was the most challenging aspect of the project? Making sure that the design of each illustration felt consistent yet unique.
4.  What are some of you favourites of the Bindi Baby illustrations? In the animal set my favorites are the bird, snake and elephant. In the number set, I love the snails and bicycles.
5.  You do a variety of design work – what do you like most about designing for children? There is a wonderful free-spirited creativity that comes with working in the children's market.  I love the liberal use of color, cheerful tone, and the little touches that make it special.  And of course, knowing that a child will enjoy the end result is the greatest reward!
6.  Why do you think kids will like the Bindi Baby illustrations? I think that the bright and interesting colors along with the fun bindi patterns and embellishments will excite and delight!
Here is an excerpt from our Bindi Baby Animals (Hindi) book.  You can see the highly visible Hindi script that's also transliterated.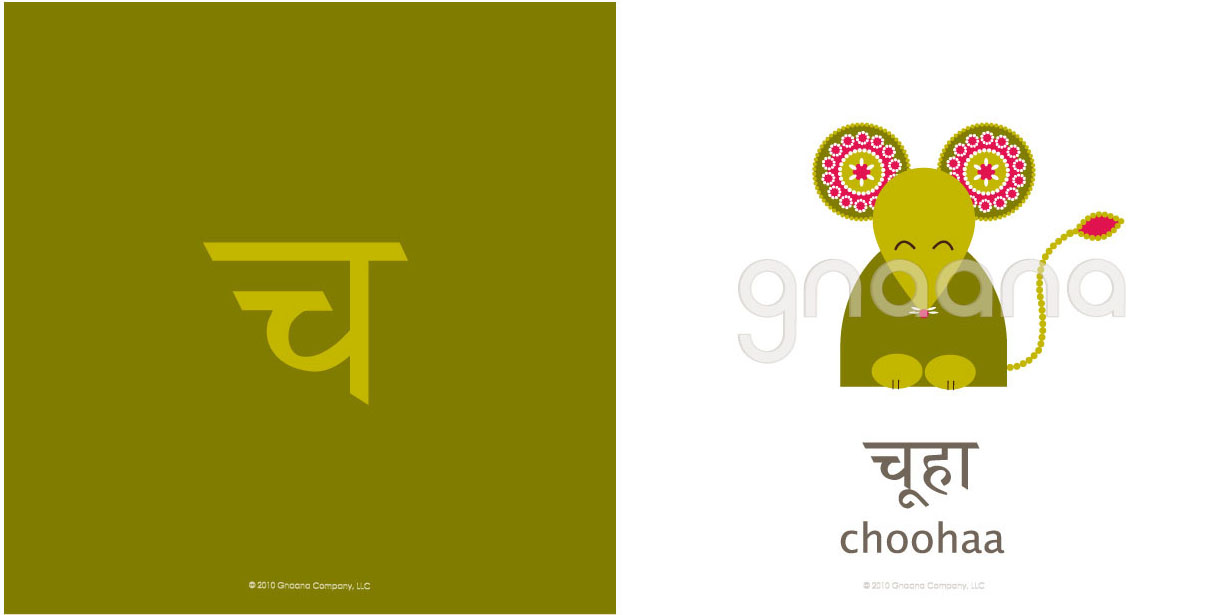 A snapshot of the companion Bindi Baby Numbers book (for the number 5):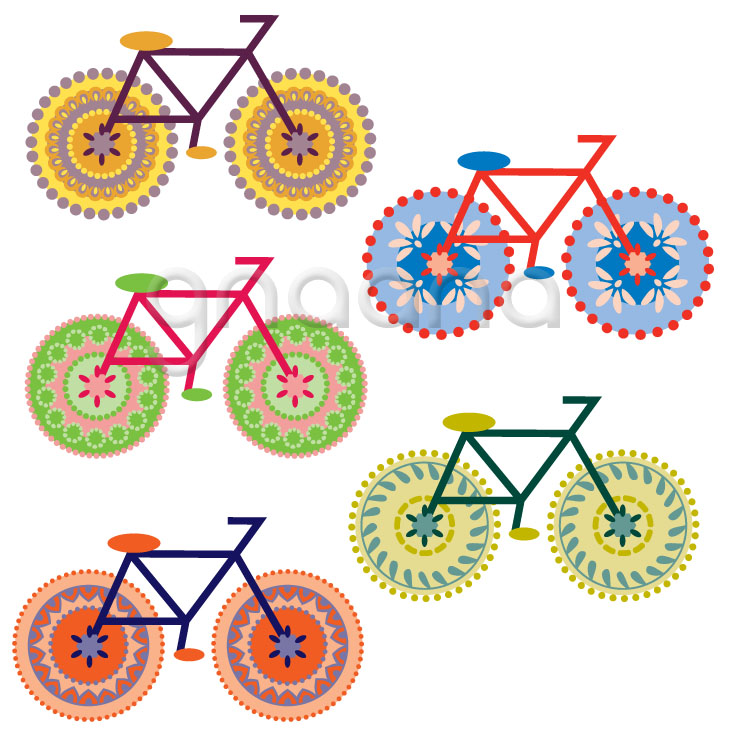 The books will be available in Gujarati, Hindi, Kannada, Tamil and Telugu.  They are softcover (48 pages for Bindi Baby Animals and 24 pages for Bindi Baby Numbers) and will be available both on gnaana and on Amazon.  We'll be rolling these out starting mid-October.
The Bindi Baby designs will also be available as wall prints and stationery.  They'll be printed on premium FSC-certified 100% recycled stock – a rare find in the stationery industry.  The prints and stationery can either be personalized with a family or child's name, a simple "Thank You" or the name of the animal (or number).  The goal here again, as with all of our language products, is to make native languages visible and easily accessible to kids.  And of course – beautiful enough to be proud of!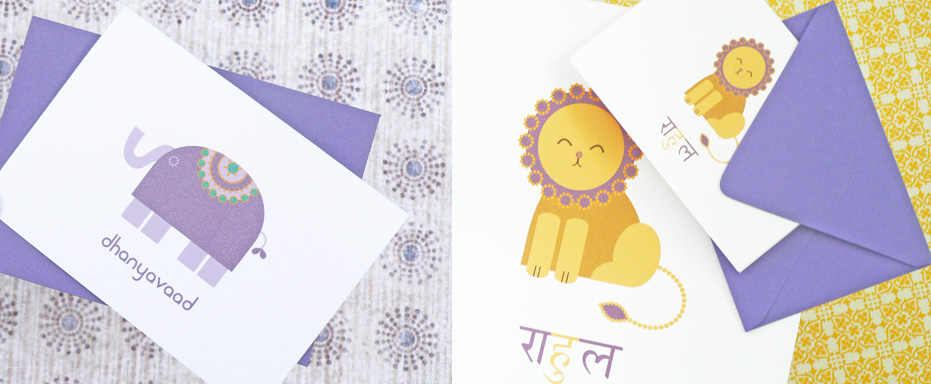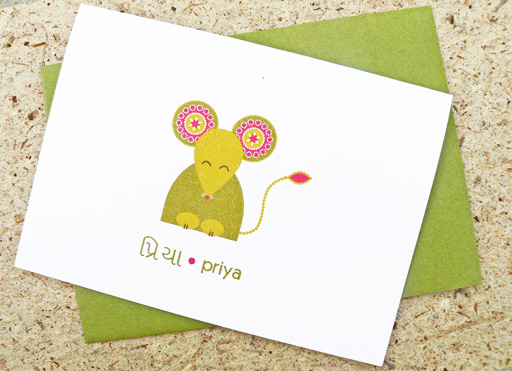 A round of applause for Kate – she really delivered on these designs – and my daughter can't stop staring at them!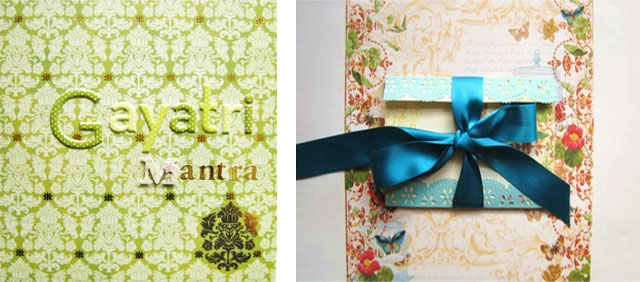 Today we feature for you a series of truly special handmade books by a London designer who prefers to go by the name Mrs. Singh (a nod to the formality of days past and very retro – I love it!).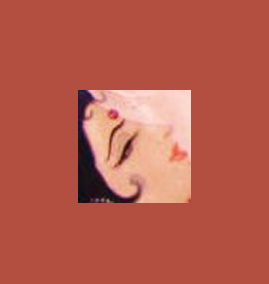 Her books are gorgeous beyond imagination and highlight each of 4 very important topics for Hindu and Sikh kids:
When I first stumbled upon Mrs. Singh's creations, something touched my heart.  Here we had some of the most powerful and evocative hymns in Hinduism and Sikhism presented in a captivating format for children.  However, these books go beyond merely displaying and explaining the verses – they are designed to really involve kids.  In each of the books, there are spaces throughout for photographs ("My First Diwali") and fill-in-the-blanks ("I learned this Mantra on ___________"; "_________ helped me learn this Mantra.").  A veritable treasure indeed.  I thought to myself, "This is how I would like to present Hinduism to my kids – so they can see that it is something genuinely beautiful and worth preserving for many lifetimes to come."
Here is what Mrs. Singh had to say about her books:
1.  What prompted you to start creating these books? I was prompted to create these books when my daughter was very young.  I wanted her to say her prayers and learn about where her nana and nanaji came from.  There were lots of prayer books around written in Roman Panjabi but it wasn't right for our aesthetic.  So I hand printed a book in my studio literally using traditional letter stamps – the book became something that looked great and got the message across.
2.  Why are children attracted to learning or reading mantras, prayers and stories in this format? I think children would prefer to read from a visually stimulating publication then a crumpled up photocopy because it's exciting.  Religion isn't about being serious and straight faced anymore.  It should be fun and exciting.  Our religious texts for children should reflect this by stimulating young enquiring minds.  We can achieve this by applying modern  approaches to religious text and music.
3.  What is your favourite feature of the books? The paper engineering side and the use of sound modules.
4.  How would you recommend displaying and storing the books? With care.  Even though the books double up as memory books and keepsakes, they still contain sacred text.  So a shelf or a box wrapped in acid free tissue.
5.  The colours you use in the books are stunning.  What influences your choice of colour? Fashion naturally!  I am a designer by profession and have worked in this field for many years.
Mrs. Singh hand selects the papers and embellishments in each book and assembles them in her London studio.  Each of the books is truly unique and may vary in the choice of colours and paper – but all are of course a work of art (and a labour of love)!
Here are some more snaps of the books.
Beginning lines of The Gayatri Mantra (interactive tabs and flaps throughout).  Traditional Sanskrit text is also included.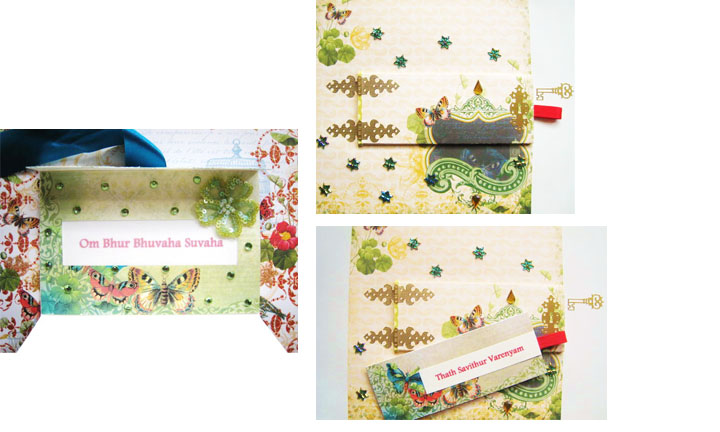 Includes explanation of the mantra, and spaces to write about first temple visit and also photographs.

A special presentation of The Diwali Story for kids.  Also explains the origins of the Diwali Festival.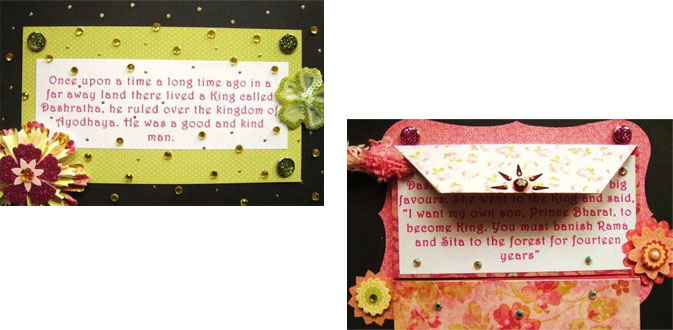 Makes for a great gift.  There is room for inserting photographs and special notes about Diwali through the years.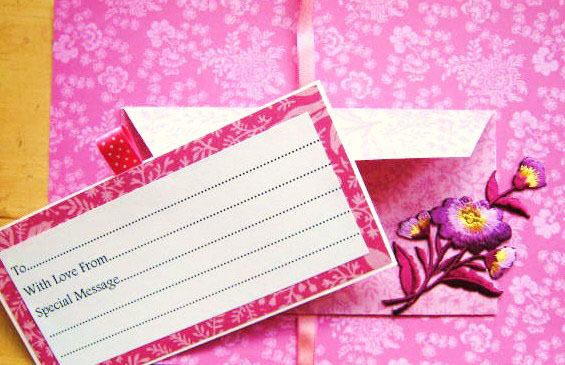 The Mool Mantra features the mantra transliterated in English as well as in the Gurmukhi.  There is also room to add the child's favourite words in Punjabi, as well as photographs and notes about first visit to Sikh Temple and about Vaisakhi celebrations.  Below, left is a detail from the book, using art paper, silk flowers and glass and rhinestone beading ("Jap" means "to recite" in Punjabi).  The picture on the right is of a handprinted page with velvet stud detail ("Karta Purak" means "He is the Creator" in Punjabi).

Another page, featuring multi-colour cyrstall embellishments.  Tags and envelopes open to reveal lines of the prayer.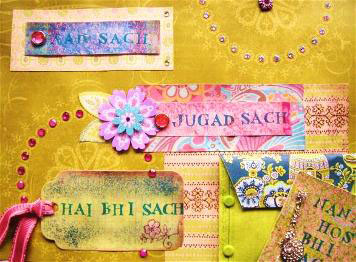 Below, detail of Lord Krishna from The Aarti.  The book contains all verses of the prayer, with line-by-line English translation, as well as space for photographs and notes.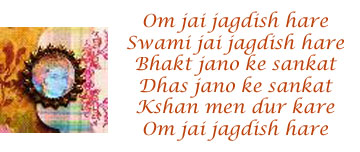 Thank you, Mrs. Singh for bringing these books to our children!  The books are priced at $65.00 USD and will be available at the beginning of October – just in time for Diwali!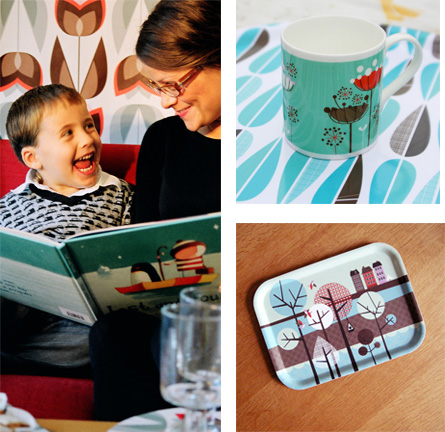 Images by Sandra Isaksson for ISAK

We're kicking off New Products Week with the very talented Sandra Isaksson – designer of our stunning Alphabet Posters.  Sandra has desgined graphics and illustrations for major US retailers and for Bookbinders Design.  Originally from Sweden, Sandra lives in south England and takes on design commissions from clients all over the world.  She  is also founder and head designer of scandi brit fusion brand ISAK where she creates "beautiful happy things" for the modern home.  Sandra now brings her unique Scandinavian style to gnaana for the first time!
When I approached Sandra about designing the Alphabet Posters, she said she was very excited to be working with "such beautiful – and unknown – characters."  When I viewed her portofolio, I immediately thought her colourful, kitschy and modern graphical style would be an interesting contrast to the more ornate letters of the Indian alphabets – a blend of the past and the future (as with all things gnaana, of course). 
Here is Sandra, in her own words:
1.  What interested you most about the project?  The beautiful characters of languages that I had no knowledge of.
2.  What was the most challenging aspect of the project?  To get the illustrations and characters not to override each other, to give them both equal space.
3.  Regarding the finished product – what's your favourite part?  I love the eyes of the animals and the elephant.
4.  You have a great webstore of your own – what are some of your most popular products?  Everything is selling well but wallpapers are exceeding our expectations and our lidded cups have completely sold out long before we had time to have new made.
5.  What's the most important thing you keep in mind when designing a product for children?  That there's a sparkle of fun shining through!
So why Alphabet Posters?  While our Alphabet Blocks are an important tactile tool for kids learning their native akshara, it was clear that parents wanted more language products.  I wanted to create a high-end art poster that would show off the beauty and grace of the Indian alphabets – a poster worthy of any wall of the modern home, be it a kids bedroom, a playroom, a kitchen or a family room (and a bright and cheery alternative to the bland posters sold in roadside Indian bookstores).  It would be a constant visual stimulous that kids could stare at, or parents could laminate it and use it for various floor and table exercises.  Very versatile indeed!
Here's how the project evolved.  We started with a concept of illustrating each and every askhara with a corresponding object, but this proved too visually overwhelming and monotonous, given the size of the poster and the large number of characters.  We then had this idea to vary the size and spacing of the alphabets, like this: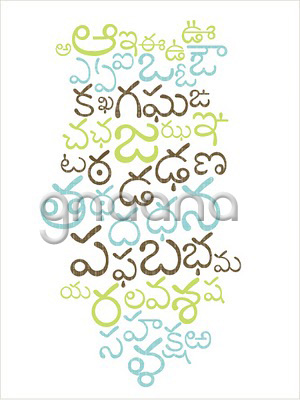 While this version was stunning and modern, I missed having the illustrations as important visual clues for kids.  So we went back to the drawing board, keeping the standard lines, but this time we varied the size of the characters in each row (according to the relative "popularity" of the character) and only used some of the illustrations.  We used a very neutral colour palette, inspired by today's popular letterpress designs: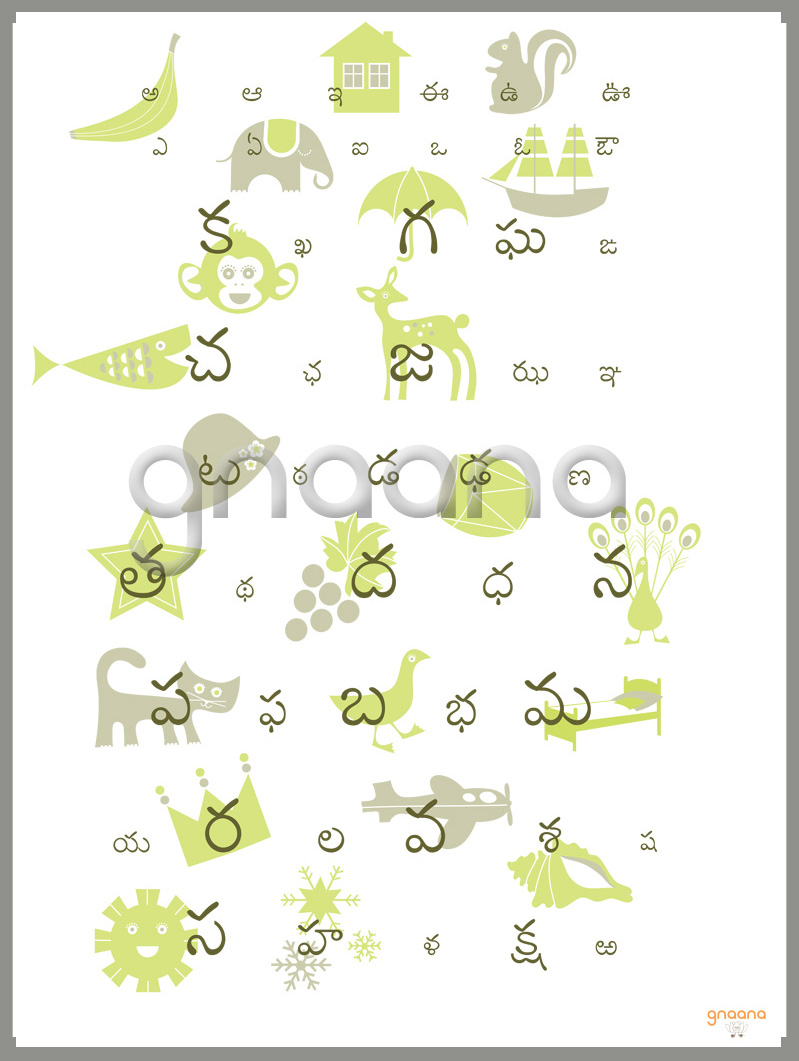 However, this colour palette wasn't exciting to the kids we showed it to.  So we decided to make things more colourful – using retro vintage-inspired colours of yummy tangerines, aqua and lime.  So here it is – Ta Da!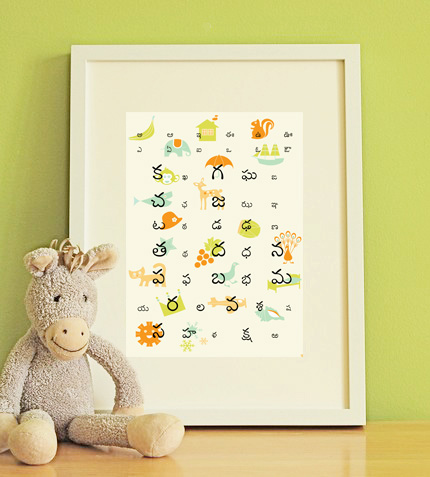 The posters will be available in Hindi, Gujarati, Kannada, Tamil and Telugu and are sized at 13 x 19 inches, to fit standard frames available at local stores.  They'll be priced at a very affordable $20.00 for US customers and $25.00 for the rest of the world (price includes shipping).  Posters will be available at the beginning of October.
Thank you, Sandra!  I hope your art inspires children of the global South Asian diaspora!
You can learn more about Sandra at www.sandraisaksson.com and view her webshop at www.isak.co.uk. Her blog is also a visual treat!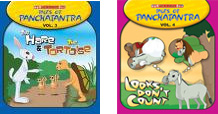 If you're tired of Elmo or Dora or whatever you play during video time, give Panchatantra videos a try.  As a follow-up to my previous post, the Panchatantra are a series of animal stories intended to teach principles of neeti ("wise conduct of life").
There are several companies that have put out video series of the stories (although you won't find them on Amazon, so you'll have to do some web-digging).  The series that I like is put out by a company called Shethia  – they call the series Fun N' Learn Tales of Panchatantra.  I like the way the stories are set-up.  There are 7 kids who appear in all the episodes, and at the beginning of each one someone is always troubled by an event in their lives (e.g. Pete is boasting about his shiny new toy boat and makes everyone else feel bad about their more modest ones).  They call for Vaayu (a 30-something man who assumes a teacher role), and he tells the kids a Panchatantra tale (in Pete's case it's The Ant and The Grasshopper).  Everyone learns a lesson, and they all go home.
Of course, keep in mind these are "Indian" productions.  Gobby tells Molly to "shut up" in one episode – but that was the only slip I noticed.  The animation is watchable (it's slow, but great for kids under 5) and the Indian accents are really cute.
We pulled the plug on cable TV about 4 months ago, so these videos have been on heavy rotation when the kids want to watch something.  We have volumes 3, 4 and 5; unfortunately, these don't seem to available anywhere outside of India (we picked them up when we were living in Bangalore a few years ago).  Volume 6 and Volume 7 (the latest in the series it seems) are available.  I haven't reviewed those, but I presume they are set-up the same way.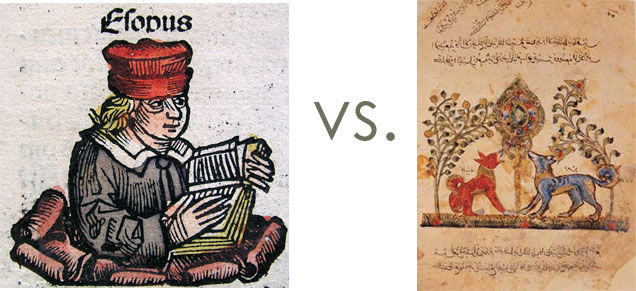 Of course you know the infamous stories – The Tortoise and the Hare, The Ant and the Grasshopper, The Fox and the Grapes…  These stories (and several others) are considered a part of Aesop's Fables and The Panchatantra.  But which collection cames first?  Or rather, which influenced the other?  This topic is more worthy of a doctoral thesis, but since I have yet to read one of those, here's what I think.
Aesop's Fables is a collection of stories attributed to Aesop (of course) – a slave and storyteller who lived in ancient Greece during the 5th century BCE.  However, recent theories purport that "Aesop" wasn't the sole author of the fables – and that some of the stories can be traced back to ancient Mesopotamia – as early as the 3rd millenium BCE.  Much has also been written of the connection between Aesop's Fables and The Jatakas – the birth stories of the Buddha dated around 400 BCE – which also used anthropomorphism to breathe life into animals, birds and trees.  Present day collections seem to have evolved from a manuscript by another Greek, Babrius, dated in the 1st century CE, who merely capitalized on the Aesop name.
The Panchatantra is a collection of Indian animal fables credited to Vishnu Sharma– – a royal pundit and teacher who lived in Mahilaropya (close to modern-day Chennai) in the 3rd century BCE.  The Raja of Mahilaropya wanted someone to teach his 3 sons about life and governing – so that they would be fit to eventually rule the kingdom.  Sharma thought it would be most effective to teach the princes through animal stories – and so he composed a collection of 5 volumes – (ergo "Pancha-Tantra" – Sanskrit for "Five Principles").  The 5 volumes teach the central Hindu principles of neeti ("wise conduct of life") in the following categories:
Mitra-bheda:  The Separation of Friends
Mitra-lābha or Mitra-samprāpti:  The Gaining of Friends
Kākolūkīyam:  Of Crows and Owls (re: War and Peace)
Labdhapraṇāśam:  Loss Of Possession
Aparīkṣitakārakaṃ:  Consequences of Rash Action
It seems that The Panchatantra is a codification of oral stories which are much older than the actual text – as is the case with almost all other sources of Indian literature – even the Vedas.
So in my humble opinion, based on the dates alone, it seems that Aesop wins this race-back-in-time:  he lived in the 5th century BCE, and Sharma didn't author The Panchatantra until almost 2 centuries later.  However, since it looks like it is in fact Babrius's manuscript that is the actual written source for the modern collection of Aesop's Fables – I'd argue that The Panchatantra wins after all:  Babrius's collection is dated much, much later – to the 1st century CE.
But of course, the imporant fact is that whichever was "first," the children of the modern world have some great collections of stories.  India, Greece, Mesopotamia (and most likely even China, Japan, Egypt and others) have all collectively given us the gift of The Fable.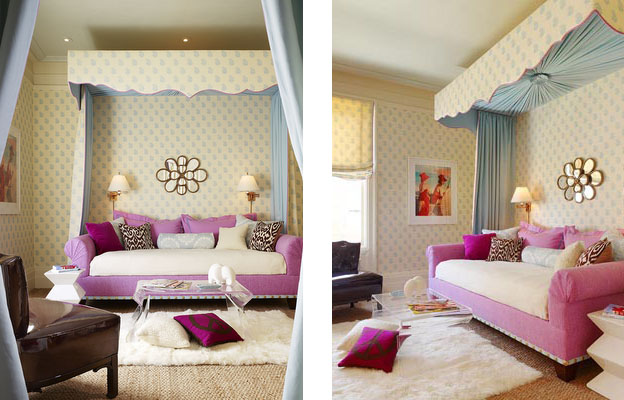 There's something about canopy beds that's synonymous with royalty.  Canopies can be structured with ornate drapery fabric or hung in a more care-free style with light and airy sheers.  Here are a few ideas for your little rajkumari (princess) that'll transport you to the grand palaces of India.  Tell her a tale of a magical maharani and she'll never want to leave her room!
Show above is a stunning design by San Francisco designer Palmer Weiss.
Pretty in sophisticated pink, below, by Country Living.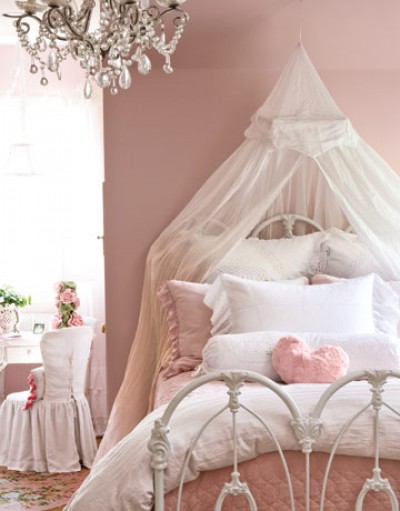 Fun and whimsical, with a modern twist by Better Homes and Gardens.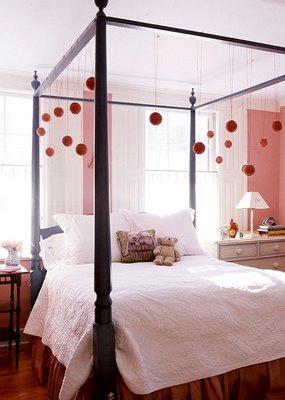 Colorful and eclectic as shown on HGTV.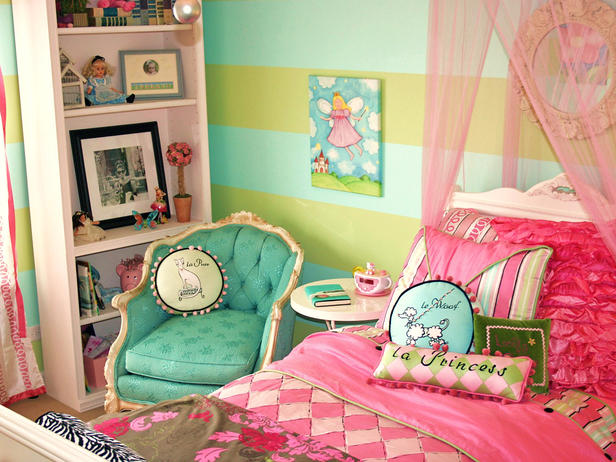 And not to forget Serena & Lily, of course. Pictured below is the Isabel collection